The Federal Communications Commission's Enforcement Bureau has reached a $2.4 million settlement with General Communication, Inc. (GCI), resolving an investigation into five 911 service outages that occurred on the company's wireless network in various parts of Alaska between August 2008 and April 2016.  As part of the settlement, GCI has agreed to strengthen its procedures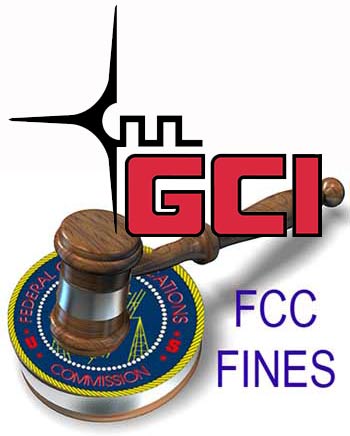 for providing 911 service and to adopt robust compliance measures to ensure that it adheres to the FCC's 911 service reliability and outage notification rules in the future.
Last October, GCI was fined $620,500 by the FCC for not registering 118 towers and lamping three structures. The towers were later sold to Vertical Bridge.
"Americans should be able to reach 911 at any time, whether they live in New York City or a village in Alaska," said Travis LeBlanc, Chief of the FCC's Enforcement Bureau. "We will continue to work with service providers across the nation to ensure they meet this critical expectation to protect the public's safety."
In its investigation, the Enforcement Bureau found that the five separate GCI 911 service outages prevented significant numbers of the company's wireless customers from reaching first responders when making 911 calls.  The investigation determined that all five outages would likely have been either minimized, or entirely avoided, if GCI had implemented appropriate safeguards in its 911 network architecture and operational procedures.  The investigation also found that GCI did not provide timely notification of three of the five outages to the affected 911 call centers.  Further, GCI did not submit timely Network Outage Reporting System reports to the Commission in four of the five outages.
To resolve the Bureau's investigation, GCI will pay a $2.4 million fine and has agreed to implement a compliance program to strengthen its 911 resilience and its 911 risk management processes.  In particular, GCI will develop and implement processes to:
Identify risks that could result in disruptions to 911 service;
Protect against such risks;
Detect future 911 outages;
Respond with remedial actions, including prompt notification to affected 911 call centers; and
Recover from such outages on a timely basis.
In addition, GCI will maintain up-to-date contact information for 911 call centers, adopt a plan to notify 911 call centers during outages, and maintain contact with the Alaska 911 Coordinator's Office when necessary.  The consent decree also requires GCI to file detailed compliance reports with the Enforcement Bureau.
The Commission has adopted a number of rules intended to ensure seamless, ubiquitous, and reliable 911 service nationwide.  Wireless carriers are required to implement 911 routing and delivery systems to ensure that 911 calls are transmitted to the appropriate emergency call centers, to notify those call centers of 911 service outages lasting longer than 30 minutes, and to timely notify the Commission regarding the nature and extent of those outages.
Today's settlement with GCI is the fifth major enforcement action involving 911 outages that the FCC has taken in the last fourteen months.  In July 2015, the FCC entered into a $17.5 million settlement with T-Mobile in connection with two nationwide 911 outages that impacted T-Mobile customers.  In April 2015, the FCC entered a $16 million settlement with CenturyLink and a $1.4 million settlement with Intrado Communications, in connection with an April 2014 multi-state 911 outage that lasted for over six hours.  In March 2015, the FCC settled with Verizon for $3.4 million in connection with the same April 2014 outage.
Other FCC Releases and Actions (July 7, 2016)
Sprint-USCC Transaction Sprint Information Request
Released Date: 07/07/2016
Description: Sprint-USCC Transaction Sprint Information Request
Documents:
PDF : DOC-340201A1.pdf
Text : DOC-340201A1.txt
Sprint Corporation
Released Date: 07/07/2016
Description: Applications of Sprint Corporation and United States Cellular Corporation for Consent To Assign Licenses
Documents:
PDF : DOC-340200A1.pdf
Text : DOC-340200A1.txt
Domestic Section 214 Application Filed for the Acquisition of Assets of Sancom Inc. d/b/a Mitchell Telecom by ATV Holdings, LLC
Released Date: 07/07/2016
Description: NON-STREAMLINED PLEADING CYCLE ESTABLISHED
Documents:
Word : DA-16-782A1.docx
PDF : DA-16-782A1.pdf
Text : DA-16-782A1.txt
Applications of Sprint Corporation and United States Cellular Corporation
Released Date: 07/07/2016
Description: Adopted procedures to limit access to proprietary or confidential information that may be filed in this proceeding, and more strictly limit access to certain particularly competitively sensitive information
Documents:
Word : DA-16-779A1.docx
PDF : DA-16-779A1.pdf
Text : DA-16-779A1.txt
Comment Dates Set on Fairpoint Communications Compliance Plan for Forbearance Relief from Cost Assignment Rules
Released Date: 07/07/2016
Description:
Documents:
Word : DA-16-778A1.docx
PDF : DA-16-778A1.pdf
Text : DA-16-778A1.txt
Sprint Corporation and United States Cellular Corporation Seek FCC Consent to the Assignments of Personal Communicaions Service and Advanced Wireless Services Licenses
Released Date: 07/07/2016
Description: PLEADING CYCLE ESTABLISHED; Petitions to Deny Due: 07/28/2016, Oppositions Due: 08/04/2016
Documents:
Word : DA-16-777A1.docx
PDF : DA-16-777A1.pdf
Text : DA-16-777A1.txt
Media Bureau Announces Filing of Petition for Declaratory Ruling by Univision and Televisa and Permit-But-Disclose Ex Parte Status for the Proceeding
Released Date: 07/07/2016
Description:
Documents:
Word : DA-16-776A1.doc
PDF : DA-16-776A1.pdf
Text : DA-16-776A1.txt
WYDC, Inc
Released Date: 07/07/2016
Description: Rescinded the Notice of Apparent Liability for Forfeiture. Cancelled the proposed forfeiture concerning station WYDC(TV), Corning, New York
Documents:
Word : DA-16-772A1.docx
PDF : DA-16-772A1.pdf
Text : DA-16-772A1.txt