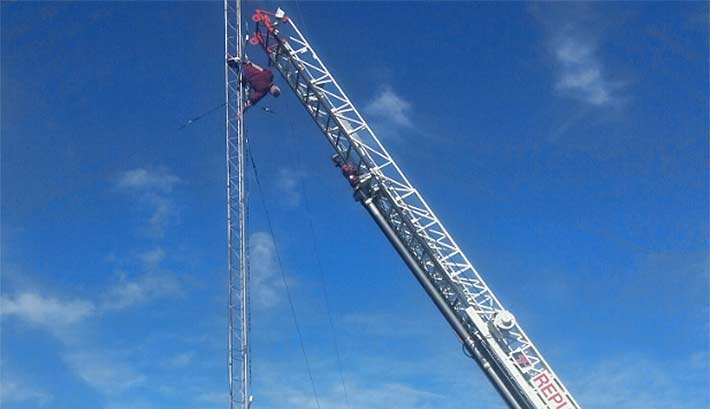 Ham radio operator Charles Young, 65, was performing repair work on his tower in Greene County, Mo. when he reportedly became dizzy, lost his grip and was left hanging 40 feet in the air yesterday afternoon for about 50 minutes on what appeared to be a 60-foot tower.
Fortunately for Young, his wife saw him slip and called 911, and West Republic Volunteer Fire Department workers were able rescue him.
When Young fell, it seems that his legs got wedged between the welded braces of what looked like a Rohn 25G, the most popular tower of ham radio operators.
News reports said that Young was wearing a safety harness, but video and photographs do not indicate that he had a full body harness on.
Despite the urging of medical crews to be checked at a hospital, Young simply walked back inside his home after the rescue, according to KY3.
Over the years, a number of operators have died after they fell from a tower they were working on or were electrocuted.
In June, a ham radio operator died in Arizona while helping fellow DXers. However, he had previous professional climbing experience.
The most tragic event in recent times occurred on October 12, 2009 when a mother, father and their 15-year-old son died after being electrocuted while putting up a ham radio antenna in Palm Bay, Fla.