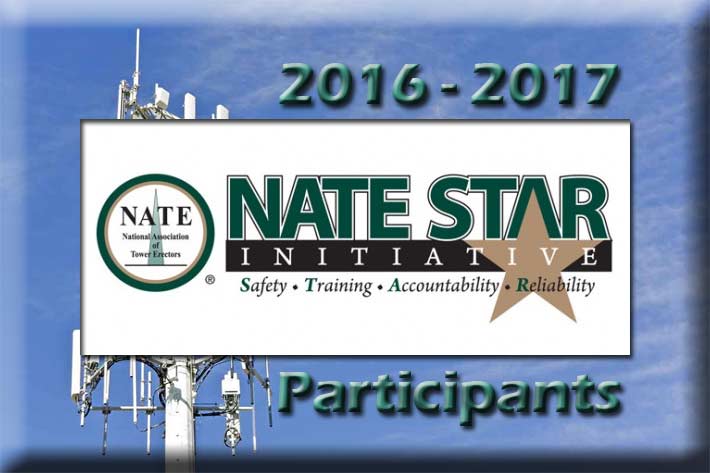 The National Association of Tower Erectors (NATE) today announced the member companies who have been formally approved to participate in the STAR Initiative program for the 2016-2017 year.
"Companies involved in the STAR Initiative program have demonstrated that they are the cream of the crop and this year's participants certainly live up to the high standards NATE has established through this program," said NATE Resource Specialist Nikki Gronau.
The NATE STAR Initiative is currently entering its sixth year and is the Association's signature program designed to help companies operate safely and recognize tower contractors, owners and carriers who voluntarily adhere to higher safety standards. The NATE STAR Initiative emphasizes Safety, Training, Accountability and Reliability by requiring participants to commit to requisite levels of training, site safety audits and the implementation of safety programs while adhering to industry best practices. STAR Initiative participants also receive discounts on designated training courses offered on the NATE EXCHANGE, a dynamic website platform connecting companies to training courses offered in the tower industry.
Participating companies also can utilize the STAR Initiative App designed to enhance their program experience and provide a convenient means of submitting Site Safety Audit documentation in real-time directly from the field via smart phone, tablet, computer or other mobile devices. The official NATE STAR Initiative App is available as a free download in both iOS (Apple) and Android platforms.
"I applaud the 2016-2017 STAR Initiative companies for making a commitment to achieve the highest levels of safety and quality in the industry," stated NATE Chairman Jim Tracy of Legacy Telecommunications, Inc. in Burley, Washington. "The participants involved with this premiere program are in a strong position with the wireless carriers, tower owner/vertical realtors, OEM's and turnkey/construction management firms as STAR Initiative participation is often utilized as a key requirement factor during the vetting process that leads to the hiring of contractors," said Tracy.
The 2016-2017 NATE STAR Initiative participating companies include:
A&J Steel Reinforcing Services Inc.
ADB Wireless
Advanced Tower Services, Inc.
Advanced Wireless Solutions, Inc.
Amatel, Inc.
AmChel Communications, Inc.
AMF Electrical Contractors, Inc.
Atlantic CommTech Corporation
Atlantic Construction Companies
B-C Walker, Inc.
Black & Veatch
BlueStream
B-Mac Construction, LLC
Branch Communications, LLC
Bright Lighting, Inc.
BTE Management Group, LLC
Centerline Communications LLC
Centerline Solutions, LLC
Cipov Enterprises, Inc.
Clifton's Tower Service, Inc.
Com Plus Inc.
CommScope
Commsite Corp.
Communication Builders, Inc.
COM-TECH Construction
D & H Builders, Inc.
Deerfield Construction Group, Inc.
Design Telecommunications Inc.
Dietz Brothers, Inc.
Diversified Communications Services
E.M. Enterprises General Contractors Inc.
East Coast Communications
Eastern Communications, Inc.
EasTex Tower, LLC
Eastower Communications Inc
Electric Conduit Construction Company
Elevated Services, LLC
Elexco, Inc.
Emergency Radio Service, Inc.
Enertech Resources, LLC
ERI Installations, Inc.
Excalibur Builders and Maintenance       Excell Services Company LLC
FDH – Velocitel, Inc.
Flash Technology
Front Range Wireless, Inc.
Global Tank and Tower, LLC
Grapevine Solutions, Inc.
Great Plains Towers
Green Mountain Communications, Inc.
Hayden Tower Service, Inc.
Heartland Solutions Corp.
Herca Telecomm Services, Inc.
Hightower Communications, Inc.
Independent Network Services, LLC
Industrial Communications, LLC
JBL Electric Inc.
JT Tower Service
Launch 3 Telecom
Lee Antenna & Line Service, Inc.
Legacy Telecommunications, Inc.
Long Wave Inc.
MasTec Network Solutions
Mercury Communication &
Construction INC.
Meridian Blue Construction, LLC
Mesquite Valley Communications, Inc.
Microwave Transmission Systems, Inc. Mid Atlantic Contracting, Inc.

.


Midland Communications Inc.
MIKAB Corporation
MILLENNIA CONTRACTING, INC.
MillerCo, Inc.
Murphy Tower Services, LLC
MUTI – Sabre Industries Telecom
Services
NDC Communications, LLC
Needmore Towers Inc.
Network Installation Specialists, LLC
Newkirk Electric Associates Inc
Nex-Tech Wireless
Nex-Tech, Inc. – Mobile Radio Div.
Norris Tower Incorporated
North Sky Communications, Inc.
Northeast Towers, Inc.
Northern Pride Communications, Inc.
Omega Development Company
Patriot Towers Inc.
Penn-Tech International, Inc.
Perfect Wireless, Inc.
Phoenix Tower Service, LLC
Pilgrim Communications, Inc.
Pioneer Telephone Cooperative, Inc.
Platinum Communications
R & M Electrical Telecom/Maint., Inc.
Radiofrequency Safety International
RIO Steel & Tower, Ltd.
Robert Foss Electric, LLC
SAC Wireless LLC
SAI Communications
Sentenia Systems
Shenandoah Tower Service, Ltd.
Show Me Welding
Site Resources, LLC
SiteMaster, Inc.
Sky Climber Tower Solutions
Skyjack Communications
Southern Tier Towers, LLC
Southern Tower Telecom
Spectrum Construction Services, Inc.
Speelman Electric, Inc.
STG Communication Services
Stout Tower Services
Structural Tower Services, Inc.
STS Communications, Inc.
Synergy Concepts, Inc.
Telcom Construction Wireless Division
Teltronic Towers, Inc.
Texoma Contracting, Inc
Tiller Engineering Inc.
Tilson Technology Management, Inc.
Timberline Construction Corporation
Total Service Telecom, Inc.
Total Telco Specialists, Inc.
Tower & Turbine Technologies LLC
Tower 16, Inc.
Tower Inspection, Inc.
Tower Systems, Inc.
Tower Technologies, LLC
TowerMRL, Inc.
TPS Wiring Solutions, Inc.
Tri State Tower, Inc.
US Tower Services, Inc.
Vertical Limit Construction, LLC
Wagstaff Construction Services, Inc.
Wigdahl Electric Company
Wireless Construction, Inc.
Wireless Horizon
Wireless Infrastructure Services