As the battle against falls from height rages on in the workplace, falls remain a leading cause of work-related deaths across the globe.
"Surely no one sets off to work saying 'this is the day I want to die'," says Loui McCurley, one of the industry's most knowledgeable climbing and rope access rigging experts as well as an author whose newest book, Professional Rope Access – A Guide to Working Safely at Height was released this week.
The 376-page book provides a compelling and empowering way to engage workers in their own safety.
McCurley has spent three decades specializing in rescue and fall protection, and is passionate about protecting workers at height.
The solution to the costly problem of workplace falls lies much deeper than regulatory requirements, standards, and engineering controls, said McCurley.
Professional rope access technicians are uniquely equipped and trained to recognize hazards and prevent themselves from becoming a victim, according to McCurley.
McCurley is convinced, based on the principle of never being at height without protection, rope access rejects the notion of "infeasibility" and "exclusions" and instead equips workers with knowledge, skills, and equipment to protect themselves even when the worksite doesn't want to cooperate.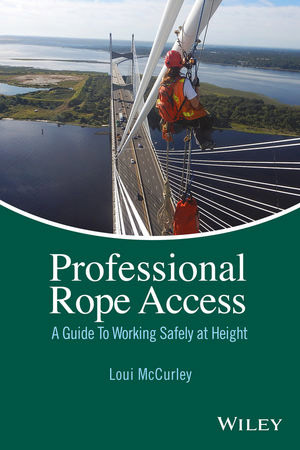 The book, published by John Wiley and Sons, available here, guides the reader in the development and maintenance of a rope access program. It also:
Offers specific guidance for writing a comprehensive managed fall protection plan that includes rope access
Thoroughly describes how to perform specific rope access maneuvers that can be used to offer greater safety when working at height
Shows how a well-managed rope access program can be used as a tool to get more work accomplished at a lower cost and with greater efficiency than conventional methods can achieve
Discusses and clarifies unique distinctions of equipment for rope access, as compared with equipment for fall arrest, positioning, and restraint
In Liberty Mutual's 2016 Safety Index the insurer said that falls are a $5.4 billion yearly problem. McCurley's more concerned about the loss of lives and how to prevent those deaths.
The book's first chapter can be reviewed here.
McCurley is a passionate trainer and a frequent presenter at safety conferences including theNational Association of Tower Erectors, American Society of Safety Engineers, VPPAC, and the International Technical Rescue Symposium.
She lives in Colorado with her husband, Bob.
Her pioneering efforts in safe work at height include having helped found the Society of Professional Rope Access Technicians (www.sprat.org), work on the international ISO 22846 on rope access, and other ANSI, NFPA, and ASTM standards. She is committed to harmonizing regulatory requirements for work at height with practical, safe methods of work and verified technician skills.
McCurley published Falls from Height: A guide to Rescue Planning in 2013, available here.
She is the CEO of Pigeon Mountain Industries, Inc.