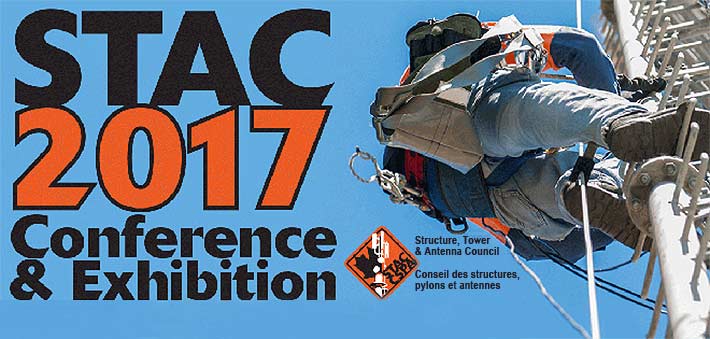 The Structure, Tower and Antenna Council (STAC) has announced that it will host its 2nd annual conference on March 29-30, 2017 at the Scotiabank Convention Centre in Niagara Falls, ON, Canada, and its early registration discount will expire on Nov. 18, 2016.
Building off the overwhelming success of STAC's inaugural conference last spring, the STAC 2017 Conference & Exhibition is the premier event dedicated to Canadian tower safety, and is devoted to sharing the important information and best practices that will help maintain Canada's world-leading tower safety record.
The two-day STAC 2017 event will bring together approximately 400 communications and tower industry professionals, including wireless carriers, broadcasters, engineers, contractors, manufacturers, land owners, safety equipment suppliers and safety trainers, among others.
Attendees will learn about new industry practices and technologies, and will receive exclusive information about the development of STAC best practices and other industry resources that are normally only available to STAC Members.
If a company becomes a STAC Member before March 1, 2017, they'll receive a free pass to STAC 2017 plus discounted rates for additional passes. For more information about STAC membership, click here or send us your questions at info@stacouncil.ca.
Wireless Estimator will provide additional conference details as they become available.
For highlights of last April's inaugural event, click here.