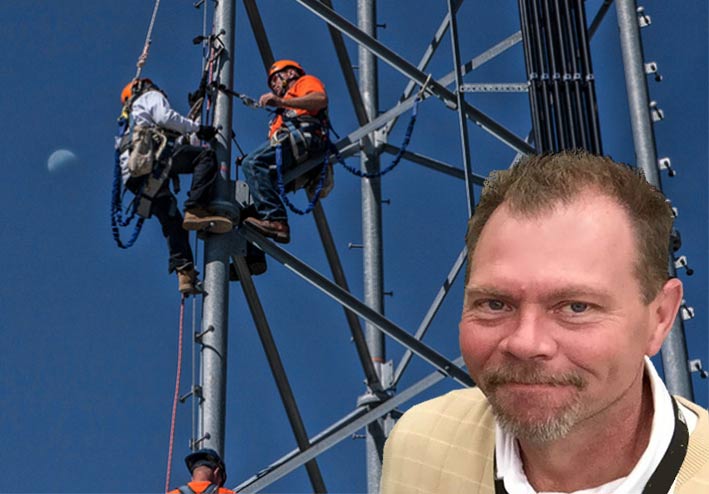 Update: September 19, 2016 – Services for Kyle Fulton who passed away Friday will be held on Oct. 1, 2016 at the Irvington Methodist Church, 30 N. Audubon, Indianapolis Ind. with visitation from 4 p.m. to 6 p.m., and a memorial service from 6 p.m. to 7 p.m.
---
Kyle Fulton, 48, a well-respected and dedicated industry safety executive, passed away Friday, leaving behind a legacy of friendship and climber safety advocacy that spanned decades.
Prior to joining Midwest Underground Technology, Inc. (MUTI) in 2009 as the Champaign, Illinois-based company's Director of Health & Safety, Fulton brought 18 years of experience in heavy industrial construction to MUTI.
He had authored several successful "Zero Injury" programs, was a licensed TapRoot investigator and had extensive knowledge in behavioral safety philosophies.
Fulton was also active in shepherding the ANSI/ASSE A.10.48 standard which embodies the latest generation of telecom construction standards.
"It did not matter what the subject was, he just truly enjoyed sharing with and helping others. Here at MUTI/Sabre, he would take as much time as needed to show and teach employees how to properly tie the knots they would use in the field, ensure their PPE was functional and they knew how to correctly utilize it, what SOW & SAUCE meant and its importance to them, and how to safely and properly secure a load to a truck," said Scott Kisting, the company's Senior Vice President.
Kisting, who said he would be on the phone with Fulton almost twice a day, explained that tower rescue training was a passion of his, "not because he ever wanted anyone to have to use rescue techniques, but because he wanted employees to know what to do if tower rescue was ever needed, and how to safely work on a tower so they never did."
"Kyle will be missed by so many, but never forgotten by any one of us.  We implore everyone to think of all the good things that Kyle taught all of us, his joy for people and desire to train others, and his compassion for everyone he met," said Kisting.
Fulton was an active member of the National Association of Tower Erectors, and his magnetic personality drew attendees at association events who never met him to feel as if he was a long-time friend.
"He respected everyone and was quick to call a new employee or stranger a friend.  His secret was simple, he sincerely cared for each and every person he met or worked with," said Kisting.
"NATE extends our prayers, thoughts and condolences to the family, friends and colleagues of Kyle Fulton," said Executive Director Todd Schlekeway.
"Kyle was a tremendous advocate for safety and quality in the industry and served for many years on NATE's OSHA Relations Committee. Kyle left a lasting legacy in our industry and will be missed dearly by all who knew him," added Schlekeway.
Fulton had mentored many industry workers who continued their career with other companies while continuing to champion climber safety.
"Kyle's impact on the wireless community is immeasurable. His commitment to safety, quality, and, most importantly, the guys, was second to none. His passing will leave a hole in the industry that will be felt forever.  He was the reason that so many people went home safely at night. He truly, deeply cared about everyone he encountered," said Senior Project Manager at Stockton Construction Group Alice Allen, who worked for a number of years with Fulton at MUTI.
Kyle loved to share stories about his golfing and bowling experiences, ranking up more 300 games than many professional bowlers.
But, according to those who knew him, his greatest joy was the pride he was able to share with others about his children and family members.