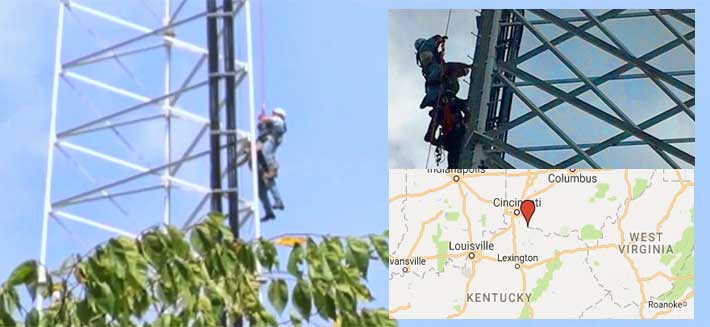 Update: July 27, 2016 – According to crew leader Harold Finley, the tower tech that was rescued this afternoon, about 2:30 p.m., was 24-year-old tower climber Terry Thompson who had a number of years of experience in the industry.
His rescuer was Bernard Holly.
In a news report, Finley said, "All the Glory goes to God."
According to the FCC's database, the 325-foot cell tower is owned by TransCanada Pipeline USA.
The temperature in Bracken County at the time when Thompson called for assistance was 87 degrees F with a heat index of 95 degrees F.
---
A tower technician came to the aid of his co-worker when he started to pass out due to heat exhaustion or another medical emergency, according to authorities
The unnamed worker, employed by Columbia Pipeline Group, was repairing an obstruction light on a self-supporting tower at about the 300-foot level when he called down to his co-worker to be rescued in Bracken County, Ky.
Seventy to 80 people responded to the scene as the man was being lowered.
For a video and additional information regarding the rescue reported by WCPO, click here.
Yesterday, the National Association of Tower Erectors introduced a video pertaining to precautions that should be taken while working in extreme weather conditions.
The Kentucky worker's supervisor said that the tech had plenty of fluids while on the job.