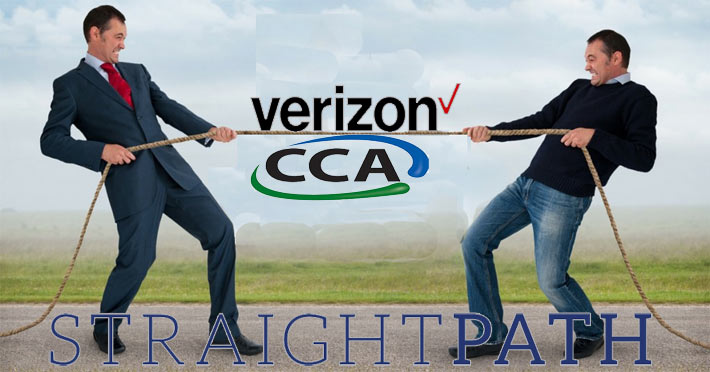 In a Petition to Deny filed with the Federal Communications Commission, the Competitive Carriers Association (CCA) encouraged the Commission to deny the proposed transaction to transfer the control of Local Multipoint Distribution Service, 39 GHz, 3650-3700 MHz, and common carrier fixed point to point microwave licenses from Straight Path Communications Inc. to Verizon Communications Inc.
If approved,  CCA believes, the transaction would consolidate enormous amounts of millimeter wave ("mmW") spectrum into the hands of Verizon and would exceed the FCC's spectrum screen in key local markets.  CCA encouraged the Commission to deny the application and instead make Straight Path's licenses available to all carriers through competitive bidding.
On May 11, Straight Path announced that it will sign a definitive merger agreement under which Verizon will acquire Straight Path for $184.00 per share, reflecting an enterprise value of approximately $3.1 billion, in an all-stock transaction.
In a statement, CCA President & CEO Steven K. Berry said, "Industry consolidation is a huge concern for competitive carriers, and a transaction of this magnitude would no doubt have a negative impact on competition and consumers.  mmW spectrum will be essential to the rollout of next-generation wireless networks, and allowing Verizon, one of the nation's largest carriers, to acquire such a large amount of this next generation spectrum could thwart competitive carriers' efforts to deploy next-generation technologies in some of the most rural and remote areas of the United States."
"Whether considered alone or in connection with other pending applications such as the Verizon/Nextlink Transaction, the Verizon/Straight Path transaction would breach the FCC's spectrum screen in many key local markets, and create larger aggregation harms on a national level," Berry said.
"Ultimately, this will result in poorer service quality, reduced output, and reduced innovation that plague insufficiently competitive markets, and higher rates for consumers. To avoid this scenario, I strongly encourage the Commission to deny the application."