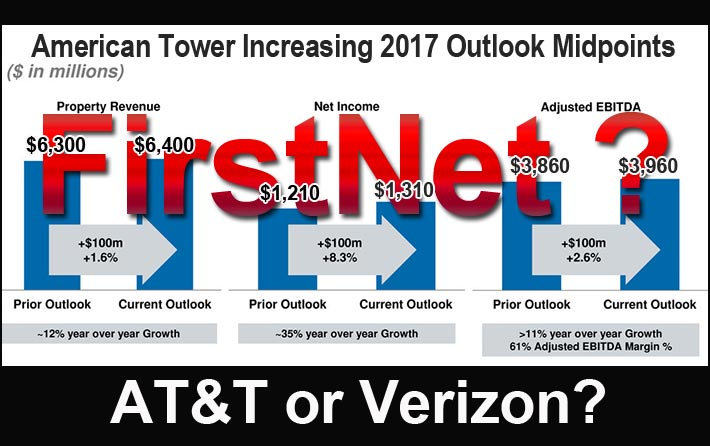 UPDATE: March 29, 2017 – According to two knowledgeable industry insiders, American Tower Corporation's (ATC) filing on March 21 stating that it had amended a master lease agreement with one of its tenants that will provide the company with an additional $100 million in revenue for the year,  was an agreement with Verizon, not AT&T as had been widely speculated.  However, they also said that they are aware that AT&T has been negotiating with the three major tower companies to manage costs for their FirstNet launch once they're awarded the project which could be sometime this week.
The FirstNet board held a special meeting on Tuesday to delegate the authority to finalize the contract to CEO Mike Poth, who said in a statement, "upon award, FirstNet will immediately start work on delivering this Network to public safety and fulfilling our promise to them."
---
March 21, 2017 – An American Tower Corporation (ATC) federal filing today might indicate that AT&T is already making siting commitments to build out FirstNet, the nation's public safety network, even though the carrier hasn't been awarded the 25-year contract to build and maintain the broadband network. Or it could mean that Verizon has struck a deal with American Tower that amends its master lease agreement.
In an 8K filing, ATC said that it has amended a master lease agreement with one of its tenants that will provide the Boston-based company with an additional $100 million in revenue for the year.
The unexpected amendment-related revenue, according to a number of industry observers who Wireless Estimator spoke to, speculated that it could have come from AT&T, as they believe that there is a possibility that it relates to AT&T's need to cover the more than the estimated 40,000 existing and new macro sites required for FirstNet.
"The only driver in the current year for that amount of revenue would be a FirstNet launch," said one observer. "We're on the plateau of the 4G buildout and 5G is not ready yet."
One financial analyst said that she believes the increased leasing activity is more related to Verizon's MLA with ATC.
Ken Schmidt, President of consulting firm Steel in the Air said the timing of the amendment right after Rivada's loss of their case against FirstNet for unfair disqualification might indicate that AT&T is prepared to move forward with modification amendment activity.
"Based on the lack of inclusion of guidance relative to FirstNet in the last round of tower company earnings calls there could be the possibility that American tower may be signaling that they've had further discussion with AT&T regarding FirstNet modifications that American Tower now feels comfortable enough with to include in its revised 2017 guidance," Schmidt said.
"However, if this is due to an amendment in the MLA between American Tower and Verizon, it may signal that Verizon has increased its equipment loading on the towers and agreed to pay additional rent.  We wouldn't be surprised though that if this was the case, Verizon may have also requested and received a reduction in their escalation in the MLA."
In the filing, ATC said it has revised its guidance for the full year 2017, and now expects total property revenue, net income and Adjusted EBITDA of $6,310 million to $6,490 million, $1,275 million to $1,345 million and $3,910 million to $4,010 million, respectively.
If the ATC amendment is to cover FirstNet equipment and antenna mods, It would be expected that Crown Castle International (CCI) and SBA (SBAC) would also see additional revenue from amendment activity in 2017 from AT&T.
It is expected that the $6.5 billion contract will be awarded in the next week or so to AT&T to design and operating the system, targeted at first responders at the federal, state and local levels, along with access to FirstNet's 20 MHz of 700 MHz lowband spectrum.
It is also anticipated that AT&T will increase its 2017 capital expenditure plans, a truly positive event for tower owners and contractors, ranging from nice to unbelievably great.