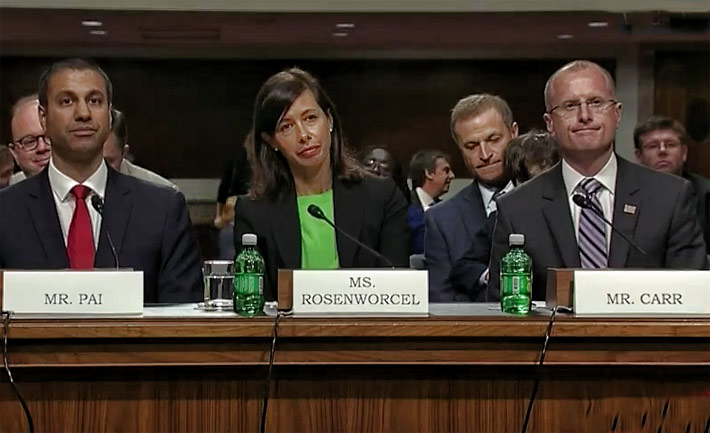 UPDATE: August 3, 2017 -The U.S. Senate voted today to confirm the nominations of Jessica Rosenworcel and Brendan Carr to the Federal Communications, returning the FCC to full strength with five members.
Rosenworcel, a former Commissioner and Capitol Hill staffer previously joined the FCC in 2011. Her new five-year term is retroactive to July 2015 and runs through 2020. She will join the Commission's only other Democrat, Mignon Clyburn.
Senate Majority leader Mitch McConnell (R) and Minority leader Chuck Schumer (D) struck a deal clearing the way for Carr to be confirmed.
Carr, who currently serves as the FCC's general counsel, had been nominated by President Trump to finish out former agency Chairman Tom Wheeler's term through June 2018, as well as serve his own five-year term which would run until June 2023.
However, Democrats balked at the lengthy term and under a bipartisan agreement worked out yesterday, that will allow Carr to fill just the first portion of his nominated term through Jan. 2019, he was confirmed.
The Senate did not take up Chairman Ajit Pai's pending re-nomination.
"Their experience at the FCC makes them particularly well suited to hit the ground running," Pai said, congratulating Rosenworcel and Carr. "I'm pleased that the FCC will once again be at full strength and look forward to collaborating to close the digital divide, promote innovation, protect consumers and improve the agency's operations."
---
August 2, 2017 — The Senate Commerce Committee on Commerce, Science and Transportation moved the nominations yesterday of Ajit Pai, Jessica Rosenworcel and Brendan Carr to new FCC terms, in the face of some Democrats' objections.
A date has not been set when their nominations will reach the Senate floor for confirmation.
Carr is a former legal adviser to current FCC Chairman Ajit Pai and was a lawyer with Wiley Rein LLP, which has worked with telecommunications companies including AT&T and Verizon. He was nominated to fill the remainder of a term that expires next year, and for another five-year term.
While Democrats on the Commerce Committee voted for Carr to fill that vacancy until next year, they opposed giving him another term after that.
Sen. Ed Markey said that Democrats are concerned that if Carr was given another term, his tenure would run for 6 1/2 years. Markey's concern is that another vacancy would open up on the FCC, to be filled by a Democrat, and that it could be held up. That would leave the FCC with a 3-1 split between Republicans and Democrats.
Democratic Sen. Bill Nelson said he would also like to see Carr nominated to only a single term.
Rosenworcel had been a commissioner until her term ended in 2016. No more than three members of the commission may be of the same political party. If both Carr and Rosenworcel are confirmed, Republicans would have a 3-2 majority.
The FCC is designed to be directed by five commissioners. But currently, it just has three: two Republicans, Pai and Michael O'Rielly, and Democrat Mignon Clyburn. The president appoints commissioners to five-year terms, but they must be confirmed by the Senate.
"We congratulate Chairman Pai, and nominees Rosenworcel and Carr on earning approval from the Senate Commerce Committee to serve on the FCC," said Jonathan Adelstein, President and CEO of the Wireless Infrastructure Association (WIA).
"Each individual has consistently demonstrated strong and independent commitment to public service and a desire to work with all stakeholders to meet the needs of communities throughout the United States. The FCC is now well positioned to help shape the future of mobile communications for years to come. Wireless infrastructure remains the foundation of the advanced wireless networks that deliver the innovative applications we use daily, as well as life-altering broadband services like telemedicine, distance learning, and improved public safety," said Adelstein.