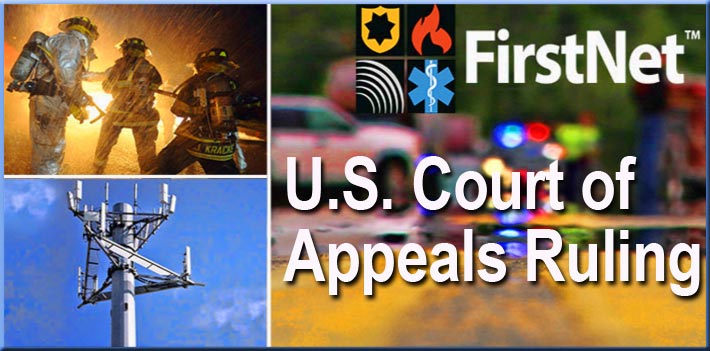 The U.S. Court of Appeals of Federal Claims on Friday ruled against Rivada Mercury in the lawsuit they filed in November alleging that they were unfairly excluded by FirstNet from being in the competitive range for the nationwide broadband network for public safety contract
Knowledgeable industry observers have said that if Rivada's lawsuit was denied, the FirstNet board will most likely hold a special meeting to immediately move forward to award the first responder network to AT&T.
AT&T said in a December federal filing, that it believed no other competitors were eligible to be considered for the project.
"Based on Rivada's court filing and pdvWireless' public statements, AT&T is not aware of any other bidders who remain within the 'competitive range' of the First Responder Network procurement. Should AT&T's bid be accepted, we look forward to serving the public safety community through this contract and making a significant investment in the infrastructure of our country," the carrier said in its 8K notice.
"We are pleased to share that the U.S. Court of Federal Claims has ruled in favor of FirstNet in the protest action. This is a positive development for public safety's network," said FirstNet CEO Mike Poth.
"As we said we would, FirstNet has continued to work on the procurement up to the point of an award. We are ready to move forward on the necessary steps to finalize the contract for the nationwide public safety broadband network."
Since the court sealed the hearing under a protective order, court testimony is not available. U.S. Court of Federal Claims Judge Elaine D. Kaplan heard oral arguments in the case March 3.
In a tweet, Rivada Networks CEO Declan Ganley said: "Rivada U.S. Court of Fed Claims motion denied. Considering appeal & are ramping up with States that want option to exercise opt-out right."
AT&T also welcomed Kaplan's ruling.
"We are pleased by the court's ruling, as it allows FirstNet to select its partner and jump-start the process of delivering America's first nationwide broadband network dedicated to public-safety," according to the AT&T statement. "We would be honored to be selected and help fulfill FirstNet's important public-safety mission."
"We are fully prepared to execute our plan to work with the states to build state-of-the art, dedicated networks for Public Safety," said Joe Euteneuer, co-CEO, Rivada Networks. "We applaud New Hampshire's recognition of Rivada's experienced management team, technology, and technical expertise and believe many other states will make a similar selection."
Euteneuer added: "FirstNet has made its choice. Now it is time for states to make theirs. Those that stand by idly will be forced into a federal solution that may or may not suit their needs or budgets. We look forward to working with the states to ensure that they receive a network equal to the promise made to public safety when FirstNet was created."
An award of the contract to AT&T would provide the carrier access to 20 MHz of paired 700 MHz. Although they will be required to always serve the needs of public safety users, especially in a national emergency, it is estimator that approximately one percent of the spectrum will be used to serve public safety needs.
FirstNet officials stressed last week that they have made good use of the time before the contract is awarded, including by continuing to consult with states and by bolstering FirstNet's plans for immediately moving ahead with an award and initial post-award activities, if that is permitted. "Both management and the board are continuing to act with urgency on all fronts," board Chairwoman Sue Swenson said. "I think we're more ready than ever."