President Donald Trump's proposed 2018 budget cuts, released late last week, left the wireless industry basically unscathed except for some cuts to rural broadband efforts that are said to be duplicated elsewhere.
But the Corporation for Public Broadcasting (CPB) took a huge hit on President Trump's wish list, losing $445 million, which could result in a number of rural stations turning off their transmitters and station engineers performing maintenance that might have been previously attended to by professional tower technicians.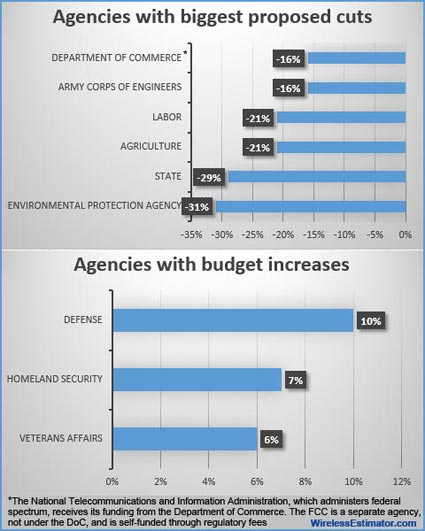 The CPB supports public television and radio, including PBS and NPR.
Last night, PBS President Paula Kerger said that the loss of the federal funds in urban enclaves will not see station's seriously struggling to make up for the loss since they have a larger donor base to compensate for it.
"But in rural parts of the country, we have about 86 stations that serve rural communities. It can represent as much as 50 or 60 percent of their budget. And so the reason that we fight for this funding so intently is that those stations would immediately go off the air," said Kerger in a CNN interview.
Some Republican politicians have been trying to stop funding to the CPB since the 1970's, but they've never succeeded, but this is the first time that zero dollars have been proposed in a budget.
Kerger said the ruse of opponents is that the programs that they produce could be available elsewhere with cable and emerging broadband.
"In many communities and in many homes that cannot afford cable or broadband, we are the lifeline. We are the way that people are receiving information, and most importantly, for the half of the kids in this country that are not enrolled in pre-K programs, we are their access to information that will help them succeed in school and in life."
"On the smaller stations where their budgets are very tight, broadcast engineer have to do it all, crawling all over the towers themselves," said one executive who services the broadcast industry.
He, and others contacted by Wireless Estimator, believe that local broadcasters might be pressured to perform additional work on their structures that should be managed by tower companies.
A Southeast contractor who has a number of NPR clients said that "even in the best of times, they're always asking how to reduce your proposal."
"The scary part is I've come across some engineers that have installed antennas using uni-strut, to cut down on the cost of a proper mount."
However, many station engineers embrace being able to climb towers and to service their transmitters and antennas, and will frequently post pictures on Facebook and do on air interviews.
In an interview in 2013, the director of engineering for Wyoming Public Media who said he had been trained to climb, explained: "The biggest motivation for us was a couple of things. First of all, it was time. Oftentimes, we just don't have the time to get a tower crew into a site. When we need to get something back up and running, this is Wyoming. You're not just going to call up a tower crew and have them there the next day. It just doesn't happen."
For urban PBS and NPR stations that lease broadcasting space from the major tower owners, safety may not be an issue since the companies have strict insurance and worker compliance requirements in place.
Department of Labor gets a 21% trimming
Although the Department of Labor budget is proposed to get a 21% haircut, it is not known how those cuts will affect OSHA enforcement and rules promulgation, nor the DoL's apprenticeship programs such as TIRAP.
The budget blueprint identifies, if approved, it would continue to support the National Telecommunications and Information Administration (NTIA) commercial sector's development of next generation wireless services by funding NTIA's mission of evaluating and ensuring the efficient use of spectrum by government users.
The FCC gets a pass – for now
The budget does not identify any cuts for the FCC, an independent agency funded by regulatory fees.
For 2017, the FCC requested a budget of $358 million, a request that was $26 million less than their 2016 funding. However, part of the 2016 budget, $44 million, was specifically made available for expenses associated with moving to a new facility to reduce space consumption and associated budget costs. For 2017, the FCC requested $16,866,992 for that same purpose.
Chairman Ajit Pai recently took cost-cutting measures that will curry favor with Office of Management and Budget Director Mick Mulvaney by informing nine companies that they can no longer provide subsidized broadband to customers who qualify for the Lifeline program.