Update: Oct. 4, 2017 – The FCC unanimously voted today to immediately provide carriers with up to seven-months' worth of support from the FCC's Universal Service Fund, which helps lower the cost of deploying service in areas that are costly to serve. Any funds advanced under today's action can be used to repair telecommunications infrastructure and restore service to customers across the islands. FCC Chairman Ajit Pai has proposed making available up to $77 million to fund repairs of communication networks and restore services following Hurricane Maria's catastrophic damages.
---
"Specifically, I am proposing to allow carriers to use money provided through the Universal Service Fund's high-cost program to repair and restore communications networks throughout Puerto Rico and the U.S. Virgin Islands. I am also proposing that we give carriers operating in these territories the option of receiving USF funding in advance. Instead of receiving a standard monthly payment, carriers could elect this month to receive seven months' worth of funding immediately in order to expedite repair and restoration efforts," Paid said in a statement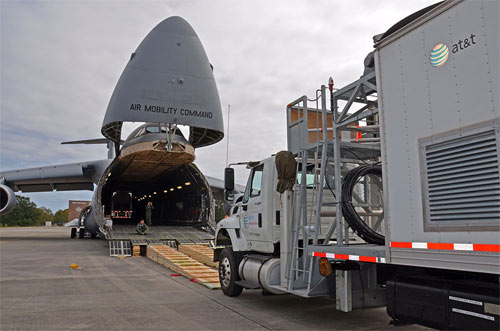 The fund provides federal subsidies to companies to make communications services more accessible and affordable in places where the cost is high.
The Commission is not due to meet to consider Pai's proposal until Oct. 24, but it could meet earlier if all of the Commissioners agree.
Some 37 percent of residents now have cellular phone service, Gov. Ricardo Rossello informed the Department of Defense on Monday. "We have 270 antennas that are up. We have more than 1,700 antennas in Puerto Rico," he said, but his statistics contradict FCC data.
Yesterday,  the FCC reported that 87.9% of cell sites were out of service, virtually no change from 88.3% on Monday. The agency also stated that the island has 2,644 cell sites with 2,324 out of service.
What the FCC's Order Would Do:
 Takes action to make up to $76.9 million immediately available for the restoration of communications networks in Puerto Rico and the U.S. Virgin Islands.
 Clarifies that carriers receiving high-cost support in Puerto Rico and the U.S. Virgin Islands can use funds to repair and restore damaged telecommunications infrastructure.
 Allows carriers to elect a single advance payment of up to seven months of high-cost support to aid with large repair costs.
 Finds that the catastrophic impact of Hurricane Maria has presumptively left all of Puerto Rico unserved by an unsubsidized competitor. No competitors reported qualifying service in U.S. Virgin Islands prior to Hurricane Maria.
 Grants a 60-day waiver to Puerto Rico Telephone Company to wind-down spending in areas following an unsubsidized competitor's reporting of restored service.
 Instructs carriers to coordinate restoration efforts with the Public Safety and Homeland Security Bureau to ensure that coverage is available to the most people.