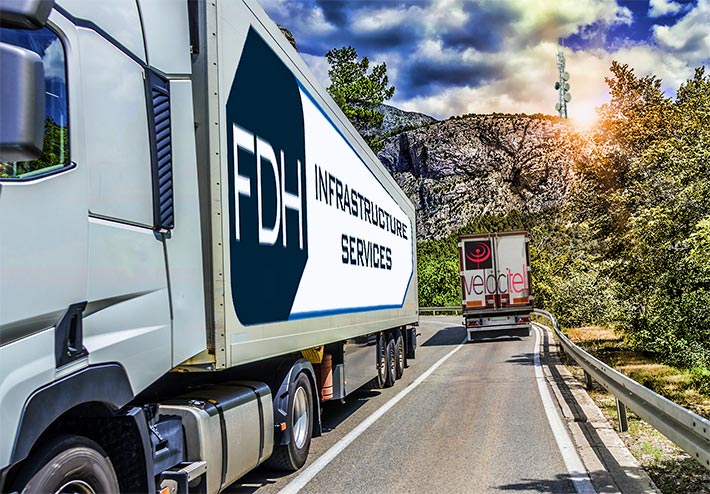 Following QualTek Services' recent acquisition of the assets of the Velocitel wireless turf and Site Safe businesses from Willis Stein & Partners and Vision Capital, FDH Velocitel's remaining business units have reorganized into FDH Infrastructure Services (FDH-IS).
FDH Velocitel's infrastructure engineering businesses, FDH and Stainless, have been restructured to preserve both entities' long traditions of service excellence to the wireless, broadcast, heavy civil and power markets, according to a press statement.
The two companies now comprise FDH-IS and will be headquartered in Raleigh, NC, and led by Senior Vice President Robert F. Lindyberg, PhD, PE. Ownership of both companies will be retained by Willis Stein & Partners and Vision Capital.
Approximately 300 of FDH Velocitel's employees will transition with Velocitel to QualTek. According to their press release, FDH-IS will have more than 150 employees in their offices located in seven states.
Over the past couple of years Velocitel has reduced its field employee count from approximately 100-plus service personnel to approximately 30, and it is expected that those workers will join QualTek's turnkey wireless company Empire Telecom, headquartered in King of Prussia, Pa.
"We wish our colleagues at Velocitel the very best as they join the QualTek Services team and look forward to the continued growth of FDH Infrastructure Services," said Lindyberg.
"Our new organization will further enhance the quality of our service by engaging our clients more directly with the talented engineers who provide innovative engineering, nondestructive evaluation and construction management solutions for the wireless infrastructure, broadcast tower and heavy civil infrastructure markets."
The new leadership team for FDH Infrastructure Services includes David Sisk, CPA (Vice President and CFO); Vice Presidents Ladson Brearley, PE (Site Engineering); Neil Kuplic, PE (Structural Engineering); David Allen, PE (Business Development); Jeffrey Clymer, PE (T&D Services); and Gregg Fehrman, PE (Broadcast Towers).
The combination of QualTek and Velocitel will double the size of the legacy platform and significantly expand its presence into 35 states with over 1,200 employees nationwide, according to a press release from QualTek.
In addition, the acquisition is highly complementary given minimal geographic overlap, creating a leading provider of wireless, wireline, and fulfillment services on a national scale.
"With the addition of Velocitel, QualTek will significantly expand its platform and enhance service capabilities to customers. QualTek will leverage its proprietary technology to deliver quick, timely and accurate data reporting, while continuing to provide the highest level of service to our customers. We look forward to welcoming Velocitel into the QualTek family as our company enters its next phase of growth," said Scott Hisey, CEO of QualTek.
Joseph M. Busky will serve as CEO of Velocitel. Busky joined Velocitel as its CFO in 2015.