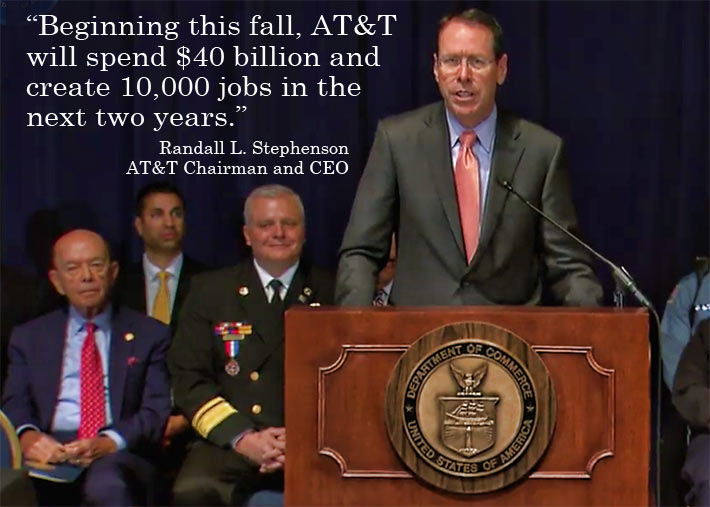 At an award and signing ceremony this morning at the Department of Commerce, AT&T, although unofficially acknowledged as the winning FirstNet bidder, was officially announced as the winner of the private/public safety network contract by U.S. Secretary of Commerce Wilbur Ross.
"Today is a landmark day for public safety across the Nation and shows the incredible progress we can make through public-private partnerships," said Ross. "FirstNet is a critical infrastructure project that will give our first responders the communications tools they need to keep America safe and secure.  This public-private partnership will also spur innovation and create over ten thousand new jobs in this cutting-edge sector."
Ross's ability to make the award followed U.S. Court of Federal Claims Judge Elaine Kaplan's rulings on March 17 that dismissed a procurement protest by the Rivada Mercury's bidding team.
Under the terms of the FirstNet request for proposal, AT&T will sign a 25-year contract to build and maintain the public-safety network in exchange for access to 20 MHz of 700 MHz spectrum and $6.5 billion. The contractor also will pay FirstNet at least $5.6 billion during the 25-year period, ensuring FirstNet's long-term sustainability.
AT&T Chairman and CEO Randall L. Stephenson said,"We are honored to work with FirstNet to build a network for America's police, firefighters and EMS that is second to none.  This is an unprecedented public-private investment in infrastructure that makes America a leader and public safety a national priority. Beginning this fall, AT&T will spend $40 billion and create 10,000 new jobs in the next two years."
At the contract signing, Stephenson turned to Ross and emphasized AT&T's $40 billion spend. Ross laughingly responded with "$46.5 billion," adding in the $6.5 billion that is the government's contribution via the spectrum auction proceeds.
Following the ceremony, FirstNet issued a statement noting that AT&T will be spending about $40 billion over the life of the 25-year contract to build, deploy, operate and maintain the network, with a focus on ensuring robust coverage for public safety.
It is expected that new lease amendments will be announced shortly by tower owners as AT&T identifies additional FirstNet equipment that will be placed on their structures. AT&T will be charging out of the gate in order to provide mandated 60% coverage within two years and 80% within three years.
Wireless Infrastructure Association (WIA) President and CEO Jonathan Adelstein, welcomed the award signing this morning.
"After many years of work on this, including the disappointment of the failure to move the D-block in the 2008 spectrum auction, I am thrilled to see us reach a conclusion to the long and winding road to get to FirstNet. We congratulate AT&T on securing the contract to develop and deploy this critical public safety broadband network. FirstNet will play a crucial role in communities of all sizes by enabling public safety professionals to better serve citizens, and to protect themselves in the process," Adelstein said.
"This reliable, high-speed network will maximize the use of existing infrastructure to power novel applications that increase situational awareness and help save lives. We applaud the many stakeholders involved for their hard work in reaching this milestone. The wireless infrastructure industry is prepared to roll up our sleeves to get this implemented as quickly and efficiently as possible," added Adelstein.
"This public-private partnership is a major step forward for the public safety community as we begin building the broadband network they fought for and deserve," said FirstNet Chair Sue Swenson.  "FirstNet and AT&T will deliver high-speed connectivity to help millions of first responders operate faster, safer, and more effectively when lives are on the line."
"This unique partnership brings together FirstNet as the voice of public safety and a global technology team with a proven track record and commitment to public safety," said FirstNet CEO Mike Poth. "Together, FirstNet and AT&T will move with precision and urgency to deliver this much-needed infrastructure to those who need it the most, our first responders."
FirstNet addresses a key recommendation of the 9/11 Commission regarding communications used by police, fire, and emergency medical personnel.  The public safety community advocated for and endorsed passage of legislation for the wireless broadband network.

In a statement, AT&T said, "In addition to creating a nationwide seamless, IP-based, high-speed mobile communications network that will give first responders priority access, the network will help:
Improve rescue and recovery operations to help keep first responders out of harm's way
Better connect first responders to the critical information they need in an emergency
Further the development of public safety focused IoT and Smart City solutions such as providing near real-time information on traffic conditions to determine the fastest route to an emergency
Enable advanced capabilities, like wearable sensors and cameras for police and firefighters, and camera-equipped drones and robots that can deliver near real-time images of events, such as fires, floods or crimes"
FirstNet and AT&T will innovate and evolve the network to keep the public safety community at the forefront of technology advances.
"For example, as 5G network capabilities develop in the coming years, FirstNet and AT&T will work together to provide the exponential increases in the speed with which video and data travel across the FirstNet network," AT&T said.
Stephanie McCall, show director, for the  IWCE conference being held in Las Vegas this week, said, "This is an exciting time for our industry as well as first responders. FirstNet fulfills a promise made to first responders after 9/11 – that they would have the technology they need to stay safe and do their jobs effectively. IWCE has been providing FirstNet with a platform for education since its inception. Even before FirstNet was established Morgan O'Brien, former Nextel Communications co-founder, proposed this idea for a nationwide public safety broadband network during a keynote at IWCE in 2006. FirstNet is featured throughout the event providing public safety professionals, technology vendors, government officials and app developers with opportunity to find the information and critical education they need."