Exclusive "quick links" document is available for rule review
The State of Washington Department of Labor and Industries has submitted a 106-page Safety Standards for Telecommunications proposal for public review that is expected to be adopted in July following three public hearings. And even though it would just affect those companies working in Washington, it is possible that a number of other states with OSHA-approved State Plans might adopt it or parts thereof, according to state OSH officials Wireless Estimator has spoken with.
Although they said that they could not speak openly, three state OSH representatives said that they were carefully reviewing the document that was released last week which incorporates and adds upon telecommunications standards developed by the States of North Carolina and Michigan.
The new regulation, along with the changes and standards being used, is available here. In order to take full advantage of all of the hundreds of quick links, open the file in Adobe Reader or Acrobat. The rule is expected to be adopted on July 18, 2017 and become effective Sept. 1, 2017.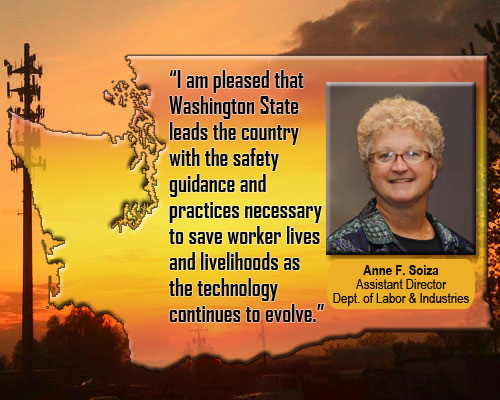 The Washington rule also includes requirements for rigging plans, gin pole installation, use and inspections; base mounted hoist requirements, and helicopter lifting requirements from ANSI/ASSE A10.48. The standard also added requirements from ANSI/TIA 222G.
Twenty-six states plus Puerto Rico and the Virgin Islands have OSHA-approved plans, with 21 states and one U.S. territory covering both private and state and local government workplaces.
States must meet all federal regulations, but can exceed them, as is the case with the more stringent Washington standards.
Whereas state and federal regulations frequently refer to consensus standards for suggested compliance, Washington most oftentimes states that workers "shall" comply with each requirement, allowing for strict and manageable enforcement by its Occupational Safety and Health inspectors when violations become known.
Washington's proposed rulemaking modifies the current Chapter of 296-32 WAC (38 pages), originally created in 1975.
Although there had been partial rule changes from 1976 through 2002, the current revision began In 2013, when the Department of Labor & Industries received petitions formally requesting the department to recommence with the rulemaking that began in 2009.
They scheduled additional stakeholder meetings starting in May 2015, and throughout this process the department worked with labor, business, and industry representatives to develop the new proposed rule.
However, according to Anne Soiza, L&I Assistant Director, Department of Labor and Industries, Division of Occupational Safety and Health, the long road to adoption has been well worth it.
"Hard work and collaboration from regulated industries, owners, and labor regarding the prevention of worker fatalities and serious injuries is demonstrated in this draft Washington rule."
"I am pleased that Washington State leads the Country with the safety guidance and practices necessary to save worker lives and livelihoods as the technology continues to evolve," Soiza informed Wireless Estimator.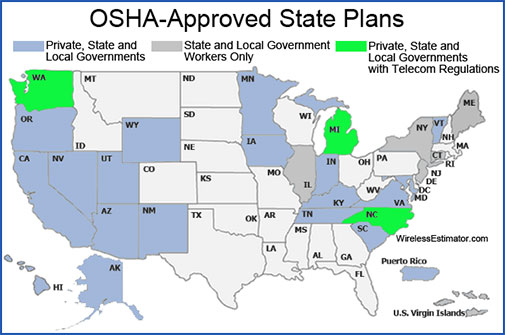 The standard is divided into three sections: general requirements, requirements that apply to wireline, and requirements that apply to wireless. However, along with distributed antenna installations and anticipated 5G requirements, wireline and wireless are seeing an increased overlap within contractor scopes of work due to necessary and complex business relationships.
According to a draft cost-benefit analysis report for the telecommunications standard obtained by Wireless Estimator, the Department of Labor & Industries estimates that the rule amendments would impose total costs on all affected parties in Washington within a range of $103,697 to $216,866 each year. The estimated total benefits of their amendments would range from $1.50 million to $2.12 million annually.
Median hourly wages used in the analysis were: Telecommunications Equipment Installers and Repairers (except Line Installers), $27.76; Telecommunications Line Installers and Repairers, $23.49; Radio, Cellular, and Tower Equipment Installers and Repairers, $29.53.
Public hearings and commenting requirements provided
Public hearings will be held May 9, 2017, 1:00 p.m., Department of Labor and Industries, 3001 West Broadway Ave., Moses Lake; May 11, 2017, 9:00 a.m., Department of Labor and Industries, 12806 Gateway Dr. S., Tukwila; and May 12, 2017, 9:00 a.m., Department of Labor and Industries, Rooms S118 & S119, 7273 Linderson Way, Southwest Tumwater.
Written comments can be submitted to Cindy Ireland, Administrative Regulations Analyst (Cynthia.Ireland@lni.wa.gov) Division of Occupational Safety and Health, P.O. Box 44620 Olympia, Washington 98504-4620.
Submissions must be received by 5:00 p.m. on May 19, 2017.
The department will also accept comments faxed to (360) 902-5619. Comments submitted by fax must be 10 pages or less.