Two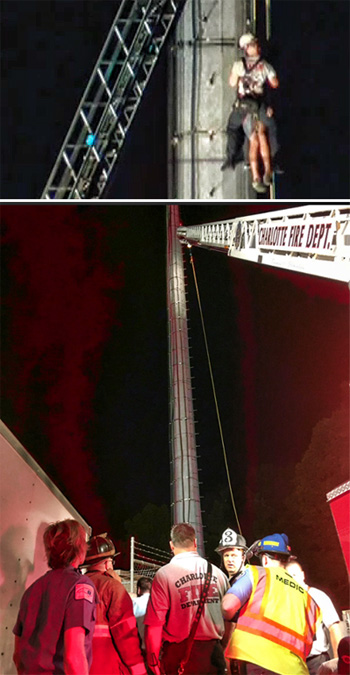 workers had to be rescued after being unable to get down from an approximately 125-foot Crown Castle monopole in south Charlotte, N.C. Thursday night.
According to Charlotte-Mecklenburg Police, two techs were working on the tower, located at 1800 Rama Rd. when one of the men became ill.
The other tower climber proceeded to help his coworker, but couldn't assist him to get down the structure. Police say at one point one of the men became unconscious.
The subcontractors were doing maintenance on the tower when the incident occurred.
Authorities did not release the name of the rescued individuals and their employer.
Firefighters responded to the high-angle rescue just before 10 p.m. and the workers were back on the ground around 11:30 p.m.
Crown Castle said in a statement, "Crown Castle is committed to the safety of our employees, contractors and community. We are grateful for the Charlotte Fire Department's rescue efforts and wish the injured person a full recovery. We cannot comment further because the injured worker is not a Crown Castle employee or contractor. We will continue to cooperate with the proper authorities."