UPDATE: Sept. 29, 2017 – Authorities have released the names of the three technicians who fell to their deaths Wednesday when a gin pole failed during an antenna installation project in Miami Springs, Fla.
The men were identified as Marcus Goffena, 31, from Sidney, Ohio, Brachton Barber, 23, of Longwood, Fla., and Benito Rodriguez, 35, of Tampa, Fla.
Brachton is the son of the owner of Tower King ll, Kevin Barber, and his wife, Shelly.
Funeral services for Goffena, a standout baseball and football player for Sidney High School,  are being arranged by the Cromes Edwards Funeral Home.
Services have not been set for Barber and Rodriquez, but will be provided by Wireless Estimator when they become available.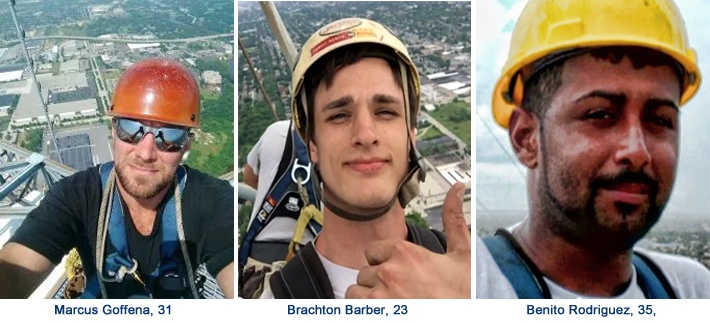 ---
Sept. 27, 2017 – Three tall tower technicians died just before 4:00 p.m. today in Miami Gardens, Fla. while working on a repack project. The men, employees of Tower King ll, Inc. of Cedar Hill, Tex. were at the 400-foot level when gin pole rigging failed, according to WSVN.
However, video views showing the dummy antenna and pedestal at the base of the gin pole on the ground would suggest that the pole they were tied off to was on the arbor at about 1,000 feet, 32 feet below the structure's top.
"There were some other gentlemen in a trailer and some other guys on the ground who were able to run away as the crane fell," Miami Gardens Police Chief Delma Noel-Pratt said.
WSVN had hired Tower King ll to do antenna work on the tower, which is shared with WPLG. Although initial news reports said the workers may have been subcontractors, they were all employees of Tower King ll.
WSVN-TV owner and president Edmund Ansin released a statement that reads, "We are saddened by this tragic event. Our deepest sympathies go out to the families of the three men who died. They worked for a company hired by Channel 7 to perform work on the tower that was required by the FCC."
The tower, located at 501 Northwest 207th St., was completed in 2009 and began digital transmission the same year.
Tower King ll is one of the most respected names in the industry for tall tower work and was founded by its president, Kevin Barber.
According to individuals knowledgeable of the incident, one of the deceased was his 21-year-old stepson.
There have been some concerns that the FCC's ambitious repacking schedule did not have enough tall tower crews to handle the work required to meet the transition's deadline, and that the use of inexperienced crews could cause injuries or deaths.
However, Tower King ll is one of the most experienced and safest companies in the industry.
It is likely that the FCC will reassess the deadline following this incident.
The assistant chief engineer for WPLG, Steve Ellis, told viewers that Tower King ll had performed work many times for Miami area broadcasters, describing them as truly concerned about safety considerations.
"Really, the highest qualifications you could have in a tower crew," he said.
The Stainless candelabra tower, owned by WPLG Channel 10, was constructed by Tower King ll in 2009, and is 1042.3' to the top of the antennas. It has a 12' wide face, 2-man elevator, 50' separation between antennas (center to center between arbors) and the heaviest section is 26,500 lbs.
Each section is 30' in length and the total structure weighs 1,013,450 lbs. Leg diameters range from 6.63" to 7.5" and there is a total of 5 levels of guy wires with the biggest one, at a tension of 106,000 lbs., at 2-5/8".
OSHA is investigating. Today's deaths bring the total of industry fatalities to five in 2017, according to Wireless Estimator.
Wireless Estimator will provide additional details as they become available.