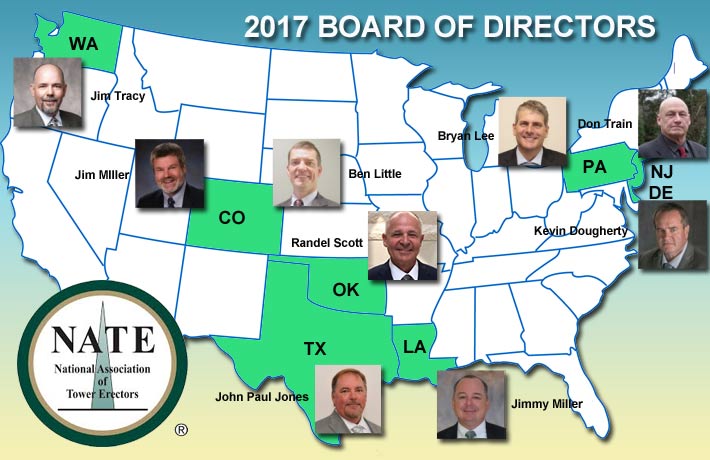 The National Association of Tower Erectors (NATE) today released the official results of the 2017 Board of Directors election, announcing that candidates Jim Tracy, CEO of Legacy Telecommunications, Inc. in Burley, Wash.; Jim Miller, President of EasTex Tower, LLC in Colorado Springs, Colo.; and Ben Little, CEO of Centerline Solutions, LLC in Boulder, Colo. were re-elected and will retain their seats.
Candidate Randel Scott, President of Texoma Contracting, Inc. in Muskogee, Okla. also emerged victorious and will be serving as a new member of the Board of Directors.
The position became open when board member Kari Carlson of Tower Systems, Inc. of Watertown, S.D. elected not to run again after serving the organization for eight years.
Scott, whose telecommunications career has spanned 40 years, said he has seen many changes to the industry since he first started as a tower climber in 1974. He formed Texoma Contracting in 1992. The company has approximately 45 field employees.
The four candidates who were elected by their industry peers will officially begin their two-year terms on Feb. 26, 2017 at the NATE UNITE 2017 Conference in Fort Worth, Tex.
"The 2017 NATE Board of Directors Election was one of the most competitive elections in the history of the Association and all of the candidates who ran in this election performed admirably well," stated Executive Director Todd Schlekeway.
"The recently elected NATE Board of Directors will be presiding over an era of unprecedented advances in wireless infrastructure and technologies and will provide innovative, proactive leadership in order to maintain the Association's role as the global leader in safety, standards and education as the industry moves toward the deployment of 5G networks," added Schlekeway.
Also running for a board seat were Russ Chittenden, from Synergy Concepts, Inc. of St. Louis Mo.; William Clark, Jr. from Engineering Wireless Services of Tempe, Ariz.; and Shama Ray from Above All Tower Climbing LLC of Bonne Terre, Mo.