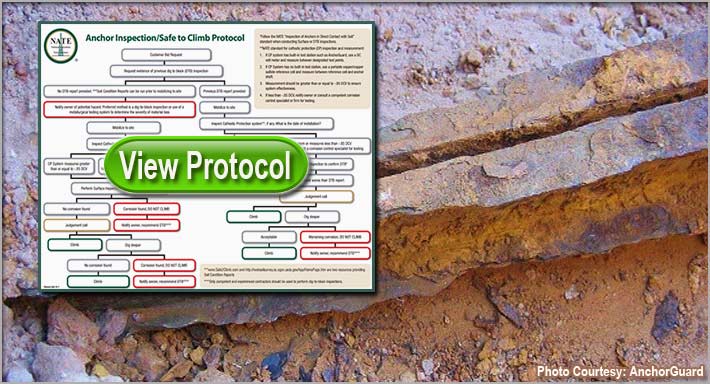 The National Association of Tower Erectors (NATE) has released its long-awaited  Anchor Inspection/Safe to Climb Protocol document to assist workers and owners in assessing whether a structure's anchor system is in a condition that could easily cause a catastrophic incident.
Corrosion, an electrochemical process, returns refined steel back to its native state, and a lingering question in the tower industry has been, at what point do guy anchors return to their native state?
Owners, managers and field staff can now reference the Anchor Inspection/Safe to Climb Protocol document to aid them in making a "judgment call" on whether or not to climb a tower without foreknowledge on the condition of the underground anchors.
As the industry has witnessed in the past, the results of not doing anything have been and can be catastrophic.
"This has always been a challenging subject in our industry as we continue down the path of the reality that is competitive bidding," said NATE in announcing the document.
"Fortunately, we have had many leaders in our industry working diligently for many years on this problem, but we as an association need to continue to build on the ideas and effort that they have put forth. We need to continue to bring awareness within our industry on this out-of-site and unfortunately sometimes out-of-mind issue."
CLICK HERE to view the Anchor Inspection/Safe to Climb Protocol Document.