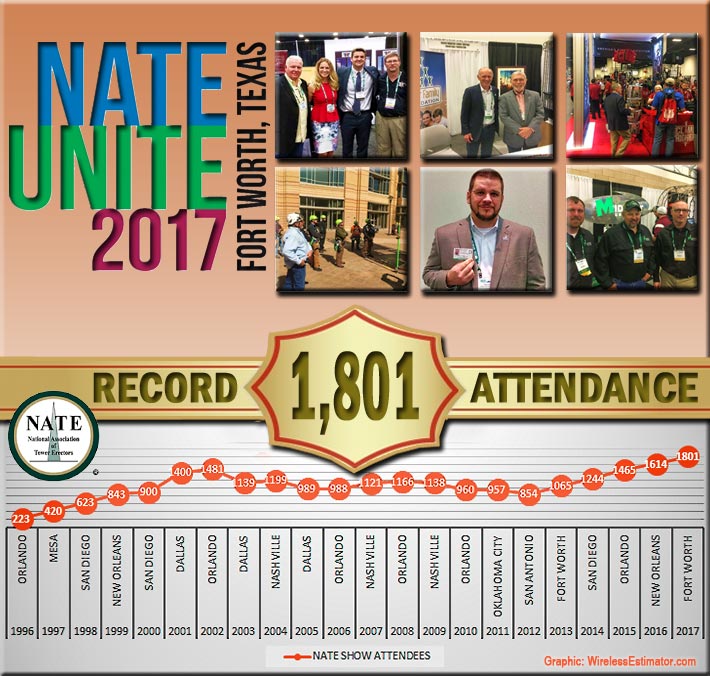 The National Association of Tower Erectors (NATE) announced today that last week's NATE UNITE 2017 Conference in Fort Worth, Tex, set new attendee and exhibitor records.
The Association said that 1,801 individuals registered to attend NATE UNITE 2017. This total eclipses the organization's all-time conference registered attendee total in its 22-year history, exceeding the previous attendance registration record of 1,614 at NATE UNITE 2016 in New Orleans, La. NATE leaders also touted the record-breaking number of 153 exhibitors who participated in the NATE UNITE 2017 trade show this year. The 153 exhibitors surpasses the previous mark of 137 exhibitors for a NATE event.
"We are thrilled with the overall success of NATE UNITE 2017," said NATE Events Coordinator Shari Wirkus. "The record-breaking numbers associated with NATE UNITE 2017 were made possible due to the tremendous sponsor and exhibitor support and the top-notch keynote speakers and educational sessions that were offered," added Wirkus.
"NATE is excited to continue this momentum moving forward and our Trade Show Committee is already in the planning stages for NATE UNITE 2018 in Nashville, Tennessee," stated Executive Director Todd Schlekeway. "Given the trajectory the Association is on, I am anticipating another record setting event in the Music City next February," Schlekeway said.
To read a recap of decorated Navy Seal Marcus Luttrell's captivating NATE UNITE 2017 Keynote address, visit the Wireless Estimator story HERE.
To view a gallery of photos from NATE UNITE 2017 in Fort Worth, Texas, visit NATE's Instagram page HERE. For more information on NATE, visit www.natehome.com today.