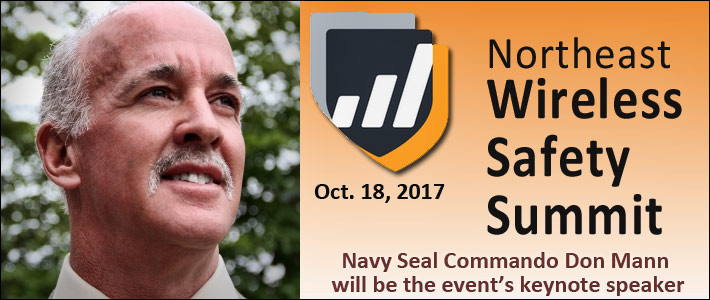 Turnkey Safety Solutions has announced the lineup for its exciting keynotes and panels for the Northeast Wireless Safety Summit (NEWSS). Many of the speakers are safety professionals, insurance experts and other prominent members of the wireless community interested in promoting the importance of safety, training and the most modern techniques for protecting workers from the inherent hazards.
The event is to be held at the Crown Plaza in Fairfield, N.J. on Oct. 18, 2017. Registration can be accessed here.
The safety summit is an event designed to bring awareness about the issue of safe work practices to the wireless telecom industry.
Over the past three years, NEWSS has grown and is now powered by Turnkey Safety Solutions (TSS), a safety training and consulting firm. It is expected to attract a record number of attendees at its fourth event, with a new venue and scope directed at executive level and field employees from around the region.
Companies can expect to hear the latest and greatest in industry-best practices while also learning techniques to enhance field safety programs.
The keynote speaker will be Don Mann, former Navy SEAL Team SIX Commando, renowned world–class adventure competitor and New York Times bestselling author.
Mann's unique story and the lessons he shares during his highly-accredited and very popular presentations come from his colorful and action-packed life as a Navy SEAL. He also has tremendous experience competing in some of the world's most grueling competitions, and his background in the business world.
Mann's impressive military biography includes being a decorated combat veteran; Corpsman; SEAL Special Operations Technician; jungle survival, desert survival, and arctic survival instructor; small arms weapons instructor, foreign weapons instructor, armed and unarmed defense tactics, advanced hand-to-hand combat instructor; and Survival, Evade, Resistance and Escape Instructor; in addition to other credentials.
Todd Schlekeway, the Executive Director of the National Association of Tower Erectors (NATE), will also be speaking and will be focusing on topics that NATE and its members are constantly striving to bring to the industry's attention.
Sponsorships have been selling briskly and the exhibitor space is nearly sold out, according to James Weiss, President of Turnkey Safety Solutions. The show will offer a completely new approach and new players, and has already attracted an impressive roster of strong speakers.
Some of the panels and education sessions highlights are:
EMR- how it is created and how it effects your business
Factors for approval from Turf venders and property managers
Site Safety Checklist
ENSA safety day
Understanding the New OSHA/ FCC Best practices
Speakers list:
Phillip Grubb – Black and Veatch
Anthony Suppa Jr – PSE &G
Adam Drieling – FDH Velocitel
Jim Gorga – Arthur J. Gallagher & Co.
Kathryn M. McMahon -at Conn Maciel Carey LLP
Justin Pitts – ECC
And many more
For more information contact Aaron Friedman at Fifth Gen Media: aaronf@fifthgenmedia.com – 973-244-8568 ext. 101.