In early April, a ruling from India's Supreme Court shut down a BSNL cell tower after Harish Chand Tiwari, who works in Gwalior, complained that for the past 14 years he was exposed to radiation from a the tower illegally installed on a neighbor's rooftop that was 165-feet from his employer's home.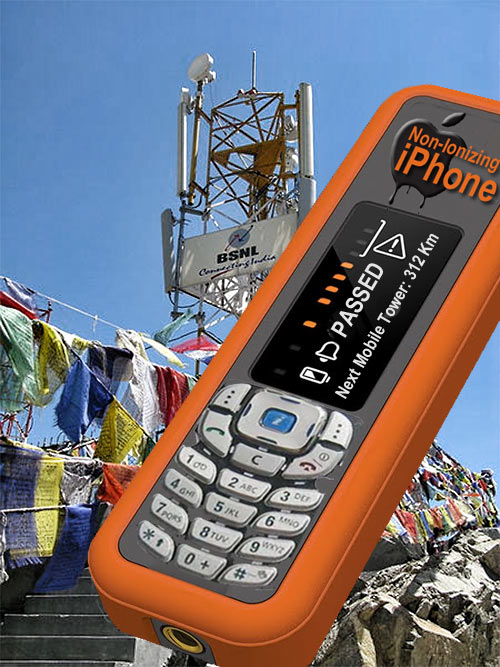 And under pressure from the major tower owners and carriers to quell concerns, the Department of Telecom (DoT), along with private enterprise, announced its novel approach to resolve the problem.
Those worried about cell tower electromagnetic radiation affecting health can now, according to the DoT, easily find out if EMF transmissions are too high.
"By the click of a button, information on EMF compliance status of mobile towers can be accessed," the DoT said in announcing their new search portal – Tarang Sanchar (Wave Communications)  – that uses GPS from a cell phone to identify if a tower is safe.
During the Minister of State for Communications Manoj Sinha's presentation during the launch of the web portal on Monday , he said that he was sure that it will help to allay the nation's continuing concerns.
What he failed to mention is that the module's database, according to a review by Wireless Estimator, only has 62,656 towers in it, approximately 15% of the nation's 400,000-plus towers.
So if you're in the Dadra and Nagar Haveli, you'll only be able to find 6 towers in the Union Territory of 189 square miles with a population of 343,000.
You might find more success in the State of Tamil Nadu which boasts the largest complement of cell towers, 8,071 spread over 50,000 square miles, and serving a population of over 68 million.
Also, what Sinha didn't dwell upon was the fact that all of the towers are in compliance, but, many inspections are from 2014, and it's likely that there have been a number of antenna change-outs and new co-locations since then, skewing EMF audits.
Although all base transceiver stations are certified by the carrier and submitted to the Telecom Enforcement Resource and Monitoring  (TERM) group of the IoT upon launch, whenever a change occurs and also on a biennial basis, the IoT's database doesn't reflect additional reporting.
However, if residents can't find their nearby tower on the portal, and their odds are six-to-one that they will not, they can easily request a measurement by contacting TERM online and simply providing their physical location and a credit card payment for $62.28 U.S.
As New York City found out, monitoring RF exposure for all cell sites is too difficult and costly. They introduced legislation, but it failed to pass.