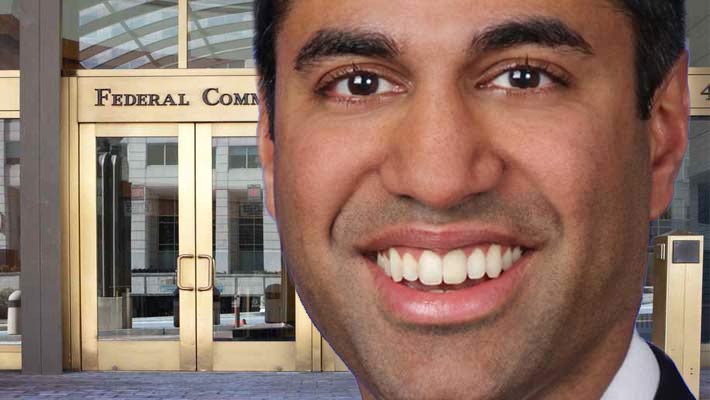 UPDATE: January 23, 2017 – In sync with his new boss' Twitter affection, FCC Commissioner Ajit Pai Tweeted today, "This afternoon, I was informed that #POTUS @realDonaldTrump designated me the 34th Chairman of the @FCC."
Pai, 44, a Republican, steps into Tom Wheeler's position. Wheeler stepped down from his chairmanship on Friday.
The industry came out in force to congratulate Pai, with T-Mobile CEO John Legere and Sprint CEO Marcelo Claure both offering their congratulations on Twitter.
Former FCC Commissioner and President/CEO of the Wireless Infrastructure Association (WIA) Jonathan Adelstein took a more formal route, stating, "We congratulate Chairman Pai on his elevation to the Chairmanship. He has just the right expertise and experience to make an outstanding Chairman. WIA is especially thrilled that he fully appreciates that wireless infrastructure is the foundation that delivers the innovative applications we use daily, as well as life-altering broadband services like telemedicine, distance learning, and improved public safety."
"Chairman Pai is a strong champion of wireless broadband deployment.  As Commissioner, he advocated for pole attachment rule reform, improved siting on federal lands, 'dig once' policies, and tightened shot clocks that will help ensure high-speed broadband infrastructure gets deployed quickly and efficiently. He has a record of success that has achieved very tangible benefits for consumers and the U.S. economy in general. We expect that under his leadership, the FCC will encourage more investment in building our wireless networks."
The National Association of Tower Erectors (NATE) also congratulated Pai on his appointment.
"Ajit Pai has been an outstanding FCC Commissioner and NATE looks forward to continue working with him in his new role as Chairman," stated Executive Director Todd Schlekeway. "Chairman Pai's strong advocacy of policies promoting deregulation and facilitating pro-growth deployment opportunities are consistent with NATE's positions and will undoubtedly foster more innovation in the industry," added Schlekeway.
"NATE member companies have developed and maintained every generation of communications networks and will continue to be on the front lines deploying the wireless technologies of tomorrow," said Schlekeway.
Expected accolades also came from his fellow commissioners.
Commissioner Michael O'Rielly said Pai's "thoughtful approach, deep knowledge base, and sense of humor have been great assets to the Commission, and it makes sense that President Trump hand-picked him to carry out the new Administration's broad vision for the agency."
Democratic Commissioner Mignon Clyburn also congratulated Pai, stating, "Ajit is bright, driven and committed to bringing connectivity to all Americans. I am hopeful that we can come together to serve the public interest by supporting competition, public safety, and consumer protection."
To fill out the Commission, President Trump will be able to appoint two additional Commissioners, one Republican and one Democrat.
---
January 20, 2017 –  President Donald Trump will appoint FCC Commissioner Ajit Pai to head the FCC in his new administration, according to multiple media outlets, identifying multiple sources they discussed the matter with.
The announcement could come as soon as this afternoon following President Trump's inaugural parade down Pennsylvania Avenue.
Pai, a Barack Obama nominee, has served as the senior FCC Republican for more than three years. He wouldn't require approval by the Senate.
Pai, who met with Trump in New York on Monday, has been seen by a number of trade group executives as the top contender for the position.
President Trump's transition team may have opted to not bring in outside talent for the key position since there are not too many qualified individuals that are experts in telecom law.
Pai, 44, is known to be against mega mergers.
He has dissented from most of Chairman Tom Wheeler's policies and, along with fellow Republican commissioner Michael O'Rielly, he voted against the net-neutrality order in 2015.
Pai has served a number of telecom interests, having worked as a lawyer for Verizon for three years. He's also politically connected, having worked for Alabama Senator Jeff Sessions, President Trump's pick for attorney general.