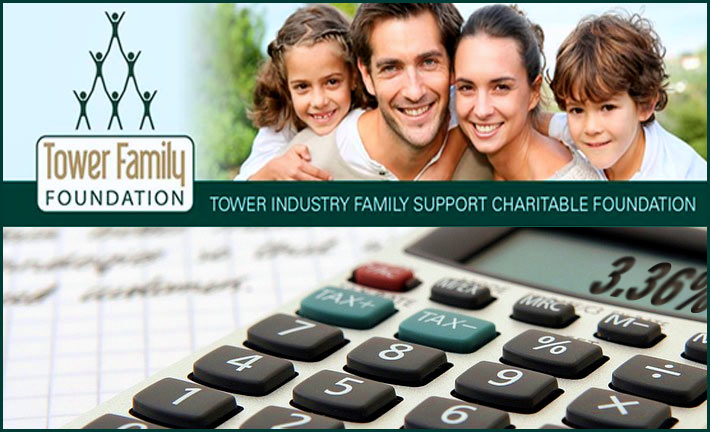 In an act of transparency, the Tower Family Foundation, a 501c-3 non-profit, today touted the organization's strong financial management and stewardship track record in an industry-wide announcement.
Independent certified public accounting firm Vilhauer, Raml & Snyder LP calculated that the Tower Family Foundation's administrative expenses for the year ending December 31, 2016 as a percentage of total revenue was 3.36%. The Vilhauer, Raml & Snyder report was conducted in accordance with attestation standards established by the American Institute of Certified Public Accountants.
"On behalf of the Tower Family Foundation, we are excited that this report confirms that the foundation has a first-class record of managing the donated funds entrusted to the organization," said Board of Directors member Kari Carlson of Tower Systems, Inc. "This independent calculation places the Tower Family Foundation among an exclusive group of non-profit organizations in the United States that can boast of ultra-low administrative expenses and donating over 96 cents of every dollar to eligible benefactors," added Carlson.
The Tower Family Foundation has been established to help provide financial assistance to family members of a severely injured, permanently disabled, or deceased tower worker injured or killed in an accident stemming from working at heights on communication structures or other on-the-job related activities that tower workers are involved in on a daily basis.  The Tower Family Foundation is governed by a dedicated group of volunteer Board of Directors and Advisory Committee Members.
Since inception in 2014, the organization has provided $325,000 to tower industry workers and their families. These generous contributions have been instrumental to the Tower Family Foundation's success and are making an indelible impact by allowing the organization to fulfill its mission of taking care of tower workers and their families.
"We have seen first-hand that the need is real and the foundation's resources are making a difference in the lives of industry workers and families when they need the support the most," stated Board of Directors member and Advisory Committee Chairman Cliff Barbieri, President of Advanced Tower Services. "I would encourage all organizations, companies and individuals in the diverse wireless and broadcast industries to make a donation today to the Foundation," Barbieri added.
Donating to the Tower Family Foundation is easy.  Contributions can be made to the Foundation via credit card or check.
Make your check out to the Tower Family Foundation and mail it to the address listed below:
Tower Industry Family Support Charitable Foundation
8 Second Street SE
Watertown, SD 57201
Additionally, company and individual donations that reach distinguished level donations to the Foundation will be given special recognition and promotion on the Tower Family Foundation website.
Interested donors are encouraged to visit the Tower Family Foundation's website at www.towerfamilyfoundation.org to learn more about the organization and make an online contribution