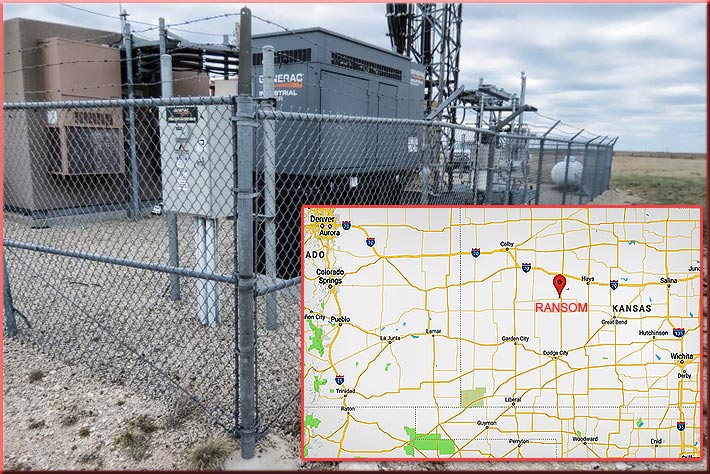 January 3, 2018 – UPDATE:  Authorities have released a statement that  Clayton Donnell Barnhill of Grayson, La., was working on a communications tower fell approximately 320 feet to the ground from a 420-foot guyed tower.
Based on reports by the Trego County Sheriff's Office, a coworker on the tower with the deceased heard the deceased "click" his safety harness on, then the deceased leaned back and started to fall to the ground. Another co-worker on the ground, reported that the deceased hit three guy wires as he fell to the ground.
However, OSHA has not closed out their investigation.
---
December 11, 2017 – UPDATE: Memorial services for Clayton Donnell Barnhill will be held at 2 p.m. Tues., Dec. 12, 2017 at the chapel of Riser Funeral Home, Columbia, La. with Bro. Shane Carter officiating. The visitation will be from 1:30 until time of service. Barnhill passed away Dec. 9 after falling from a tower near Ransom, Kan.
Barnhill was born May, 28, 1978 in Alexandria, La. to his parents, Eunice Cruse and Johnny Barnhill, Jr. He loved his tower work and was more comfortable in the air than he was on the ground. He loved his family deeply and will be greatly missed. He was preceded in death by his maternal grandfather, John Cruse and his maternal grandparents, Elizabeth and Johnny Barnhill, Sr.
Left to cherish his memory is his wife of 10 years, Gail Binkley Barnhill; his mother, Eunice Cruse Taylor and husband, Ricky; father, Johnny Barnhill, Jr. and wife, Sue; his " little girl, Lucky"; step-son, Bubba Chandler; step-daughter: Lisa Kennedy; brothers: Ray Barnhill and Johnny Barnhill III; sisters: Mary Tarver and Christina Trichell; maternal grandmother, Dell Cruse; step-grandchildren: Lance McCoy, Nathan Chandler and Matthew Chandler and numerous nieces and nephews.
---
December 10, 2017 – UPDATE: The Trego County Kansas Sheriff's  Office has confirmed that there was an industry fatality on Saturday in Ransom. Sheriff Richard Hanks informed Wireless Estimator that a 39-year-old man fell from a tower at Highway 283 and 260th Ave. and died from his injuries. He said that the accident occurred at approximately 3:17 p.m., but declined to provide any additional information since his office's investigation is still ongoing. Wireless Estimator will provide additional details as they become known.
---
A tower technician reportedly died yesterday afternoon in Ransom, Kan. while working on a retrofitting project on an American Tower Corp. structure.
According to sources knowledgeable of the incident, the man was working on the 420-foot guyed tower performing reinforcement work when the accident occurred. It has not been confirmed, but it is possible that the accident happened when the tower was being de-rigged.
The tech's employer was, according to an individual knowledgeable of the accident, Worldwide Communications Consultant, Inc. of Newburgh, Ind.
The Trego Count Sheriff's Department is investigating the incident, but has not responded to a request for additional information. American Tower and Worldwide Communications Consultant have not replied to requests for additional information as well.
Wireless Estimator will provide additional details as they become available.
The fatality is the seventh industry death in 2017, equaling the same number of fatalities in 2016.