Attaching small wireless antennas and associated equipment – such as distributed antenna system (DAS) remote units, remote radio units and self-contained small cells – on existing poles or structures significantly improves the coverage and capacity of mobile networks, according to a new white paper titled "Small Cells on Pole Facilities: A Primer on How Utility Poles, Street Lights and Traffic Signals Will Help Drive Next-Generation Mobile Broadband Networks."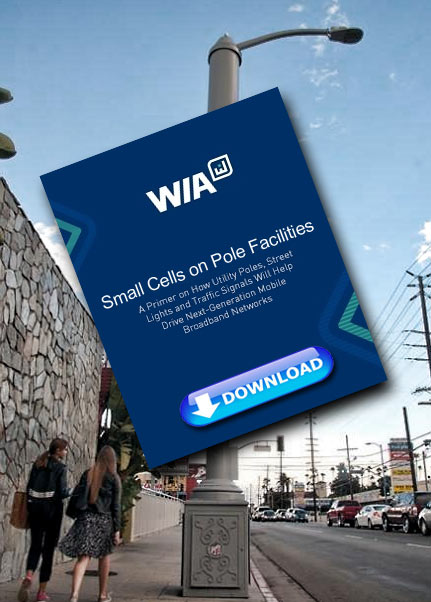 Published by the Wireless Infrastructure Association (WIA) and produced by WIA's Innovation & Technology Council (ITC), the new report provides detailed information on how wireless networks operate, and what needs to be done to ensure these systems can be properly and quickly deployed in communities across the country.
"Installing wireless infrastructure at the precise location where it is needed improves the network and immediately benefits a community," said Jonathan Adelstein, CEO and President of WIA. "A combination of existing infrastructure and in some cases new poles is needed to build out these next-generation mobile networks. Reliable wireless coverage promotes economic development, and is crucial for communities that want to attract and maintain a vibrant business environment and a competitive workforce."
Jim Lockwood, CEO of Aero Solutions and Chair of the ITC Smart Wireless Working Group, which produced the white paper, said the goal of the report was to provide valuable information to municipal planners, site acquisition firms, architectural and engineering firms, and others interested in supporting small wireless equipment deployments on existing and new pole structures.
The white paper explores deployment options for small wireless communications equipment, considerations needed to retrofit existing poles, the benefits of streamlining the permitting process for wireless facilities deployments, and a view of new smart pole design features and their applications.
"The responsible deployment of wireless infrastructure including attaching smaller wireless equipment to pole facilities requires close collaboration with local municipalities and utility companies," Adlestein added. "Local jurisdictions should be encouraged to make their infrastructure available for collocation so that multiple deployments can co-exist on one pole."
Download a complimentary copy of "Small Cells on Pole Facilities" here.