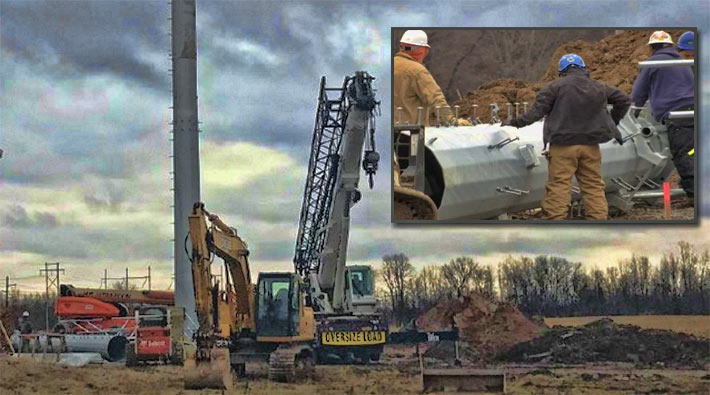 Update: February 10, 2017 –  According to a tower technician who visited the hospital yesterday evening where Tobi Koons is being treated for his injuries, Koons is still in serious condition and is expected to be in ICU for at least a week. Two tower technicians who are friends with Koons, informed Wireless Estimator that he is employed by Mission 1 Communications of Ligonier, Ind. The company did not respond to requests for additional information. Mission 1 Communications was created when Emergency Radio Service, Inc. (ERS) separated its tower division from its 2-way radio division in December 2012, according to the company's website.
---
Update: February 9, 2017 –  According to Wayne County Sheriff Barry Virts, the injured tower technician is Tobi Koons, 51, of South Bend, Ind. Virts informed Wireless Estimator that he did not have Koons' employer's name. A representative of the property where the accident occurred at 991 Whitney Rd., said that Blue Sky Towers had leased their land to install the monopole with Verizon reportedly the anchor tenant. Blue Sky's recorded message at 1:00 p.m. said that their offices were closed for the day. The nearest tower in the area of the the property is an SBA Communications site two and one-half miles away.
---
February 8, 2017 – The condition of a tower tech is not known after he was pinned by a monopole section of a new structure that was being erected in Ontario, N.Y. shortly before 1:00 p.m. today.
Lincoln Fire Chief Steve Gallaher said the tech had life-threatening injuries after the approximately 6-ton section came loose from its jack stand and landed on him, crushing his chest and neck.
Authorities stated that the man's co-workers were able to free the technician by using an on-site crane.
Firefighters said the worker was conscious and talking when they arrived.
The tech was taken from the Whitney Rd. site by helicopter to Strong Memorial Hospital.
Wireless Estimator will provide additional information as it becomes available.