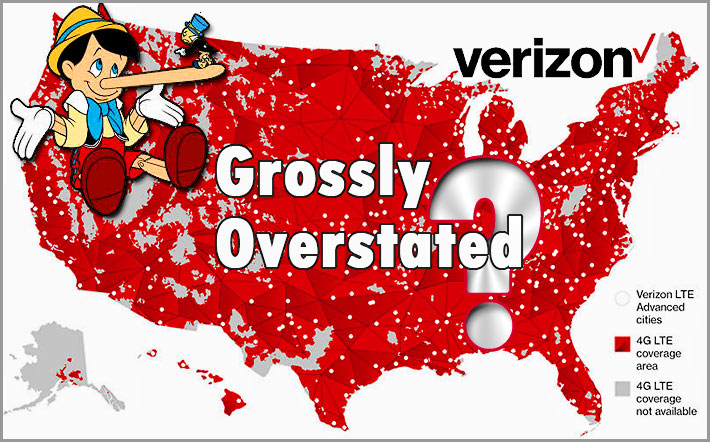 A coalition of radio frequency engineering firms informed the FCC last week that Verizon has "grossly overstated" its nationwide 4G LTE coverage, impairing the wireless carriers the engineering firms serve because the carriers can only get needed FCC funding to boost coverage in areas where coverage is low.
To close gaps in broadband service, the FCC's Mobility Fund II is providing $453 million in annual support for the next ten years to subsidize mobile broadband deployment in areas where the market can't sustain or extend service to  absent government support.
In their filing with the FCC, the coalition said that the 4G LTE maps provided by carriers were required to represent their coverage with download speeds of 5MBPs at the cell edge.
The group said many of their clients are members of the Rural Wireless Association, Inc. and/or the Competitive Carriers Association. The coalition said it has determined that Verizon's claimed 4G LTE coverage is not supported by rational RF engineering practices.
It also noted that both organizations have expressed concerns regarding the credibility of claimed 4G LTE coverage.
The coalition, comprised of 4G Unwired, Monte R. Lee and Company (MRL), Palmetto Engineering & Consulting, and CT&T, a PEC company, singled out Verizon's coverage.
"Overstated coverage by Verizon, a national carrier, requires an enormous amount of testing to challenge coverage areas that should not be claimed. To test the entire area in question requires more time and resources than are available to small rural wireless carriers who rely on the very universal service support at risk," the engineers said.
Panhandle Telecommunication Systems, Inc., an Oklahoma rural wireless carrier that has studied Verizon's coverage over the past three years, according to the coalition, recently undertook efforts to drive test areas in its service territory.
The "real-world" drive tests using Verizon-specified devices that are on plans not subject to network prioritizing or throttling, highlighted the coalition's concern that Verizon's coverage in the Oklahoma panhandle is overstated.
They want to FCC to determine if Verizon "has indeed overstated its coverage".
"We believe this has contributed to an overstatement of coverage. As such, the Commission should require Verizon to re-evaluate the data utilized for its MF-II coverage map and instead utilize the terrain data for different regions and topographies for its reported 5 Mbps download speed. In cases where the model(s) are inaccurate, Verizon should correct its model(s) and provide a revised map depicting the actual coverage speeds associated with varying terrain along with statistical data that accounts for the variations in terrain," the coalition said in its statement to the FCC.
The group's members said they are concerned that Verizon will not do so without specific FCC direction. "We now urge the Commission to further investigate, and require re-filing of Verizon's data where warranted to comport with standard RF engineering practices."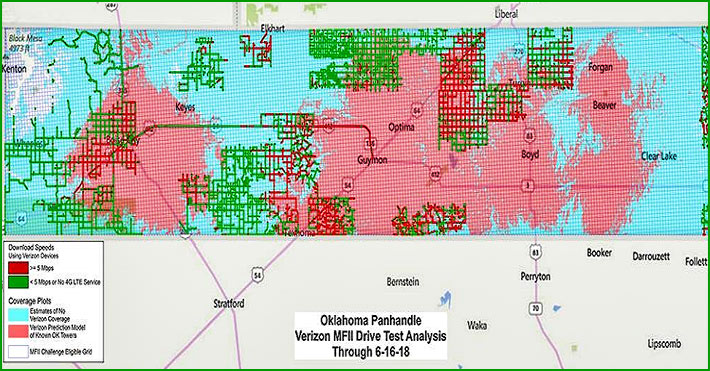 The coalition provided this map of the Oklahoma Panhandle indicating the testing completed by Panhandle as of June 16, 2018. The red areas indicate test points receiving 5 Mbps or higher and the green areas represent tests below 5 Mbps or those that did not register 4G LTE service. The pink is an estimate by MRL of service area for Verizon and the blue area indicates estimated area of less than 5 Mbps down load speed or no LTE coverage by Verizon.
The group said Verizon publicly claims to provide 4G LTE service throughout most of the depicted area.
The Panhandle's data collection depicted on the map covered 4,911.84 miles and a total of 402,573 test points. Of the total test points collected, 357,374 (88.8%) tested below 5 Mbps download speed or did not register 4G LTE service at all on Verizon designated handsets.
They said MRL is aware that Panhandle has spent more than $300,000 since the MF-II Challenge Process opened on employee wages, testing handset and data expenses, regulatory and engineering consulting fees, wear and tear on vehicles, and fuel for its testing vehicles, and Panhandle is estimated to spend an additional $650,000 to complete the challenge process if the overstated coverage is not corrected.