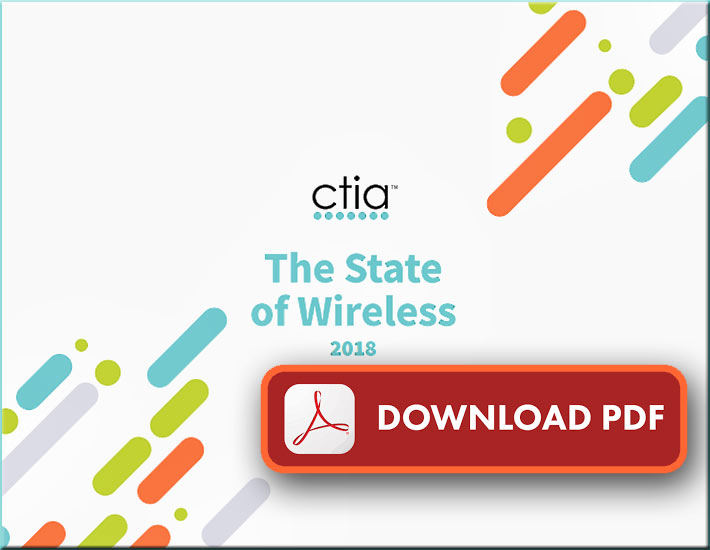 CTIA's latest Annual Wireless Industry Survey finds the industry beginning the transition from 4G to 5G wireless networks with significant growth in cell sites and data-only devices. That growth and continued demand for everything wireless contributed to Americans using an unprecedented amount of mobile data in 2017. 
The key wireless trends illustrated in this year's survey:
Mobile data continues to skyrocket. Americans used a record 15.7 trillion megabytes (MBs) of mobile data in 2017—nearly quadrupling since 2014 and representing 40 times the volume of traffic in 2010, according to the survey. That is equal to nearly 250 million people simultaneously binge-watching every episode of Game of Thrones in HD.
Wireless connectivity is evolving with 5G on the horizon. The survey captures the beginning of the shift from the 4G era to the 5G-connected everything-era. Data-only devices—such as connected cars, IoT devices and wearables—rose to 126.4 million in 2017, up nearly 20 percent year-over-year and 147 percent in the past five years.
In addition, the survey shows that the U.S. wireless industry is:
Building wireless networks for tomorrow's 5G services. To further extend coverage and prepare for 5G, a record 323,448 cell sites were in operation at the end of 2017—a 52 percent growth over the last decade. Analysts project that wireless carriers will need to deploy roughly 800,000 modern wireless antennas – small cells – in the next few years.
Creating a platform that connects the country. With more than 400 million mobile devices in service, that means there are 1.2 wireless devices for each American. In addition to 15.7 trillion MBs of mobile data, U.S. wireless networks carried more than 2.2 trillion voice minutes and 1.5 trillion text messages.
Investing in America. Wireless provider capital expenditures totaled $25.6 billion in 2017, and since 2010 when 4G networks were launched, capital investment has exceeded $226 billion.
2017 Top-Line Annual Survey results are available here.
Key Mobile Trends in the United States
2016
2017
Data Traffic
13.7T
15.7T
Up 14.3%
Data-Only Devices
105.7M
126.4M
Up 19.5%
Cell Sites
308K
323K
Up 4.9%
Smartphones
261.9M
273.2M
Up 4.3%
Subscriber Connections
395.5M
400.2M
Up 1.1%
Combined Messaging Traffic (SMS + MMS)
1.9T
1.8T
Down 8.8%
Wireless Penetration
120.6%
120.7%
Up 0.1%