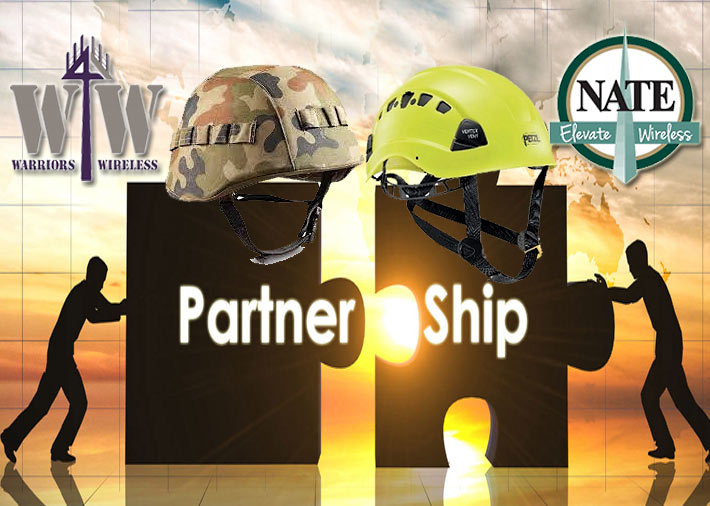 The National Association of Tower Erectors (NATE) and Warriors4Wireless (W4W) today announced a collaborative partnership to enhance ties between the two organizations and further advance workforce development initiatives in the industry.
As part of the agreement, NATE joins a select group of prominent organizations and companies in the industry to be promoted as an official supporting partner of W4W. Additionally, W4W has been added as a member organization of NATE.
NATE also has provided a financial donation to the W4W scholarship fund as part of the Association's ongoing commitment to assisting with efforts to train and place men and women with military backgrounds with jobs in the wireless infrastructure industry.
W4W and NATE also announced that NATE Board of Directors member John Paul Jones, President of Tower & Turbine Technologies based in Cedar Park, Texas has officially been appointed to serve on the W4W Board of Directors. Jones has previously been involved with W4W as a participant on the organization's Advisory Board.
"Warriors4Wireless exists for one purpose, to help veterans become productive members of the wireless industry," said W4W President and CEO Kevin Kennedy. "We have trained and placed over 1,200 veterans in our brief existence. I would estimate over 90% of these have been hired by NATE member companies. The formalization of our long-standing teamwork into this partnership will benefit W4W and the wireless industry," added Kennedy.
"I am thrilled that NATE and W4W will be formalizing a closer relationship as a result of this partnership and I am honored to join the W4W Board of Directors," stated John Paul Jones. "I have seen first-hand the critical role W4W can play in developing a new pipeline of qualified workers in our industry and look forward to playing a role in achieving the workforce development goals of NATE and W4W moving forward."
For more information on NATE, visit www.natehome.com. For information on W4W, visit http://www.warriors4wireless.org/.