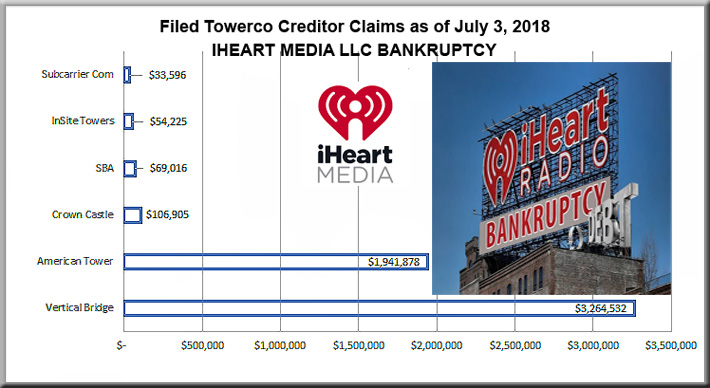 Vertical Bridge, one of bankrupt iHeartMedia's largest unsecured creditors, might have a better chance at securing its past due lease revenues following a filing from iHeartMedia's unsecured creditors to a Texas bankruptcy judge on Monday that could affect the media giant's creditors' Chapter 11 recoveries.
The committee of  unsecured creditors want to prosecute and settle claims based upon allegations that many of iHeartMedia's term loans and priority guarantee note (PGN) indentures that take priority, have "colorable" claims that may have involved "fraudulent transfers under Bankruptcy Code sections 548 and 544," as stated in their filing.
The creditors want a declaratory judgment that the term loans are not secured by principal properties. The committee also believes that there are fraudulent claims regarding the liens and security interest in favor of the term loans and PGNs on some of iHeartMedia's deposit accounts.
The committee said that their request for litigation "can and will have a profound benefit – potentially rising well into the billions of dollars – to the debtors' estates and unsecured creditor recoveries and could have a fundamental impact on the posture of these claims."
Vertical Bridge was one of their top 30 creditors
When iHeartMedia filed for bankruptcy in March, Vertical Bridge was their 14th largest unsecured creditor, with claims being listed at $2,229,901. Since then, according to a company filing, they claim they are owed 3,264,532.
American Tower Corp. has put in claims for $1,941,878. Crown Castle and SBA Communications came out relatively unscathed, being owed $106,905 and 69,016, respectively.
InSite Towers claimed they are due $54,225 and Subcarrier Communications, $33,596.
Debt burdened radio conglomerate iHeartMedia, with 850 stations, many of them losing money, has been trying to shed under-performing stations and focus upon growth potential stations that are profitable.
The company has been saddled with $20 billion in debt, the legacy of a leveraged buyout in 2008. In a March statement, the company said it had reached an agreement with the holders of more than $10 billion of its debt.
According to the bankruptcy filing, secured creditors are owed $18.4 billion; an additional $6 billion is unsecured with three noteholders being owed $2.4 billion.
In late 2014, iHeartMedia struck a deal with Vertical Bridge to sell an undisclosed group of its radio towers to the company for up to $400 million.
In 2015, Vertical Bridge and Clear Channel Outdoor Holdings, Inc., a subsidiary of iHeartMedia Inc., announced the signing of an exclusive multi-year agreement for the management and marketing of wireless deployment on Clear Channel Outdoor America's (CCOA) billboards and other out-of-home assets in 45 of the top 50 U.S. markets
The iHeartMedia Chapter 11 filing didn't include the profitable billboard unit.