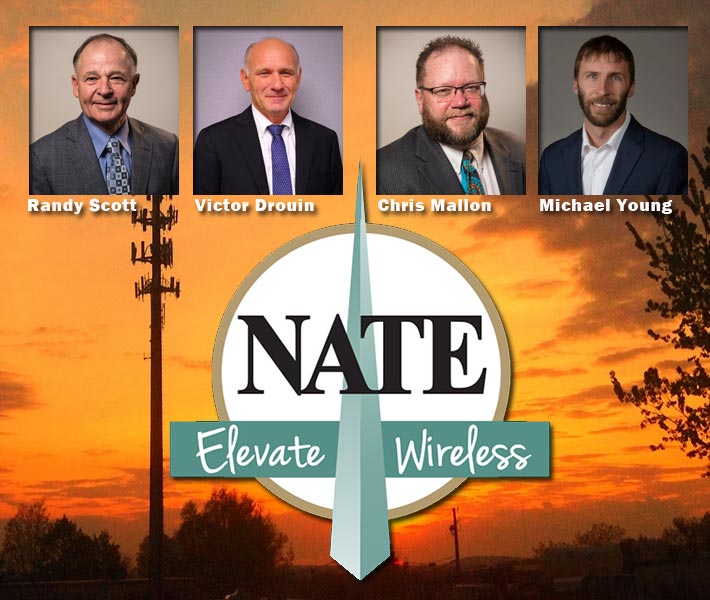 The National Association of Tower Erectors (NATE) today released the official results of the 2019 Board of Directors election with Randy Scott, President of Texoma Contracting, Inc. in Muskogee, Okla. being re-elected, and Victor Drouin, President of Green Mountain Communications, Inc. in Pembroke, N.H.; Chris Mallon, President of Tower MRL, Inc. in Sun Prairie, Wisc.; and Michael Young, Chief Operating Officer at Sioux Falls Tower & Communications in Sioux Falls, S.D. elected to serve as new members of the Board of Directors.
The four candidates who were elected by their industry peers will officially begin their two-year terms on Feb. 3, 2019 at the NATE UNITE 2019 Conference in Grapevine, Tex.
"I would like to congratulate Randy, Victor, Chris and Michael on their successful election and for their willingness to serve on the NATE Board of Directors," said Executive Director Todd Schlekeway. "Two thousand and nineteen is shaping up to be a pivotal year for NATE and the industry as 5G deployment continues to scale. The elected Board members will be instrumental in helping shape the policies and agenda that will position the Association for future growth and influence," added Schlekeway.
The Association also acknowledged the immense contributions of departing Board Members Jim Tracy, Chief Executive Officer of Legacy Telecommunications, Inc. in Burley, Wash. and Jim Miller, President and Chief Executive Officer of EasTex Tower in Colorado Springs, Colo. Tracy and Miller will be honored at the NATE UNITE 2019 Conference for their dedicated service.
"Mr. Tracy and Mr. Miller provided innovative and proactive leadership for the Association and our member companies during an evolving and dynamic time in the industry. NATE is where it is at today as an organization due to the immense contributions provided by Jim and Jim and the other leaders who walked before them," stated Schlekeway.