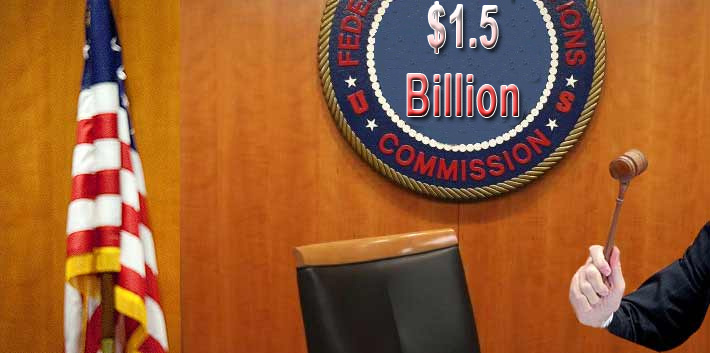 Over 700,000 rural homes and small businesses will gain access to high-speed Internet service for the first time through the Federal Communications Commission's Connect America Fund Phase II auction. (See awarded bidders below)
The auction results released today show more than half of those 713,176 locations will have service available with download speeds of at least 100 megabits per second. The auction allocated $1.488 billion in support to be distributed over the next 10 years to expand rural broadband service in unserved areas in 45 states.
A total of 103 providers won support from the Connect America Fund to expand broadband in rural areas where, absent this funding, this type of broadband expansion and ongoing service would not be economically feasible.
"The successful conclusion of this first-of-its kind auction is great news for the residents of these rural communities, who will finally be able to share in the 21st-century digital opportunities that broadband provides," said FCC Chairman Ajit Pai.
"By tapping the mechanisms of the marketplace, the Phase II auction served as the most appropriate and cost-effective way to allocate funding for broadband in these unserved communities, bringing the highest-quality broadband services to the most consumers at the lowest cost to the ratepayer."
The auction encouraged innovation and deployment of robust service by giving providers the flexibility to use any broadband technology to meet the FCC's buildout and performance standards for fixed service. The auction design included a weighted preference for service with higher speeds, higher usage allowances, and lower latency
| | | | |
| --- | --- | --- | --- |
| Bidder | Total Assigned Support | Locations | States |
| AMG Technology Investment Group LLC | $281,283,794 | 100,661 | 6 |
| Wisper ISP, Inc | $220,319,375 | 80,149 | 6 |
| Rural Electric Cooperative Consortium | $186,022,490 | 66,322 | 8 |
| Viasat, Inc. | $122,499,877 | 190,595 | 20 |
| California Internet, L.P. | $87,832,403 | 11,845 | 2 |
| Commnet Wireless, LLC | $79,941,691 | 31,824 | 6 |
| Benton Ridge Telephone Company | $52,371,819 | 23,957 | 3 |
| Cal.net, Inc. | $50,516,652 | 20,859 | 1 |
| Midcontinent Communications | $38,902,342 | 9,371 | 3 |
| Wilkes Telephone Membership Corporation | $32,820,017 | 13,886 | 2 |
| Tri County Rural Electric Cooperative, Inc. | $32,326,228 | 7,015 | 1 |
| Sunset Digital Communications, Inc. | $29,575,007 | 9,093 | 2 |
| Crystal Automation Systems, Inc. | $27,299,087 | 17,610 | 1 |
| Hawaiian Telcom, Inc. | $18,160,638 | 3,936 | 1 |
| ArisWave Consortium | $12,298,811 | 7,680 | 5 |
| Newmax, LLC dba Intermax Networks | $11,556,872 | 7,952 | 2 |
| Air Link Rural Broadband, LLC | $11,371,438 | 2,321 | 1 |
| Westfield Gas & Electric Light Department | $10,325,401 | 5,163 | 1 |
| Orange County REMC | $10,200,496 | 4,046 | 1 |
| Verizon Communications Inc. | $9,476,934 | 3,361 | 7 |
| Tri County Telephone Association, Inc. | $7,017,178 | 3,186 | 2 |
| Computer 5 Inc. d/b/a LocalTel Communications | $6,847,092 | 1,910 | 1 |
| Declaration Networks Group, Inc | $6,784,141 | 5,383 | 2 |
| Citynet LLC | $6,517,708 | 898 | 1 |
| IdeaTek Telcom, LLC | $6,186,882 | 2,490 | 1 |
| Plains internet, LLC | $6,153,040 | 4,642 | 3 |
| Barry Electric Cooperative | $6,103,454 | 2,308 | 1 |
| Echo Wireless Broadband, Inc. | $5,475,911 | 1,717 | 2 |
| Bloosurf, LLC | $5,468,497 | 5,091 | 2 |
| Union Telephone Company | $5,437,562 | 1,468 | 1 |
| Consortium 903 | $5,357,649 | 13,657 | 1 |
| Inventive Wireless of Nebraska, LLC | $5,240,646 | 1,692 | 3 |
| Redwire, Inc. | $4,766,846 | 8,041 | 1 |
| Pine Cellular Phones, Inc. | $4,695,551 | 1,979 | 1 |
| Mercury Wireless | $4,610,330 | 11,092 | 5 |
| Chariton Valley Communications Corporation | $4,179,666 | 847 | 1 |
| Northern Arapaho Tribal Industries | $4,070,664 | 849 | 1 |
| Lake Region Technology & Communications, LLC | $4,024,501 | 2,247 | 1 |
| Hilliary Communications Consortium | $3,992,041 | 1,335 | 2 |
| 3E8 Broadband Solutions, LLC | $3,621,847 | 811 | 1 |
| NE Colorado Cellular, Inc. | $3,097,732 | 807 | 3 |
| Mark Twain Communications Company | $3,053,366 | 676 | 1 |
| NBVDS Investment, L.L.C. | $2,776,942 | 667 | 1 |
| Mountain West Technologies Corporation | $2,658,057 | 550 | 1 |
| Armstrong Telephone Company – Northern Division | $2,642,413 | 1,949 | 1 |
| Illinois Electric Cooperative | $2,276,419 | 804 | 1 |
| Maquoketa Valley Rural Electric Cooperative | $2,262,039 | 1,107 | 1 |
| Roseau Electric Cooperative, Inc. | $2,081,770 | 326 | 1 |
| SW DinehNet LLC | $2,038,738 | 869 | 1 |
| Hankins Information Technology | $1,911,329 | 1,083 | 1 |
| Mid-States Services, LLC | $1,868,060 | 358 | 1 |
| Allen's T.V. Cable Service, Inc. | $1,776,733 | 794 | 1 |
| Shawnee Communications, Inc. | $1,714,708 | 567 | 1 |
| Tombigbee Communications, LLC | $1,691,879 | 279 | 1 |
| Federated Telephone Cooperative | $1,431,039 | 808 | 1 |
| RTC Communications Corp | $1,326,394 | 1,203 | 1 |
| Paul Bunyan Rural Telephone Cooperative | $1,313,543 | 315 | 1 |
| LTD Broadband LLC | $1,264,673 | 1,407 | 5 |
| Crocker Communications, Inc. | $1,193,077 | 404 | 1 |
| Meriwether Lewis Connect LLC | $1,183,627 | 290 | 1 |
| Perry-Spencer Rural Telephone Cooperative, Inc. | $1,182,426 | 359 | 1 |
| BEK Communications Cooperative | $1,182,155 | 534 | 1 |
| Cincinnati Bell Inc. | $1,098,830 | 342 | 2 |
| Consolidated Telephone Company | $934,934 | 358 | 1 |
| Otelco, Inc. | $921,505 | 772 | 1 |
| Garden Valley Telephone Company | $880,346 | 95 | 1 |
| Wabash Independent Networks, Inc. | $669,462 | 359 | 1 |
| Total Highspeed LLC | $640,560 | 386 | 1 |
| Mutual Telephone Company of Sioux Center, Iowa | $627,920 | 191 | 1 |
| West Central Telephone Association | $611,934 | 532 | 1 |
| Interstate Telecommunications Cooperative, Inc. | $552,330 | 209 | 1 |
| HolstonConnect, LLC | $535,417 | 517 | 1 |
| Wikstrom Telephone Company | $532,557 | 56 | 1 |
| Red Spectrum Communications LLC | $521,715 | 185 | 1 |
| Jaguar Communication, Inc | $510,588 | 672 | 1 |
| JCWIFI.com LLC | $486,424 | 175 | 1 |
| Broadband Corp | $428,117 | 128 | 1 |
| MGW Networks, LLC | $417,807 | 238 | 1 |
| Valley Communications Association, LLC | $404,754 | 153 | 1 |
| PC Telcorp, Inc. | $387,303 | 33 | 1 |
| Farmers Mutual Telephone Company | $348,992 | 163 | 1 |
| Ben Lomand Communications, LLC | $333,797 | 171 | 1 |
| WPS | $324,009 | 954 | 1 |
| Independent Networks, Inc. | $288,834 | 123 | 1 |
| Casey Mutual Telephone Company | $244,923 | 107 | 1 |
| Horry Telephone Cooperative, Inc. | $233,490 | 80 | 1 |
| Velocity.Net Communications, Inc. | $230,016 | 39 | 1 |
| Hanson Communications, Inc. | $205,818 | 35 | 1 |
| Townes Wireless, Inc. | $190,098 | 20 | 1 |
| Winnebago Cooperative Telecom Association | $179,957 | 101 | 1 |
| Bruce Telephone Company, Inc. | $177,933 | 34 | 1 |
| ClearSKY Systems, Inc. | $127,414 | 207 | 1 |
| Tri-County Electric Cooperative | $117,784 | 106 | 1 |
| Gila Local Exchange Carrier, Inc. | $104,499 | 29 | 1 |
| Wood County Telephone Company d/b/a Solarus | $81,920 | 15 | 1 |
| Johnson Telephone Company | $81,273 | 47 | 1 |
| Fidelity Communications Company | $72,827 | 19 | 2 |
| Fond du Lac Reservation Business Committee | $55,011 | 13 | 1 |
| Frontier Communications Corporation | $51,553 | 23 | 1 |
| Hardy Telecommunications, Inc | $47,435 | 7 | 1 |
| Twin Valley Communications, Inc | $45,610 | 9 | 1 |
| SyncWave, LLC | $24,844 | 21 | 1 |
| Halstad Telephone Company | $19,635 | 7 | 1 |