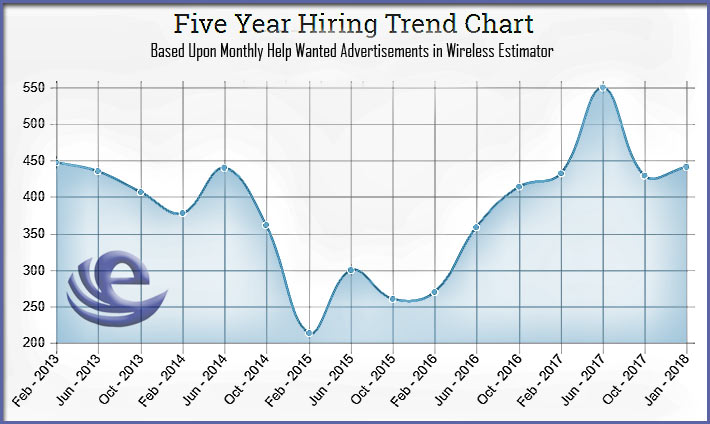 According to Wireless Estimator's hiring trend data, infrastructure hiring has bounced back to ambitious and overwhelming 2013 LTE buildout levels when Verizon was racing away with its LTE expansion and AT&T was ramping up for its own 4G LTE Roll-out that would require spending $14 billion on network upgrades through 2016.
"But that came to a screeching halt in May of 2014 when AT&T agreed to buy DirecTV for about $48 billion in a mammoth deal that saw the carrier cancel many of their purchase orders as they reassessed their finances," said Wireless Estimator analyst and marketing consultant Alyssa Runner.
"With the recent surge in employee fulfillment needs, some of it attributable to the FirstNet buildout," Runner said, "companies again are becoming increasingly aware of highlighting the benefits that they offer to potential candidates viewing their message."
It's all about "you"
Runner has reservations about using hackneyed expressions in the body of an employment ad such as "the successful candidate" or "the ideal applicant".
"It's more important to the potential employee to see something like, 'In this challenging role you…' or 'Coming from a strong project management background, you will be expected to…'," Runner believes. "Talk to the reader. Use the word 'you'."
Runner is convinced that HR generalists are oftentimes too busy and don't take advantage of assessing what competitors are offering regarding benefits or what they find compelling to offer in their advertisement.
"Granted, you can't read every one of the almost 500 ads Wireless Estimator has on a daily basis, but spot-checking them can be helpful," Runner said.
"As an example, a frequent industry concern is administrators having to correspond with an applicant that clearly is unqualified and doesn't have the requisite skillsets for the position. One advertisement I recently read on our job board said, 'Only candidates meeting the strict criteria outlined above will be contacted.' That one line could save a lot of time."
Runner can be reached at: Alyssa@WirelessEstimator.com for additional information regarding hiring trends and how to reach the right candidates.
FirstNet adding to workforce demand
Although DAS installations throughout the nation are requiring additional skilled workers, AT&T's FirstNet buildout is straining the workforce, according to a number of companies contacted by Wireless Estimator.
However, they were reluctant or unable to provide data to sustain that belief. "We need to hire numerous additional crews, but I'd rather not disclose who are clients for this work are," said one company CEO with over 200 field personnel.
Last March, AT&T Chairman and CEO Randall Stephenson at the FirstNet award signing ceremony said that, "Beginning this fall, AT&T will spend $40 billion and create 10,000 jobs in the next two years."
New lease amendments have been announced by tower owners after AT&T identified the additional FirstNet equipment that will be placed on their structures.
AT&T's mandate is to provide 60% national coverage within two years and 80% within three years.