Every year the National Association of Tower Erectors (NATE) adds new educational and event activities to it annual convention, the acknowledged premiere conference for the wireless construction and maintenance industry.
This year is no exception as the organization introduces its free exhibit hall passes during the Feb. 19 through Feb. 22 NATE UNITE 2018 event at the Gaylord Opryland Resort in Nashville, Tenn.
The exhibit hall pass (view exhibitors below) is only valid on Tuesday, Feb. 20 and Wednesday, Feb. 21, but it does not include educations sessions, beverage breaks, luncheons and receptions – key networking events.
However, NATE has introduced a new exhibit hall benefit for attendees with six 20-minute educational sessions: Mock OSHA  Inspection, How to Properly Don a Harness, How to Properly Install a Safety Grab, Knots Every Climber Should Know, Care and Inspection of Job Site Rigging, and How Do You Know if Your Beacon Light is Obstructed.
You can register for your free exhibit hall pass HERE.
This year's programming for NATE UNITE 2018 will consist of a record-breaking 27 total sessions representing 60 speakers.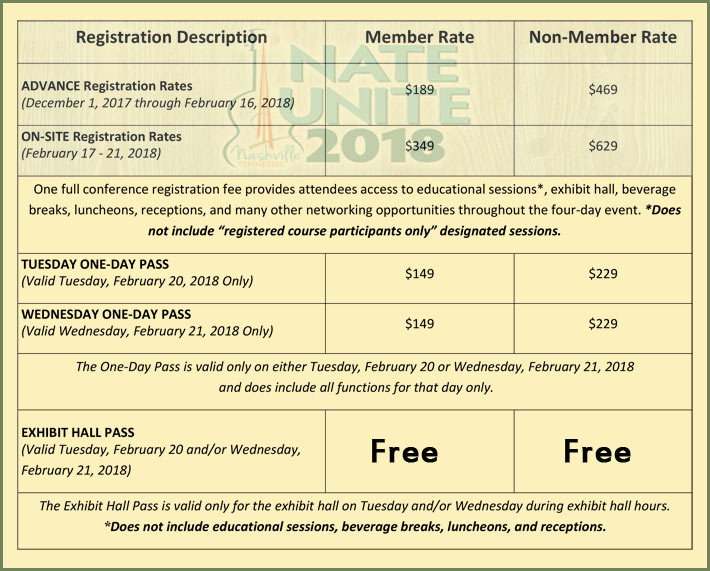 NATE UNITE 2018 EXHIBITORS and BOOTHS

(As of 11/28/17)
3M Personal Safety Division 634
LBA Group, Inc 112
3Z Telecom, Inc. 617
Lyncole XIT® Grounding 212
Advanced Test Equipment Rentals 716
Exhibitor Booth
AGL Media Group 341
Microwave Vision Group 116
Ajax Engineered Fasteners 417
Midwest Unlimited LLC 523
Allfasteners USA LLC 111
Narda Safety Test Solutions 602
Alliance Corporation 310
NESCO Specialty Rentals 318
Allstate Tower Company Inc. 322
Network Wireless Solutions (NWS) 425
ALT Fabrication 606
Noash Construction, Inc. 240
AnchorGuard LLC 430
Novel Solutions/Zinga USA 340
Anritsu Company 403
OBSTA 129
Avalon Test Equipment Corporation 218
OEL Worldwide Industries 536
Avetta 235
Pacific Research Laboratories 118
Bronto Skylift, Inc. 612
Pacific Safety Solutions LLC 702
Buckingham Mfg. Co., Inc. 502
Perfect 10 434
CAN Equipment Sales (CAN-USA) 604
Petzl America 404
CITCA LLC 124
Pigeon Mountain Industries, Inc. 503
CLC Lodging 516
Point Lighting Corporation 336
CommScope 222
Portable Winch Co. 428
COMTRAIN 629
Power & Tel 513
Connect-It Wireless, Inc. 216
Preformed Line Products 510
Corporate College 146
Primus Electronics 217
Crane Inspection & Certification Bureau (CICB) 610
Quigley Motor Company 532
Custom Tool Supply 540
Radiofrequency Safety International (RSI) 228
Dakota Riggers & Tool Supply, Inc. 611
RiggingCalc, LLC 141
Dale Fastener Supply 622
RIO Steel & Tower, Ltd. 522
Dillon/Quality Plus, Inc. 433
ROHN Products, LLC 421
Drake Lighting, Inc. 511
Rosenberger Site Solutions, LLC 332
Eastpointe Industries, LLC 623
Sabre Industries, Inc. 110
Ehresmann Engineering, Inc. 624
Safety One, Inc. 528
Elk River, Inc. 429
SKYLOTEC North America, LP 223
Elliott Equipment Company 506
Slatercom – WCD 316
ENSA North America 134
Smart Start, Inc. 241
Ergodyne 135
SSI Maxim Co. Inc. 613
Erickson Incorporated 225
Straightpoint, Inc. 419
ERICO 311
Sunsight Instruments 317
eSystem Training Solutions 603
Talley, Inc. 234
ETA International 605
Tech Safety Lines, Inc. 213
ETAK Systems, LLC 442
Telecom Tower Rentals LLC. (TTR) 640
FallTech 637
Times Microwave Systems 410
FIMO USA 211
Tower Family Foundation 653
Flash Technology 302
Tower One Inc 621
Fuellgraf Chimney and Tower 518
Tower Systems, Inc. 423
Gamma Electronics 441
Tucker Sno-Cat Corporation 230
GME Supply Co 202, 203,
TUF-TUG Products, Deuer Developments 329
207, 306
Turnkey Safety Solutions, LLC 140
Gravitec Systems Inc. 628
TWR Lighting, Inc. 210
Graybar Electric Company, Inc. 616
Ty-Flot 120
Harger Lightning & Grounding 407
U.S. Rigging Supply / Pelican Rope Works 117
Hubbell Power Systems 328
UNIMAR, INC. 412
Hughey & Phillips 625
US Cargo Control 437
Hutton Communications, Inc. 541
USA Telecom Insurance Services 131
Illini Drilled Foundations, Inc. 530
Valmont Site Pro 1 416 & 422
Insurance Office of America (IOA) 237
Vertical Limit Construction, LLC 319
International Tower Lighting, LLC (ITL, LLC) 529
Viavi Solutions 520
J.H. Botts LLC 440
Webb-Rite Safety, Inc. 233
Kask America 229
Winncomm Technologies 715
KGPCo 607
Wireless Industry Network (WIN) 752
Klein Tools, Inc. 324
Women of NATE (WON) 748