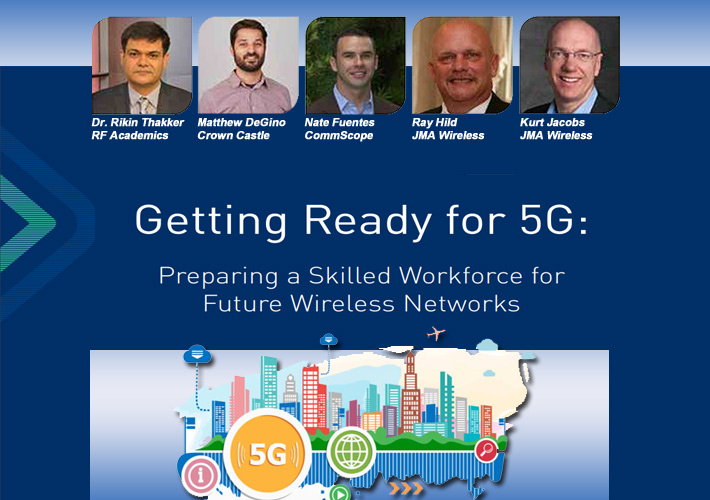 The Wireless Infrastructure Association (WIA) has announced the release and publication of a new white paper titled "Getting Ready for 5G: Preparing a Skilled Workforce for Future Wireless Networks."
The new research focuses on how next-generation of mobile communications networks will dramatically change the way network infrastructure is designed and deployed, requiring many new qualified engineers and technicians.  The paper finds that new blood is needed to ensure the wireless industry can keep up with the growing demand for mobile networks by providing required coverage and capacity.
Produced by WIA's Innovation & Technology Council (ITC), the report lays out the high stakes facing the wireless industry and the global economy as a whole if the expected deployment of 5G mobile networks is delayed because of a lack of the skilled professionals in the industry.
The new report provides detailed information on the trends that are driving demand for 5G networks, and the technical changes that are expected to be incorporated into next-generation specifications. The report further delves into the new skillsets that will be needed to support next-generation networks and explores various options for the industry to train its workforce in these emerging skills.
While 5G technology is not yet standardized, the lack of formal definitions has not discouraged interest, investment, or declarations of deployments throughout the telecommunications sector, said Dr. Rikin Thakker, Chairman of the Workforce Development Working Group, VP of Telecom and Spectrum Policy at the Multicultural Media, Telecom and Internet Council (MMTC), and a professor at the University of Maryland.
"It is crucial that the wireless industry take steps now to provide the technical training needed for 5G to its existing workforce and prepares to train and educate new workers as the industry continues to expand and mobile broadband reaches a greater base of users," Dr. Thakker said.
This dramatic change driven by 5G network deployments will require a skilled labor force trained to design, install and maintain the infrastructure and equipment behind 5G. The wireless industry, which already faces a shortage of qualified technicians for current networks and deployments, must develop even more qualified and skilled technicians through effective on-the-job training, as well as classroom and online education to create a skilled labor workforce to build future generations of heterogeneous networks.
Member of the ITC's Workforce Development Working Group and contributors to the new white paper include Dr. Rikin Thakker from MMTC, the University of Maryland, and RF Academics; Matthew DeGino from Crown Castle International; Nate Fuentes from CommScope; Ray Hild from JMA Wireless; and Kurt Jacobs from JMA Wireless.
"The wireless industry is experiencing a major labor shortage and a skills gap," said Jonathan Adelstein, President and CEO of WIA. "Wireless jobs are changing and they are changing incredibly fast. We are hearing from most of our wireless infrastructure employers that they have a hard time filling positions with applicants that have the skills they need. As this new white paper shows, comprehensive job training programs are crucial to the successful deployment of the wireless networks we need going forward."
WIA launched the Telecommunications Education Center (TEC) last year after working with educators and industry experts to develop a workforce development program that is focused on the specific skills professionals need to work in the wireless industry. TEC features online courses as well as classroom and on-the-job training to cover industry fundamentals as well as more advanced technologies.
For information on TEC, visit www.tec-online.org.