The City of San Jose, Calif. joined by cities and municipalities within the state as well as in Washington state, Nevada, Oregon and Arizona, have filed a petition in the Tenth Circuit to move their petition to review court case over the FCC's September ruling to deregulate small cell deployment, from Denver to San Francisco's Ninth Circuit known for interpreting federal telecommunications law oftentimes in favor of municipal interests.
It will also allow San Jose's mayor, Sam Liccardo, to verbally duke it out with FCC Commissioner Brendan Carr in his backyard in round two of their continuing spat.
Rumble in the broadband jungle: Liccardo vs. Carr
In January, Liccardo quit the FCC's broadband advisory board, and in parting shots, said that it was because there was a lack of progress and that the group was weighted with telecom industry interests that weren't considering public needs.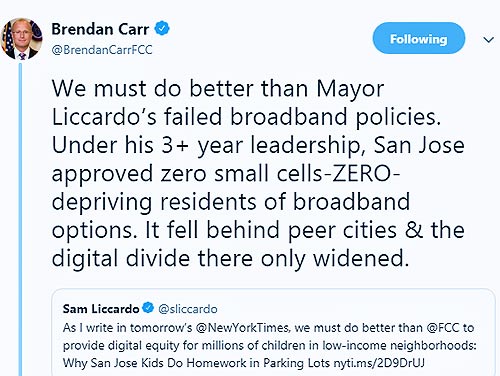 Last month, Liccardo again registered his concerns, writing an op-ed piece in The New York Times, castigating the FCC for taking the side of telecom companies over local governments – resulting in low-income residents suffering because "San Jose kids do homework in parking lots."
Carr shot back on Twitter, stating, "We must do better than Mayor Liccardo's failed broadband policies. Under his 3+ year leadership, San Jose approved zero small cells-ZERO-depriving residents of broadband options. It fell behind peer cities & the digital divide there only widened."
Liccardo said Carr was careless with his comments and that San Jose had actually approved 86 cell sites.
Carr's rejoinder said that from 2015 to 1017, San Jose approved no cell sites, stating: "Mayor Liccardo's 5G tax has held San Jose back. Meanwhile, thousands of small cells were deployed in other cities, closing their divides and growing their economies."
Ninth Circuit's reversal rate is exceptionally high
Big business on occasion doesn't fare well with the court's decisions such as the Ninth Circuit's granting the Federal Trade Commission earlier this year the right to continue its lawsuit against AT&T for speed throttling its unlimited data wireless customers.
Sprint, Verizon and Puerto Rico Telephone Company also challenged the FCC's broaddband acceleration ruling, seeking additional development benefits, and under court rules, when multiple appeals of a federal agency's ruling are filed in different appellate circuits, a lottery was held to decide where they will be consolidated and Denver won, and the cases were consolidated on Nov. 2.
All the petitioner cities and counties involved in the jurisdictional appeal are in the Ninth Circuit's western territory.
Any decision regarding the FCC's order of Accelerating Broadband Deployment by Removing Barriers to Infrastructure Investment by the Ninth Circuit, if appealed and is accepted by the Supreme Court, has a 79 percent chance of being overturned, according to SCOTUSblog. The Tenth Circuit, however, is only overturned 42 percent of the time.
In Sprint's petition for review filed with the Tenth Circuit on October 25, 2018, the carrier said:
"Sprint now seeks relief from certain portions of the Order which violate the Administrative Procedure Act; are arbitrary, capricious, and an abuse of discretion; violate other federal laws including, but not limited to, the Communications Act of 1934 (as amended), the Commission's regulations, and the Constitution; and are otherwise contrary to the law. Specifically, the Order declines to adopt a "deemed granted" remedy when siting authorities fail to act on siting applications within the shot clock timeframes established by the Commission. Sprint respectfully requests that this Court set aside those portions of the Order as unlawful and grant further appropriate relief."