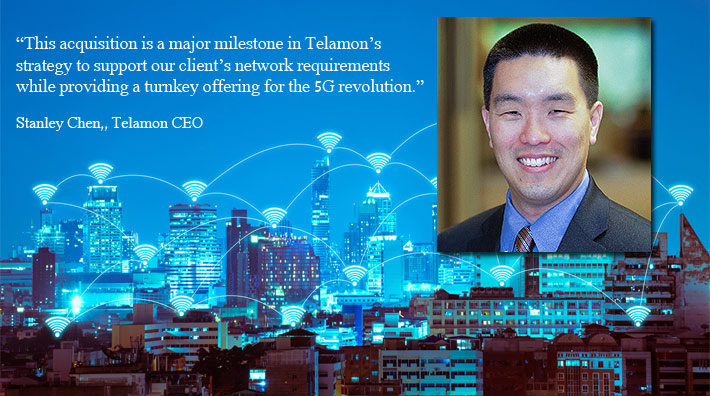 Telamon Corporation has increased its national presence with the acquisition of CLS Group, a leading provider of site acquisition, design, engineering, and construction services in the telecom industry and land services to the Oil & Gas industry. Headquartered in Edmond, Oklahoma, CLS Group holds licensure in 48 states across the country.
The integration of CLS's services into Telamon's Deployment Ready Solution suite of wireless, wireline and in-building services creates a pre-construction professional services offering with the scale to support the extensive needs of wireless carriers, tower owners, OEMs and utility providers in the current accelerating densification trend impacting macro, small cell and DAS networks across the US.
The acquisition of the CLS Group, who currently performs services on 5,000 sites annually, will enable Telamon to more rapidly grow its presence in the wireless market.
"This acquisition is a major milestone in Telamon's strategy to support our client's network requirements while providing a turnkey offering for the 5G revolution", said Stanley Chen, Telamon's CEO.
"Coupling Telamon's existing suite of telecom solutions with the CLS Group's skillset only complements the portfolio and positions us to play a critical role in the ongoing wireless densification efforts and buildout of small cell and 5G networks. We couldn't be happier to have CLS Group join our team."
Pat Adams, CLS Group's CEO echoed Telamon's enthusiasm. "CLS Group's value proposition to its customers is the level of expertise and quality that comes from our strong self-perform service capabilities and broad geographic reach. As the industry continues to grow at a rapid pace, we are excited about the added scale, financial strength, and industry experience that Telamon brings, which we believe will help us fast-track our growth objectives and allow us to better serve our customers."
Randall P. Muench, President of Telamon's Telecom Solution added, "The CLS Group brand is recognized for quality in the industry and CLS will continue to operate under the same trade name within the Telamon portfolio for some period of time."
Barnes & Thornburg served as legal counsel and BKD served as financial advisor to Telamon. DecisionPoint served as deal advisor to CLS Group.