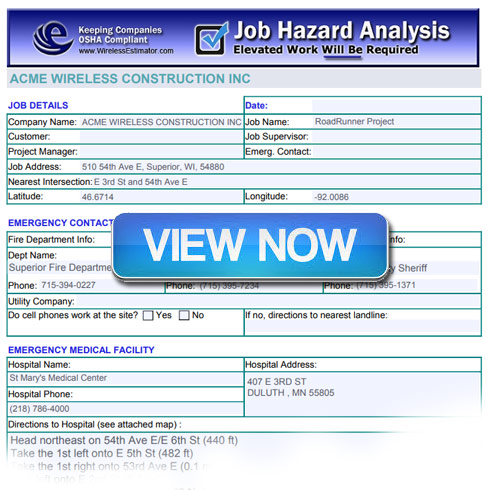 The Association is taking an active role in promoting the need for a JHA, an endeavor that Wireless Estimator has been assisting the industry with for many years with its free JHA program template that meets and exceeds ANSI/ASSE A10.48 as well as Chapter 296-32 WAC compliance.

In the past 31 days, 7,619 Wireless Estimator JHAs have been used on job sites throughout the nation. In the past 12 months, 114,596 wireless infrastructure projects were rolled to ensure safety compliance by using the Wireless Estimator JHA forms that also identify the required emergency services information, not found elsewhere.

NATE's educational video includes an interview with an experienced industry safety manager who articulates the proactive inspection, documentation and processes involved with implementing a JHA prior to work commencing at a tower site.

"Proactively mandating thorough job hazard analysis steps on a daily basis is an integral part of keeping our company's technicians safe on the job," said Amy Dolce, Safety Manager at SAI Group in Salem, New Hampshire. "This video does an outstanding job of reinforcing why it is crucial for each company and worker to closely adhere to JHA protocols and not take short-cuts that could potentially compromise safety," added Dolce.

Wireless Estimator's industry consensus JHA program is used by the majority of the nation's infrastructure contractors and has been heralded by OSHA officials as being one of the most innovative and proactive tools to ensure worker safety and agency compliance.

The National Association of Tower Erectors (NATE) has unveiled their newest video entitled "Job Hazard Analysis: Reducing Your Risk" that highlights the important elements of conducting a Job Hazard Analysis (JHA) at a communications tower or any other infrastructure site.