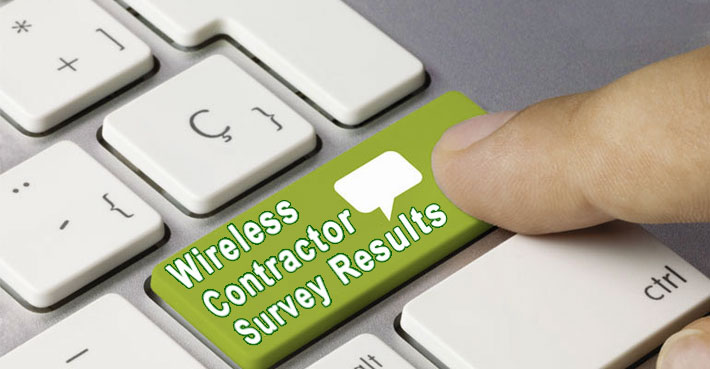 Deeply concerned about the unsustainable state of wireless contracting, company executives provided 328 optional comments in Wireless Estimator's extensive survey that was unveiled today.
Armed with anonymity, it's not possible to verify the accuracy of their statements. But it's clear that their comments, in most cases, were well-thought-out summaries of the difficulties they are facing as carrier capex cuts, extended payment terms and other issues continue to add crippling costs to a once vibrant industry – unsound costs and conditions that will clearly derail America's wireless workforce.
Their collective industry voice should be read by carrier, towerco and industry association executives as well as FCC Commissioners and other stakeholders in order for them to fully understand the contractor's plight and how a few fair adjustments can get the industry back on track, charging hard in the right direction.
FCC Chairman Ajit Pai said last May, "The path to 5G is fast-paced and it is volatile. Simply coasting along the road is not an option."
Nor are unpredictable payment terms. If the FCC and carriers are serious about America winning the race to 5G, contractor roadblocks need to be addressed with the same vigor and support that tower and antenna siting issues are championed.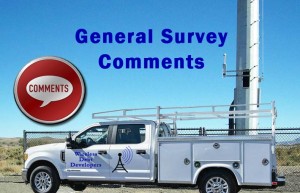 TOP  —   SURVEY
Customers that once offered discounted terms have taken back such offers as well as reverted to Net 60 or 90 terms without informing of such change until payments are past due.
If the carriers don't start treating the smaller contractors as partners in the buildout and allow decent pay terms, only larger companies will remain. They'll then have a stranglehold on the carriers and rightfully require and demand fair payment terms and higher margins. Then the carriers will realize how important those "smaller" players were.
Very rarely do they honor the terms. Usually the turf vendor will sit on invoicing for 15-30 days, sometimes more. Punch approval also can take up to 30 days before you know if they have been accepted
Payment terms keep getting pushed back. Also, more and more OEMs are managing construction creating lower pay and poor payment terms.
While we don't feel job walks with more than 4 bidders is necessary, we still would much rather walk and bid jobs than be subject to unrealistic fixed pricing that does not take into account project variables.
While our customers do pay per the agreed MSA, the issue is usually the terms are net 60 to net 90 days. I would like to see a milestone payments system established.
In particular, TMO states in their on-boarding paperwork that no redlines in their MSA will be considered and if the MSA is turned in with a redline, they will prolong the amount of time it takes to on-board.
Verizon to net 90 terms. It started out with just the labor at net 90. Now they require that we purchase all materials and most equipment through there designated vendors. 3 out of the 6 designated vendors hold us to a net 30 payment. The other 3 hold us to a net 45. The bad part is that Verizon has moved all payments to a 3rd party clearing house where we have to pay a percentage to them to process our purchase orders. With the advent of the net 90 day terms and the extra burden of having to purchase the equipment we have had to factor our purchase orders with an outside firm in order to have cash to pay for the equipment purchases from vendors we are forced to use at lower payment terms. I could add so many other additives that hits our bottom line. I think its criminal.
Have to keep raising labor rates to keep existing workforce, but that's not going to happen.
Payment terms are generally based on the customer's ability to approve a closeout which could take weeks or sometimes months.
Exact reason we do not do cellular work, too long to pay & drives labor cost up which cripples and ends small companies. Cellular workers also have no knowledge of the tower itself and do not like going above 300ft.
Why must the contractor hold the burden of funding their build-out when they're using management firms that are supposed to be funding their build-outs?
They treat us like we're a typical household serviceman or a U-Verse tech,  and when they want to lay off more work on you they don't understand how difficult that is. They have absolutely no idea what it costs for us to fully equip a crew truck. Then when they slow down, the equipment's sole function is to remind you that you've got a loan payment due.
PO's are never given too fast so billing can be weeks after job completion
Carriers take the discount no matter what. If a invoice is late, they always claim it wasn't in their system, then pay the invoice and take the discount regardless of how late it was.
The industry needs to return to money up front, such as 25% to 50% remainder. The carriers have been building networks off the backs of the contractors
Terms are a problem but getting approval is even more difficult
The general problem is not the terms per se, but the unreasonable amount of time to get payment between construction complete and approval to invoice. Also, ATT is notorious for scope creep on alarms and legacy issues which they will not pay for. Finally, requesting change orders and getting them approved is a joke. All these problems combined makes it virtually impossible to work profitably and safely.
The biggest problem is that the carriers give most of the work to the really large companies and they take all the profit out of the job and force the smaller contractors to do the work with very little profit. We're told either take it or leave it.
The wireless industry has allowed the carriers and turf vendors to walk all over the small companies and run them into the ground with non-payments for work completed, blaming COP issues. It's just a way to hold your money.
We have attempted multiple times to negotiate terms on MSA's. First – it is nearly impossible to get past the contract administrators to talk to someone who can make a decision. When pressing it further we are told the contracts are non-negotiable. We either need to sign as-is or pass up working for the customer. We have chosen to sign but if the terms are not favorable we either decline to bid or bid it high enough to cover for the unfavorable terms. In most cases we cannot win bids by covering for the unfavorable terms.
I know the industry has been awakened to the terms recently which is critical to every business. It's the pricing structure in general that has motivated our company to look into diversification. The carriers are creating a shortage with their bullish expectations, one day when they only have two or three national companies able to finance their work they'll ask what have we done? There needs to be an awakening, something is wrong with the system when a mechanic at any truck dealership earns more per hour than a tower hand can get with credentials.
If you declined signing an MSA, you don't get  the work.
We do a lot of Broadcast and Public safety work, Broadcasters and local jurisdictions have the best terms…but Moto is NET 75 and NBC is NET 75 as well, 2 of our largest clients.
No carrier pays on time or as agreed. They utilize so many self-made loopholes to stall payments. Bid walks are a waste of the time for the most part. I have spent thousands of dollars looking at empty fields that resulted in no awards for the project. I understand that it's not always avoidable and some sites a walk is needed, but not every bid needs an eyes on walk. They can do a virtual punch walk at our expense so why can't they do a virtual site walk at their expense? The bidders could log in on a bridge and a webinar. MSA's don't get changed. Take it or leave it is all you get. Turf pricing is a crime if you ask me. How does anyone besides myself know what it cost for me to do the work?? These people can't even get bid walk questions answered, how in the world can you expect them to get pricing for work they know nothing about right???
The customer acceptance date is subjective and favors the carrier's acceptance which ultimately delays payment
I try to redline MSAs, but they always send it back to me saying the terms are non-negotiable. Even the smaller engineering firms that are contracting with the carriers and larger telcos don't allow changing their contracts, and that's because they're being forced to sign non-negotiable contracts with the carriers and have to push the exact same terms down to the subs.
MSA agreements are typically non-negotiable. if customer terms are not accepted then you do not work.
The more bidders that attend the more likely that one or more do not fully understand the scope of the project. This causes bid to be awarded to companies that will fail after 6 projects and they go away.
The carrier had not issued a PO to A&E firm after we completed our work, contributing to the delays.
In 8+ years of doing business, I do not think I have been paid according to my terms 1 time.
Carriers require GC to purchase material and carry costs over the duration of the project with no ability to bill on the front end. Ridiculous.
We are a successful Canadian company that tried to expand to the US. Offered payment terms by US carriers and turf vendors halted our expansion into the US. Terms were not possible to work by, and company representatives even warned that seldom do they meet their own payment terms. Net 90 is unacceptable, especially when they warn you they will most likely not meet those terms
Insurance requirements are the biggest problem
Another issue is these start up companies that have no experience in telecom and come in and low ball the bids then we lose valuable income while they end up losing money and closing their doors in a matter of months.
Our costs keeps rising to do business, carriers keep paying less and less. Material cost has also been rising ever year.
It seems the third party turf vendors who negotiate these contracts with the carriers do not represent the contractors at all. They agree to all these additional labor items for free and pass the work down to us. They use this tactic to get the work, with promises they force us to keep. I am afraid if this trend continues I will have to get out of the wireless industry! These 3rd party vendors which isolate the carriers from responsibility create for themselves a huge portion of the financial dividends for their benefit on our back. Most of the 3rd party carriers have employees who know nothing about the industry, so we end up doing their work as well…something has got to break, and soon!
Carriers expect manufactures and contractors to bankroll funds for over 3 months as if they're a bank.
I wish we could bill the labor hours accrued for attempting to collect past due invoices. We spend a ridiculous amount of time trying to determine payment status on past due invoices daily.
Glad you're doing this. AT&T is, and has been, our largest client. They're always doing work. But their turf vendor system and pay terms have hurt us over the years. Everybody wants it to change. Thanks.
You have asked very good questions. Pay terms have been extended from 30-45 days to now 90 days with Nokia and others. If we ask about better pay terms we are referred to a 3rd party banking institution that charges 4-5% of the invoice to pay within 15 days. Payment terms with Carriers have ALWAYS been an issue so I'm pleasantly surprised to see this coming up now – I guess because they've gone from bad to worse. In our market a Major Tier 1 customer of ours has invited 8-9 GCs on bid walks. This is our home turf and we used to compete with 3-4 other reputable companies….now it's competing with whomever needs to eat that week.
Payment terms are whatever. The 3 major issues are: 1. Flow-Down Mentality – If the TV is in charge they need to take the hits and stop passing the buck. Otherwise why use them? 2. Withholding Payment – It used to be 10% was held back until the job was accepted by the end line client. Now it is anywhere from 50% to 100%. That's ridiculous. Again, the TV needs to root out fly-by-nights and stop hiring every GC who walks through the door. Then they won't get stuck holding the bag and can stop making the GCs who have been doing things right pay for it by stretching out payment terms. 3. Dollars. The TVs need to stop taking whatever the carriers are willing to give them.
Ever since they added the "true up" to PO's every site always has the remaining money (or profits) left outstanding since the managers drag their feet getting your site scheduled for the true up walk. Then after the walk is completed their office takes an additional 3 to 4 weeks just to get the new PO out to you for review and sign off. And if it is not correct (always wrong) you cannot sign off on it or invoice any of it. So you wait again for the correct one to be delivered so you can sign off and invoice. ultimately this either makes you sign off on something if it is only a few dollars off just so you can invoice it or wait for months to invoice it. It is a very poor way of finalizing a site.
I expect to see fewer companies attending bid walks as the market demand increases.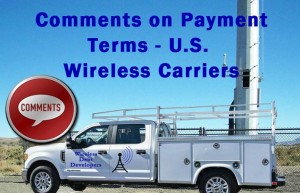 TOP  —   SURVEY
With Verizon you have an option to take early payment for a percent deduction.
We no longer do any carrier work. The ones in our area all have gone with Turfing Contractors/Management Companies
They arbitrarily change terms
We weren't given a choice on Verizon's payment terms. The doc was worded as it was a mandated.
TMO has become one of the worst carriers as far as payment. They just stop paying and let payment go significantly past due and we spend days chasing money owed to us. They always pretend there is some reason, but it's really just cash management on their part. They just turn off the faucet. Then after you are 10-20 days past due they start paying again and taking a discount for paying you early. Ridiculous.
To be paid, you need to pay a fee to their outsourcing payment center which is based on the % invoiced annually. Pay to play.
In addition to carriers not paying on-time, sometimes it takes more than 4 months to obtain a final PO for work services performed. Then after submitting a final invoice for that PO we are required to wait our invoice term time…which has led to us having to wait upwards of 210 days to receive payment.
Work with large General contracting and terms are 90 working with these carriers.
I am a vendor for AT&T and just got an amendment to my MSA changing my payment terms from 60 to 90 days!
The previous business owner had Net 30 terms w/VZW but then VZW switched to Net 90 when new ownership took over.
Sprint has had me stretched out to 120 days. T-mobile out to 90 days.
It does not matter what the terms are when they can pay you when they want to and you cannot do anything about it. The carriers have taken the attitude that the contractors need the carrier more than the carrier needs the contractor.
Nobody really works directly with carriers you go thru turf or radio company's and they hold all the money after they keep 50% markup.
Verizon separates their work into new construction and maintenance. The new construction MSA is 30 days and the maintenance MSA is 90 days. Verizon is far and away the top of the list as our favorite carrier to work for even though their maintenance payment terms are long. We shy away from that work for that reason.
Sprints payment terms begin from the time of approval.
Terms changed to 120 in 2018.  Closed businesses Feb. 28, 2018 due to this change among other issues effecting cash flow.
We don't really pursue carrier work but we do a lot of mods and Microwave with Verizon locally and when we started our terms were 3% NET 10, NET 30. We do work direct for AT&T on occasion and our terms are NET 60
Payment terms are onerous on the 60 day terms but you have to consider we can't invoice until lots of things happen out of our control. We are lucky to receive money before 120 days even with 60 day terms.
Verizon is the only carrier that pays as close to the agreed time as possible. T-Mobile is in second place but they are generally pretty good but they always try to take their 2% discount paying early. That was fine back when they paid in 15 days, now they try to pull that paying on day 59 of 60.. T-Mobile just hit us with the 90 day MSA we rejected the contract and still have not received a new MSA for the year. Time will tell
We are basically financing these huge companies with their payment terms. But if you are late on your phone bill. Bam. Cut service. Ridiculous.
60 days never occurs. Either the carrier holds payments at the end of the quarter for weeks to make the end of quarter financials better or they do not provide approval in a reasonable time frame, thus delaying the payment. The 60 day term does not begin until they give their acceptance in their invoicing portal.
Our AT&T ACAS agreement just got changed from 60 to 90 days. All major carriers can also pay in 15 days but they get to reduce the invoice by 2%.
If payment terms were 30 days, we could handle 3 times the workload we currently carry.
We had to go to our equipment vendors and make them go to net 90. Once we got one to turn we used that against our other suppliers. This is not the way we would like to do business, But we do what we have to to survive.
We have not worked these carrier direct but have worked via management or OEM firm.
Carriers manipulate their books by putting the burden on small contractors, because shareholders are ignorant of corporate games.
We opted to not operate in the US due to offered payment terms
Why doesn't it ask what our payment terms with AT&T Direct are? Our terms with them are NET90. Also, T-Mobile is NET60, but does not allow you to invoice until your COP is fully approved, which due to their slow review time can add 30 -45 days to payment terms from construction completion date.
We haven't done direct work for Verizon, but we have 90 day payment terms with a subcontractor that we do work for Verizon through.
We generally factor so we can pay our subs quicker as well as having working capital.
Most of our work is through the 3rd party vendors.
Whatever payment terms that are set, telecom customers do not pay within terms. Typically, stretch it another two weeks.
It's absurd that multi-billion-dollar carriers finance their network builds on the backs of their comparatively small vendors with payment terms as long as 120 days. Conversely, when we buy equipment from carriers, the payment terms are typically prepaid.
The terms are 45 days but various roadblocks, drive those terms from 90 to 150 days routinely
T-Mobile direct pays fast with a 2% discount .
T-Mobile has not met payment terms regularly for the last few years. They wait until large amounts are owed then play catch up.
All terms are way too long. they are the ones looking to do the work, why not have the money ready to go beforehand? Why do small guys need to be the banks for these guys?
Payment terms should be at least 75% net 15 at major completion with 25% hold on close-out submission and passing site acceptance.
We have fallen back to subcontracting to avoid the long payment terms of the carriers. We do quality work and do not work for any GC's that are not willing to pay in 30-45 days
Verizon pays on time. T-Mob pulls a discount no matter if you opt out or not.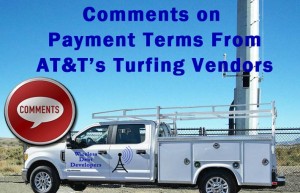 TOP  —   SURVEY
Never had any problem getting pay from Ansco (Turf) or Mastec (none turf)
GD pays us 100% in advance for over several years now.
Ericsson has been good but only because we pay for rapid Pay and even that sometime get hung up waiting for Ericsson to approved. Once they do pay it is in 3 days. They can take weeks or even a month to approve. So much for rapid pay. Should be called not so Rapid.
Payment terms with Ericsson is 70 days, but Ericsson also offers a factoring program through Citi Financial for 2% and we have our direct deposit within 10 days. That program has been very beneficial.
While many of our terms are in the 45 to 60 day range we often have waited 90 days and up to 120+ days on late payments especially with many of the "Turf" vendors.
SAC is notoriously poor with their accounts payable team staying on top of paying their clients. We have to send weekly reminders of what is due, and then follow up with multiple teams of theirs to make sure they've submitted all of the docs that we've submitted to them. Our A/R department pretty much has to do their A/P work for them, or they simply won't pay out. Annually, AT&T includes more work in each driver, but reduces the amount of that driver. We are performing around 40% more work with 30% less payment than 4-5 years ago.
Often the approvals take very long and the payments are 120 days
Current terms with MasTec is 30 days but I believe they are in the process of changing to 60 days
The NET terms are not as much of an issue as is the true-up of the PO which takes about 6 months to a year at which point we just have to accept it so we can invoice. BV also likes to cancel our invoice at the time it should be paid over something minor or usually an error in record keeping on their end, resetting the clock once that is resolved.
Two years ago We handed Mastec back 30 site builds because they were holding payments for 6 months plus. These were all ATT projects. We were asked to perform change order work and it took months after the project just to see PO's. They almost put me out of business.
I've bid to many of these, but I don't bid low enough to ever get an award. We did do an AT&T Co-location for the tower owner and boy was Mastec mad.
We refuse to do work for AT&T or their turfing contractors. They want all the money to "manage" the projects and the people who are actually doing the install get little to nothing.
Turf work is not worth the money, too many hands in the pot, never work with the same people for more than 3 to 4 weeks than they are gone.
I will not work for a turf vendor and I certainly will not build for AT&T and get paid 6 months from now.
Accumulative processes and contract terms routinely result in actual payments 120 plus days beyond construction completion.
Cannot afford to do business with these companies because it is too hard to get paid.
The turfing contractors are extremely skilled at protecting their margin and moving the risk and scope creep to the contractors.
We work for Mastec and they have been treating us pretty well. I received payments fast track in two to three weeks but that's after 300k in work completed and they send you 50 to 60k to hold you over.
We have deliberately chosen to give very little of our capacity to turf vendors. But we did work for Nexius and Ericsson in the past year with horrible results from a payment standpoint. Both companies have a process where they notify you when to invoice even after issuing a purchase order, a notice to proceed and the work has been completed and signed off. After all that you patiently wait for "invoice authorization". We have one job that took 11 months to get invoice authorization even though there was no dispute over the work. Then you submit the invoice and wait further for it to be approved only to start the payment clock. It's ridiculous!
Would not due work for turf due to payment We only worked directly with carrier
We wont do turf work due to terms and pricing. Nokia is one of our largest clients, but the work is 95% public safety microwave and I have zero leverage with their constantly changing terms even as a preferred vendor
You know the only people to make money on turf work are the groups you have listed above as Turf contractors. Yet hardly any of them are actual contractors. You will go out of business trying to do the work they have for the pricing they offer. Truly the downfall of our industry. We tried once, we almost closed our doors. Had it not been for the original Clearwire build and a chance for us to escape the turf game, we would have closed.
AT&T is a bully. They used to be the best company to do work for. Gradually they became the leaders of the "I'll pay you later and if you dont like it we will get someone else" bunch.
These vendors (turf) are by far the worst. The carriers usually come close to meeting their payment terms generally, but these vendors have poor systems and even worse personnel providing the approvals – if you are given the PO for the work you are doing. A change order can take 6 to 9 months to be paid, if not longer. Nokia is by far the worst offender.
We have stopped working for Turf Vendors in the wireless industry. The Master agreements they require to be in place have unreasonable payment terms and insurance liability. My Bankers and Insurance Folks advised me not to enter in these agreements. We have approximately 10 million in insurance and .78 EMR for our Safety Record.
We do not work for turf contractors as their pricing structure will not allow us to turn a profit.
We stopped working with Turf Contractors because the payment terms were too long and they were delaying approving invoices to start the terms.
We will no longer work on AT&T turfing projects. Too many payment problems and difficulties working with carrier/turf vendor.
Some TURF Vendors have a Net 10 Day 5% option which is really nice if you need the money. It is tough giving up 5% which is typically half the profit, but if you get in a pinch it is a nice fall back. One problem however is you may be on 60 Day terms but that is from the point that the Invoice was "accepted". When you invoice you have to be fully complete with that billable item. If not the invoice will be rejected and you will have to resubmit. This will restart the 60 Day clock.
It does not matter what your payment terms are with AT&T TV's, none of the TVs pay on time. We have worked for several TV's over the past (9) years since turf 1.0 and declined to participate in 4.0 this year. We had payment delay issues with all TV's going back to Nsoro, Mastec, Westower/Goodman/Nexius/Dynis, BV, Mycom and Ericsson.
Turfing forces contractors into unethical business practice and finance manipulation to make the numbers work. This consensus comes from multiple turfing CM's and contractors. We refuse to do any work for turfing vendors/carriers for ethical reasons.
While the terms are NET XX, it is irrelevant since it takes them 6 months to 1.5 years to do a true up of the PO to which you can then invoice against, and about half the time they cancel the invoice/PO at the time they are supposed to pay on it over some issue they find that is usually less than 1% of the invoice
We have 20 day payment terms with Mastec. I currently have unpaid items in aging over 90 days with no response from AP.
Never paid on time- This work is the worst – Pricing is horrible and change orders get rejected all the time
Vinculums pays on time every time. Very professional. Nexius is by far our worst offender when it comes to paying late, ignoring change orders, etc.
The 50% payment at the end of construction, bleeds us of all our financial resources, as well we are delayed several months for missing equipment that needs to be installed for final payment.
Mastec is actually net 15 for us but they don't actually pay on time. Just a false promise to get you working. They are closer to 60-90. B&V is about 6 months. We had 300K in receivables that B&V took two years to pay.
The terms are 45 days but various roadblocks, drive those terms from 90 to 150 days routinely. they make their issues with their customer our problem, but we have to pay ALL of our costs upfront
Bechtel has an incentive milestone plan to pay in 15 days
AT&T contractors are slow to pay. Some small 3rd tier subs won't extend credit for AT&T jobs
AT&T never pays on time and hard to work with. You never get the same pm twice due to all their layoffs. We have had to stop doing work for them. It is not worth the hassle to deal with them.
Jacobs is the best, by far.
We stopped working altogether for turf vendors due to payment terms. First, there is no margin in Turfing because the vendors take 45-55 points (I know this for a fact because I worked for a major turfing vendor) Second, you can't get paid because the true up process takes too long and the terms end up being +100 days.
How about a PO before the work starts instead of 5 months after complete? 60 day payment terms does nothing if you have to wait 7 months to get paid.
In addition to the payment terms several of the turf vendors have pay when paid terms. Ericsson also requires a rebate back to them based upon the amount of revenue you do with them during the year.
TOP  —   SURVEY
Tillman Infrastrures work: Will not work for them again. Payments are 75% late. Excuses, added requirements and poor management.
Vertical Bridge is the best to work for.
Crown Castle and American Tower are way more efficient and quick on final PO's and payment terms than any of the carriers.
Work with Uniti all payment terms after site is passed is 90 days. Could be 120 days or more
We stopped working direct for these vendors because of the extended payment terms
Crown Castle being one of the very few customers that stand by their word, their terms and their contractors.
These companies are easier to work with.
Accumulative processes and contract terms routinely result in actual payments 120 plus days beyond construction completion.
Tillman is by far the worst company that I have ever built for. They wait until your invoices are past due and then give you a new list of requirements that have to be done before getting paid. It's a stall tactic.
We give these guys higher marks as reasonable customers in-general than the carriers.
Even though we do not work for the vertical realtors, we still have to have them as additional insured for our General Liability. Crown Castles requirements for Liabillity, Umbrella, proper endorsements require my company to hold a $40,000 per year insurance policy with only 10 employees.
Crown is the biggest expense and slowest payer. You will never be paid in 45 days. 60 at best… Other than throwing their fit last month, ATC is pretty cut and dry.
Crown Castle has the best payment terms, but they don't always pay on time. If I had projects that I was bidding VZW direct and others Crown PMing VZW, I would choose to work the Crown VZW sites, just for the fact that they are PM'd and the payment terms are more realistic.
Also subjective to approval from the manager, quite a challenge being provided the approval, then when payment terms do commence, the payment is typically late 1 to 2 weeks.
No early payment discounts on any of these contracts.
As long as you have a valid PO before you do the work they seem to pay OK.
Crown is leading the industry on safety, quality and contractor care.
ATC and Crown generally pay on time
Crown Castle pays on time, every time. Very professional
None of the carriers we have worked for have sent payment by due date. Most of the time we are working for a general contractor and they aren't getting paid on time so in turn, we are not either.
None of the vendors we work with pay within their assigned payment terms.
Crown is the BOMB!!!
ATC – 15days @ 2% Discount
Small Tower Co's typically pay relatively quickly and are good business.
The big 3 pay on time. VB point on if close outs are turned in properly.
Empire has the BEST record of all turf vendors mentioned
SAI was pretty good with terms as long as PM approved it in time. If they didn't approve it till after the invoice was due, it was cut on the next check cycle.
This is not desirable business. This is a rung on the ladder for new tower service companies. Very few established companies take this turf work unless the market is down.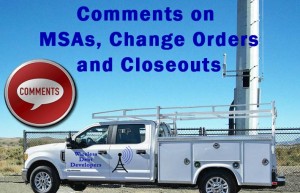 TOP  —   SURVEY
Many times we are asked to work without a PO. MUCH oversite work is passed down to us.
All turf vendors try to get a lot of free labor. they always say we will make it up on the next one HA HA. Never happens.
There are no "fair" turf contracts because all of the turf vendors believe they can sign terrible contracts with AT&T and then pass all of the risk to their subs. It is why we take very, very little of this work…it is all risk and little reward. VZW and TMO ask us to work without POs all the time and then take months to get them to us so we can invoice. We do quite a bit of professional services SA, engineering, CM…..they are moving all of our paypoints later and later in the site process, just another way for the big companies to get financing from the little guys.
The majority of crane companies have a payment term time of 30 days. On average, it takes us more than 30 days to obtain a change order for a crane. The max crane markup with B&V for example, is 3%. We started turning down crane sites last year, because 3% isn't remotely worth the extra time invested in the behind the scenes work involved with a crane and financing that operation. Our clients used to take care of paying the crane companies directly, but now use us to finance them. In regards to the average amount of time to obtain a change order PO- If we don't stay on top of our clients it results in a much longer time than 60 days and sometimes not at all.
30% of our closeout packages are held up for no apparent reason. Change orders really screw us up when we have to factor the purchase orders. It cost us an extra % point.
ATC specifically states that no changes can be made to the MSA and has to be signed as is. Crown keeps changing their MSA and contractor requirements every few months so it is nearly impossible to comply due to the amount of confusion. Turfers have formidable contracts that are a nightmare and time consuming to negotiate, then they never uphold anything in them they have agreed to.
I believe MasTec is doing a really good job on their management, as far as getting parts where they are needed and keeping a professional look as workflow process.
Think about this as far as "Fair" payment terms. When you hire a fence company to build a fence around your home, they require 50% up front…can you imagine how healthy small tower companies would be if we could do that too?
Close out packages have grown 400% in the last 3 years for documentation
They seem to be hiring in lower wage employees without experience and pushing the work onto the contractors. This has been increasing in the past 5 years or so.
We will no longer do Turfing work. The abuse is just not worth it. Payment terms should be 25% pre-con, 50% at complete of retro work and 80% complete on new builds with 25% hold back for acceptance.
Terms and conditions of Turf MSA's are identical, unreasonable and non negotiable.
They send you a scope work in drivers and it looks nice then they come back and deduct drivers and tell you that scope changed RFDS changed this is after you install radio's they gave you then makes you remove them because they where the wrong ones and won't pay you your De-con. Scammers all day long. We should get 20 day payment terms.
We don't feel any of the carrier and turf vendor MSA's are reasonable for the simple fact that they are non-negotiable. They are completely one-sided in favor of the carrier. AT&T only allows 10% mark-up on materials on maintenance jobs. Some local managers require us to perform the work and then later get a purchase order. This can slow payment. Turf vendors are the worse for finding ways to delay site approval, close outs, invoice authorization. It has become an art with certain managers.
All companies require non-competes in their MSA which is very unreasonable – no projects last all year round or they get put on hold. It's unreasonable to ask a company not to work for other carriers or competitors when they cannot guarantee to even provide enough work for your company. Change Orders are promised and we are pushed to perform work before receiving them then when we do we are denied and not paid for the work we performed. Furthermore, General Dynamics in my market will not allow Change Orders for ANYTHING- we are to perform services all over the state for the same price- no per diem, no hotel reimbursements, they do not provide materials nor do we get reimbursed for non con materials. They have run into a shortage of RRHs and are now requiring us to build the site then return when they receive the missing RRHs and install them for no additional costs-no remobilization, nothing (this is regarding the Turf 4.0 Project). A company like mine can't say no because we need the work to stay in business- to keep our employees working so they don't look for work elsewhere. Not limited to GD, many customers will have CM's who are supposed to be available to my crews and are not, they don't show up, the guys call to try to get someone to help with an issue and wait hours for return calls- then the CM's will send an email stating that they are helping us and my crew has not even heard from the guy, which covers their ass and makes my crew look incapable. GC's have no say in pricing, in change orders… really we have no say in anything. We have to take whatever we can get and be bullied and pressured to complete sites by deadlines in crappy weather conditions, remote sites with no access to food or housing. Every year more and more certifications get added that our employees are required to have- these certifications are expensive, for me to have one person correctly certified to climb it costs me $5,000 per person. No one reimburses or grants you more work or better pay for having all your men properly certified.
You will never get an MSA changed. We have tried. We are told take it or leave it. Change orders. Ya, you will never get the PO before you do the work. It takes them 3 months to get the first PO, you aren't getting a change order one in 3 days lol. Closeouts are one of the biggest scams of the trade. they wait 45+ days to reject them, give you a format or version you never received when you started the work. Then make you wait forever to get paid after they have rejected them 3 times over a flat washer in a picture hahaha. They play it off like the closeouts are of more importance than the site. If there was a real issue they would have you back out fixing it so it could take calls. Closeouts shouldn't represent anymore than 5% hold on payment. I mean if they want to start paying us a percentage of that site's revenue while we wait for results then fine. We are fine with closeouts, but be clear and upfront. Keep the same damn closeouts for the year so we can track them. Stop using them to drag out payments. If a contractor doesn't complete them kick them off the project. Oh wait, nobody else will work for peanuts?? Raise your price. I thought everyone knew that you get what you pay for??
Typically CORs cost us time and materials that the vendors don't want to pay but it's needed to complete a job. If we have to re-mobilize due to them dragging their feet we aren't allowed to bill for that. In Hawaii non reimbursed re-mobilization can eat up all profit.
There has been a large increase in the amount of additional work responsibilities that have been delegated to the contractors by both TURF vendors and clients in general. This is a result of cost saving efforts by our clients and a general lack of capability and inadequate staffing within our clients' organizations. The cost to perform the work has risen as a result of the above mentioned, but client budgets and pay have not risen accordingly. The result is less experienced technicians in the field as there is no funding available for training.
Change orders are by far the worst process in the industry. Additionally, third party work is either a loss when all is done or break even at best, turf vendors and OEMs have driven pricing to an unacceptable level for the requirements of training, insurance, safety requirements, test equipment, tools, vehicles, per diem and wage requirements.
Our MSAs are extremely one-sided considering the customer's required payment terms, insurance requirements, personnel hiring/training/background checks/drug screening, warehousing, quality requirements, safety requirements and levels of management reporting on a daily/weekly basis. And closeout packages have become enormous amounts of electronic data requiring hours of preparation, plus personnel sophisticated enough and with computer good skills that can collect all of this data and get it to our project managers (PMs). The people we've been hiring that can meet these needs don't stick around long unless they're making about $30/hr or more. We've had to increase our entry level wage for our NWSA TTT-1 apprenticeship new-hires to $16/hr with quarterly raises of $1/hr for the first year. We can 't hire quality people that meet the customer's background check requirements and skill sets needed to do the work and provide the TO/CO documentation unless we're paying them between $20-$30/hr. Every tower tech is highly paid and the top guys are in the $30-$40/hr range. Our payroll is enormous and is difficult to cash-flow when the customers pay in 60-90 days. And that's only after they approve our invoices. We're in constant battle trying to get paid on time. It takes closer to 100 days to get paid, after the customer approves our TO/CO package and then the invoice.
This industry ran pretty smoothly prior to turfing contractors. It's an additional expense to the carriers and it's been horrible for the contractors.
We have been threatened to be thrown off of bid list's if we didn't complete change order work, Prior to having a valid PO
Customer allow a 5% mark-up for cranes & materials. GCs are acting as a bank and carrying this finance charge for months. Customers should provide and if not then PO's for cranes & materials should be allowed to invoice and paid immediately.
Change orders for AT&T are pre-approved and negotiated to our cost, then canceled or re-negotiated after the work has been done and we are forced to agree to new terms/pricing to get a revised PO
The current Mastec MSA for 4.0 is draconian, adding additional back office support to meet the new requirements, while cutting pay 60-70% in most cases.
COPs is overly laborious and tedious and seems to often be used to throttle payment. Micro-management of everything, particularly by Sprint. And their driver pricing is extremely conservative. We are declining to work several sites for Sprint due to the complexity of COPs and non-competitive pricing. AT&T is close behind, particularly with respect to their turf vendors and the 4.0 contract.
Some offenders in regards to change orders are worse than others. Specifically, Ericsson turf management states you are never to proceed without a PO on a CO, but their construction/project managers always pressure you to do so. It seems quite obvious they are trained to operate in this manner.
We're allowed to mark up materials and services with one client who caps the markup at 10%.
Vendors just ignore change orders until you threaten to stop working, then it is resolved quickly
The change orders are not approved ahead of time even though we are told to do the work while we are still on site for the original job. Then, we have to fight to get it paid because they sometimes say the work was part of the original SOW or we didn't get proper approval. Never is this paid within the 30 day term.
We have had to go as long as 60 days for the change order to be approved then you have wait 60-90 days before payment is received
On average thus far our closeout approval rate has been 1-2 days and then we can invoice.
I work for AT&T but am not required to use video closeout
They routinely do not adhere to terms of contracts, and we have to bare the brunt of their failure to plan, or their failure to staff, train and operate properly. when you are owed huge sums of money, and all your work is with one or two entities, it is virtually impossible to negotiate properly as walking away is not an option due to the time it takes to replace the work and ramp up w/another vendor or carrier. It was never a problem in the past as we were treated much more fairly, and it was a team effort
Vendors typically average 60 days on payment in spite of having agreed to 30 day payment terms.
We do not work with ATT turfing vendors due to the payment terms and pricing structure, We cannot safely and efficiently complete their projects with the current pricing structures in place.
I think we are asked to do too much to close out they deal. I.e. Doing site survey for free. And the price drivers are too thin. They don't give consideration for traffic and drive time in dense cities like Los Angeles.
If you want to be a TV then manage the Turf and don't make me do your job!
The word NO comes to mind. Until contractors are willing to walk away this ab use will not change towards contractors.
Not sure why we even have MSA's in place if we are always asked to bot follow them. then if you do try and stick to the MSA you are banned from additional work since you are not willing to work for free and try to pay your employees so they do not quit and in the end rip my hair out trying to get paid for the last part of the job on every site!
Vqa I usually can schedule in 24 hours. When client tells me I cannot markup a invoice I tell them they need to provide it. SAI would pull work on this. Empire I have not had any issues with.
The pass thru with no mark ups is becoming more and more popular and the MMD program at VZN is total crap. then they want you to buy thru the Minority and keep the time line.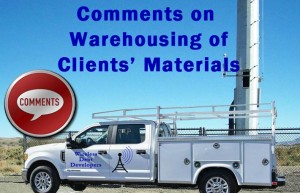 TOP  —   SURVEY
We build the storage of materials supplied to us in our pricing.
Major headache with no reimbursement
The warehousing responsibilities have increased greatly in the last 5 years. We had to hire a full time person just to keep up with complying with all of our client's expectations, however, we're not compensated for any of it.
We have to do regular audits of the equipment for the carriers to show we have their equipment, which is time consuming and requires mulitiple employees to complete… and are charged for mistakes or problems they have within their own system. AT&T has also decided that we have to prep old and removed equipment for recycling, some of which has items that need additional prep like draining freon or chopping into manageable sections and packaging on pallets to specific requirements, which we do not get paid for. We are also told very specific rules on how to manage materials that we are then told to do something different for the convenience of the turfer. Batteries are a good example
We don't get paid to pick them up either.
We are not compensated for pick-ups or re-delivery.
We do not house materials any longer. The only terms we accept are commercial rates for space available.
Returning the materials (decommissioned or surplus) back to the clients takes an extended amount of time, storage, liability, and resources that are not compensated.
We pick materials all the time then turf will call us to return and the deal is if you want to build another site you will return and pick some more materials that once you go out to site start installing then they will tell you new RFDS came out and you need different antennas. That happens all the time and they won't pay de-con.
This is another way clients have cost shifted to us. They require us to take delivery of materials and store them until given an NTP. Sometimes sites are moved into the next budget year or cancelled altogether and materials are stored for months with no way to bill for the storage.
It's very rare to get reimbursed for storing materials- only once have I been reimbursed and it was by Sprint. Pick up, delivery and storage of materials are considered part of your base package, there is no clause that says if your site gets delayed or canceled that they will reimburse you for returning or holding on to them for months at a time. I have a site in my warehouse right now that was delayed due to an active Osprey nest, I have had it for two months- all equipment has to be scanned every 30 days and the project CX start is unknown but projected for the end of September- we will not be reimbursed for holding onto the site and scanning the materials into CATs every 30 days.
I have a 10ksf shop. Half of it is always filled with carriers' stuff. They have to pay the handlers money if it stays at their location so every week there is a mad panic to pick up materials before their weekly audits. So as long as it's at my shop they don't have to pay storage fees. I honest to god could retire if I had ever been paid a dime for every square foot I lent them for the past 20+ years.
We are required to house materials for projects that may not start for at times 6-9 months. None of the storage is reimbursed.
T-Mobile now requires us to scan all T-Mobile asset materials stored in our warehouse monthly taking up a lot of time which we are not compensated for.
No consideration is given for warehousing or storage. Additionally, we are expected to provide consumables with no lead time on project start dates.
We've had to hire an extra guy in the shop to manage the volume of materials that we have to go pick up, kick and count and then warehouse. And far too often the materials provided are not the right type, not long enough or missing parts/components altogether, which requires scrambling around to rush materials to the site by the PMs or our extra shop guy.
We have been removing old cabinets and equipment and installing new. On average it takes 5 months and 45-50 e mails to get them to receive their old equipment back. With absolutely no compensation.
Picking up, storing, and delivery of materials should be billed as a stand alone items. But Most TURF vendors believe this is included in your base price. Other customers allow a separate item to be invoiced for warehousing/inventory/delivery. If projects get cancelled or delayed you have a separate billing ability to square up a project.
We also devote considerable time to tracking clients' materials with programs that are inefficient and usually not working which eats up considerable back-office time which is not billable. Additionally, all wireless clients and Crown Castle consistently change which program they are using (yearly) which requires significant additional for set up, maintenance, and use (have to pay for access with no guarantee for work, have to pay office personnel to maintain our portal access and set it up, etc)
We are predominately a ground / civil group. We are now required to pick up and deliver power plants and other equipment and hold the decom equipment until Mastec is ready to accept. We have items in warehouse that are 2 months or longer, taking up valuable space.
Logistics is very poorly managed by most carriers. A tremendous amount of time is lost because of missing equipment or wrong equipment is delivered. This creates repetitive false starts and stops with projects resulting in extreme inefficiencies in crew re-deployments.
We are told to purchase materials and then the job gets cancelled leaving us it. Most is very costly to return if even returnable. If we get forceful and ask for a PO the relationship becomes tense. In a few cases even though we did obtain a PO for the materials, we were not reimbursed when the job was cancelled.
The materials and equipment nightmares continue, not just with storage, but with tracking items and audits.
It would be fair if they compensated us for handling. All shipping and logistics company get to charge for same. Most of the personnel on the carrier/turf vendor side of the industry have virtually no logistics experience, which multiplies the problem 3 fold.
We only accept materials for jobs that are up coming and we have POs for. We also bill for materials we pay for with a minimum 30% markup
It's hard to collect for customer failed equipment. Even though they ask you to return it and package it, it is very hard to get reimbursement from the OEM or carrier.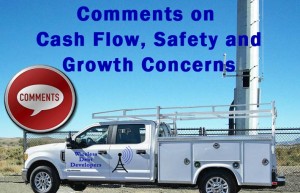 TOP  —   SURVEY
Safety will be our first priority regardless of our profitability. We will go out if business before I put an employee's life at risk.
With the sporadic (and often unknown) cash flow schedules, and the "all or nothing" work schedules, it's nearly impossible to keep a reliable staff throughout the entire year. The most frustrating thing about all of this is that there isn't an expected "down time" during the year…it varies year to year. Things don't have to be the way that they currently are- if carriers focused on maintaining fluid work instead of a year's worth of work being completed in 6 months, then a 4-month unplanned layoff, then the same thing all over again.
Revenue continues to decrease, safety gets harder to keep up with and the clients get more demanding with little care to operational issues.
Cashflow has negatively affected our business in the fact that in 17 yrs. of doing business 2017 was the first year ever we had a negative cash flow for our Corp. tax yr.
I would never cut back on safety training or equipment or employ training at any time .
Pricing compression along with extended payment terms are making it prohibitive for suppliers to sustain and grow their business.
Reduced margin causes us to re-evaluate how much we should keep investing in this line of business. Zero profit will equal zero investment.
Safety, safety, safety is the key to our success, but they take that away by unrealistic terms.
Slow payment impedes growth. Without growth we can take more work to meet customer demand. It also causes reductions in quality and safety as companies are forced to find ways to streamline the work.
Reduced cash flow effects how many crews I can run- I can no longer hire employees that are not certified which renders my ability to grow as a company. The 2 crews we run right now are fully certified by us so we only have to run refresher courses. We try to invest in our employees as much as possible but the direction this industry is going will probably force us to close down shop. We simply cannot continue to receive less pay for more work and keep everyone certified, have all the proper safety equipment, trucks, trailers, the specialized equipment we need like AAT Tools, Anritsu etc. Everything you need to run a crew safely and properly is expensive so how are we supposed to survive when the carriers want to pay less and less every year while requiring more certifications and more insurance policies that clear them from any liability which ultimately costs the GC's more money to acquire those policies. We take hit after hit with no benefit.
Major struggles for years now because of payment terms, requirements, etc
Cash flow… let's just say it's horrible. On average this year I have completed 3.5 sites a week. each of those sites has around 20-30k in materials (from tape to mounts and Hybrids) so that's around 1.4 million in materials per quarter. They want me to pass that straight through on the Minor Materials program. You find a bank that will loan you 1.5 mil for zero interest and no payments for 120 days, not going to happen. Why 120?  Well, remember, we have to order everything 4 weeks in advance so the manufactures can cut and deliver it, then add 2 weeks for scheduling and 2 weeks to complete, then add 30 days for closeout acceptance, then start your 60-90 days of waiting to get paid. 90 day payment terms would probably crush me. Maybe the big groups could survive but it's just way too long for me. This is supposed to be a Small Business friendly industry. I get better treatment with my government contracts for power companies and the military. Growth concerns is a whole other topic itself. I will touch on one thing for example. Test gear. Each of my truck houses around 120K worth of test gears, Pim gears for different frequencies, Anritsu coax test gears, Fiber testers, alignment tools, radiation monitors, RET programmers and next month is another 25K per crew for BBU immolation test gear. (Let's not forget the other special things we have like path alignment boxes, shunt meters for guy wires and metal thickness testers). I spend over 30k a year just to have all these items calibrated. Where is that money supposed to come from? Stop giving my guys a raise or a good job bonus? Cancel their insurance? Stop with the safety training??  A quality outfitted truck with crew and equipment for safety and installs is easily 250K to roll out the door. a quality belt is 1k dollars and if you have 3 man or four man crews it's going to cost you. Then in one day 5G will take off and all my money will be tied up waiting for payments on jobs I did last quarter.
Being a small business we can't do business without cash flow. It is unrealistic for giant multi-million dollar corporations to expect small business owners to be their "Bank". These new payment terms seem like a way for big business to push out the little guys so they can work solely with larger businesses that they may have a vested interest in. How many executives and employees of the wireless industry big wigs, have monetary investments into the construction firms? Verizon and their new minor materials agreement that keeps the contractor from marking up the materials they supply is unrealistic. Not only do we now have to supply 75% of materials for sites (that were VZW supplied in the past) now we can't mark up, and we are their bank for the items purchased. VZW won't pay us for 90 days from completion but we have to pay the materials vendor in a max of 60 days. Those materials must be purchased at the beginning of a project which means we have to shell out the $ to pay for the materials but can't invoice till the project is completed, you may not see payment for 6 months from start of project. If we can't adjust our payment terms to better than 90 days why doesn't VZW work with the materials vendors (Talley, SitePro1, Graybar, Tessco, etc) to extend the 90 day terms to the contractor?
Safety cannot be reduced, it is too crucial. We are not bringing on new employees as the turnover is too great, the wages and per diem too high and the investment in the person is too great with the required safety and technical trainings necessary. We need more crews in the field to offset overhead, unfortunately due to the reduced profit margins and lower pricing across the industry we cannot incur the costs, along with the delays in projects and overall negative projects in the industry. There is little consistent project work across the board. Carriers say they have a project plan and never meet their goals, and vendors lose money starting and stopping. The project management is the worst I have seen in 10 years.
Our cash flow has become a major problem. We are operating out of our line of credit (LOC) at our bank far too often, even right now when we are running full speed and things are going well. Our customers are finding too many ways to hold up payments. Even VzW, whom just changed their pay terms with us and went back to 30 days from 90 (realizing we were bidding their projects higher and they weren't high on our priority list), they still withhold tens of thousands of dollars practically every month due to some "system error" they had in accounting. As for growth, we've been hiring & training new TTT-1 techs just as fast as we can find good candidates, but it costs about $150,000 to put a new crew together once you pay for the recruiting/screening/hiring/onboarding/NWSA training/electronic equip purchases/truck/trailer/tools/safety gear. Trying to cash-flow this growth is impossible with the slowness we get paid by our customers, so we're constantly into our LOC. And then the customers push for volume discounts after each year and don't allow marking up materials, cranes or lifts more than 5%. 5% doesn't cover our OH. Every dollar in a job, whether it's labor or a crane, has to provide enough to cover your OH. Our OH hovers in the low 20% of sales range, so if every dollar that was spent on a crane can only generate 5% markup, I'm losing over 15% on those dollars. Pass-through pricing and fixed markups only hurt the contractor and help the customer.
It is hard to grow a company that has little to no additional cash. It keeps us from taking on more work, and larger projects. You have to be looking way ahead and behind to know where your money is at all times.
We, as contractors, are required contractually to keep our subcontractors paid within their terms (usually NET30) yet we have to wait to be paid for over 4 months from completion of project.
With the massive reduction of pay on 4.0, the additional non-compensated work required, we are unable to afford our in-house training program and OJT program that is required to bring the next generation of tech into the business or to replace techs due to turnover. It is a slow, painful death for a small company.
The continuous pressure on cashflow requires GC's to boot strap every capital decision and limits our ability to grow. We simply cannot procure more equipment and people fast enough to meet needs.
Materials need to be purchased to complete work, most suppliers require immediate payment or up to net 30 terms. It's impossible to carry the cost of steel and consumables while awaiting payment. Some subcontractors require progressive billing. Without payment from carriers we just don't have the money to pay them so we find ourselves constantly operating on debt.
One of my biggest complaints is that carriers are requiring more and more safety training (including the new NWSA certification which is almost completely a duplication of other certs we already are required to have), while simultaneously driving down prices and extending payment terms. This also applies to requiring more and more specialty equipment including specialty test equipment, azimuth tools, etc. This also applies to the third-party "safety certification" vendors we are required to pay and use.
Another thing we have going on is getting rigging plans approved by an engineering company only to have jobs placed on hold. Also, crane companies want to be paid before we receive payment from the vendor.
The cash flow forces us to use our line of credit thus costing us more. This money can never be made up because an increase in our price causes us to not be awarded more work.
Clients do not always pay according to their MSA. When asked about the money you will get the run around. We are told when we are at a site to do the extra work and then the extra work is denied to invoice. When we are awarded a job we have to send a letter saying the price is firm and therefore cannot bill if problems arise during the job.
Safety seems to only matter to certain turf vendors. on the whole what they care about is safety costs (lawsuits/insurance), not safety. The margins are way to small for the danger, training, logistics and difficulty of this industry. If I wasn't in it for 25+ years, I would never invest in this and would move on. Fortunately we made our money years ago and are stable.
I put safety at # 6 because it is our priority not the carriers. That said, we could do more if we have the cash to do so. Cash flow is at the very top of worries. Customers are squeezing the hell out of us while they rake in billions .
We pretty much get paid by less than half of any other trade out there. Eventually you're going to get what you pay for and tragically that is why people die. AT&T & their TVs = Money Over Lives.
To me, the cash flow problem is a clear indicator that the Politicians are lying about the economy. It's Fake news. We're in worse shape every year that passes If you go bankrupt before you collect your receivables you just financed the buildout and increased someone's profit margin by that much more.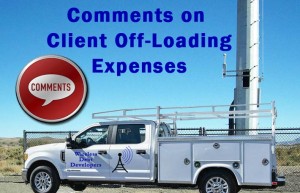 TOP  —   SURVEY
We pay out more money every year just so clients have less liability.
We consider this the cost of doing business. We are not complaining in particular about this cost shifting but coupled with everything else that's costing us it becomes a burden that is difficult to bear.
We are required to have Avetta by 3 Customers which is a waste of time and money. Not only do I have to do all there surveys but then I have to upload all insurance documents, then hand type the info from the  policies onto the website,  then still provide the same things to the company via email. It's one more way to give more unpaid work for GC's to perform that should be performed by their own departments.
These third party companies are totally useless and offer no help.
This part of the industry is getting a bit out of control. I am floored that I have to pay a percentage (0.155%) of my invoice to a third party company, plus a yearly fee of another $2,300 just to Ariba. I mean they look at my invoice, agree it matches what the carrier said it should, confirm I have a bank account, then tell the carrier it's okay to pay me. It doesn't even make sense when you type it out. The least I have ever paid Ariba during their involvement was around $6,000. Same for Browz and Avetta. Your best bet is to hire a third party group to create you a safety program that is accepted by them then plan to spend 1k per approved carrier on your list. Yearly.  Avetta charges me per carrier to be approved for? That means they charge me an additional 1k dollars to tell ATC my paperwork is good, Verizon it's good, T-Mobile it's good… really? Let's not forget all the insurance requirements they have now. Environmental covers oil spills. The most i would ever have on any site is what's in my truck, but I have to carry enough coverage to clean up the Valdez mess.
We are required to use all these services by the carriers and are required to pay for them, just for the pleasure of building or maintaining their sites. I just wish I had thought of this business idea first, someone is making a killing on this required service.
This is insulting that we are forced to go through these portals and systems. Each customer seems to have a new portal – Avetta "The contractors choice" – by no means do we choose to use this portal, we are forced to. Browz is a new one we need to pay. Ariba takes a percent of each invoice for their services. Along with essentially being required to join NATE and other third party evaluation tools.
This is a real kick in the…shin too. Not only do we have to pay for this service, I've had to hire an additional office admin to help with the process, including the volume of COIs and insurance requirements we have to stay on top of.
None of the third party certifications and fees are billable, Nor are we compensated for the man hours that are used to stay in compliance with these 3rd party certifications.
Our company is required to expense more money and each carrier has their own 3rd party certification company that costs us additional money.
It seems like the clients could get together and have one third-party certification company, we currently deal with 3. Each of the three charges us a separate fee. The A/R fees are based on payment amounts, it's like paying to get paid. It is very frustrating.
We should not be forced to use these groups and pay their fees. The only alternative is to not use them and risk losing a major contract.
Hard to really put a value on the total third party certification expense since each requires something different, some of the training costs us in excess of $10K a year for travel and lodging and training that we have to renew every 2 years… and that is just for one certification.
We are not required by our clients to use third party, but once our LOC at the bank is fully consumed we will use a third party to finance our A/R at a cost of between 2% and 3% of A/R. Obviously that reduces our margins on an already lean driver driven pricing.
Even when more than one company uses Avetta, they do not give you a break on the cost even though they already have all of the information and it has been vetted by them.
I refuse to pay for work. If a company wants to use a third party clearing house they should pay for it not the small contractor. I view this as extortion.
Just another way to offload their expenses to the contractors.
These companies like ARIBA have a very poor track record
This part is really frustrating. Total waste of our money and it only benefits the carrier. We get nothing out of this.
It's total and complete BS!!! Vendor qualification protocols are exhaustive / self-defeating and completely prevent engagement, communication, and relationship development with the client.
Required to use Avetta for SBA Sites. Built the cost into a WA. So while not directly reimbursed. I still got money back one way or the other.
Very frustrating the owners are pushing this expense off on to the contractors. The safety vetting etc…plus billing. If you want to ask a question with VZN you have to call a person then sends you to Denmark. Really just like the I9 Verification the folks barely speak English!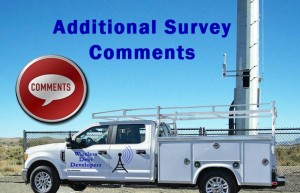 TOP  —   SURVEY
With all the work coming and additional requirements you would think we would be able to charge more to cover our costs. But the carriers find ways make sure we can't charge more. They require more training and certificates everyday, and don't want to pay for them or pay more to offset costs. I see tower companies shrinking to offset costs and closing up shop.
No consideration is made to the technical resources required on a crew. On top of a heavy duty vehicle and trailer, capstan winch, ropes, safety gear, harnesses and other required tools each crew needs Antenna Alignment tools, Anristu sweep gear, RF monitors, multiple frequencies of PIM gear, fiber testing equipment, connector tools and other items. Properly equipping a crew can easily exceed $150,000. Insurance and benefits costs have risen extremely, and industry payment terms increase with the customer constantly lowering their pricing and forcing vendors to awful target pricing. Costs should be 20 to 40% higher than what is offered. This forces subcontractors to move away from third party work, turf vendors and OEMs. There is no money to be made with these companies, yet the carriers keep giving them the services work; they cut the rate by 50 to 60% and try to force vendors to do the work at these awful rates all the while these carriers and OEMs boast millions and/or billions in profits on every earnings call to boost their stock price. Subcontractors are literally being shut down daily and forced into bankruptcy because of these same companies. The industry needs to work together to ensure subcontractor rates are increased to improve quality of work, profits for vendors and better wages and benefits for employees delivering the work.
Thank you Wireless Estimator for taking the industry lead on exposing how fragile this industry is and the possibility that it's ready to collapse. CTIA, NATE, WIA, CCA and all of the other associations will not touch the subject because of the obvious reason, ATT, TMO and the other carriers and tower owners would cut off their association's cash flow if they did. Instead they spend their dollars lobbying the FAA to have the siting community become more profitable by taking away roadblocks and lowering permitting and pole attachment fees. But the carriers continue to put a stranglehold on our cash flow, and that's fine with them as long as 5G gets built. If pricing constraints keep happening, our country could come in last in the 5G race.
We as a company made a decision to not take on any new TURF related work for AT&T projects. We also made a decision to not do any more work for Project Management firms that do work on Sprint, Verizon, and T-Mobile projects. The amount of money paid per project typically can be profitable if completed as planned. But when you factor in the delays of receiving PO's, the delays in Invoicing, and the delays of actually receiving money, we end up with margins that are not sustainable. In many cases we had projects that were 5-7% Net profit. But it would take 90-120 days to collect the money from these projects. Those projects would net 1-3% in the end. For that low of a margin, why do it? There is too much risk and downside to do Carrier Work, specifically TURF or Project Management firm pass through work. Unless they change the amount they are willing to pay per project, and the payment terms, we will continue to pass on the work.
Welcome to 5Greed. It's the economy, stupid. If there is a shortage of qualified workers it's not because we're growing like gangbusters, it's because we're losing them to other professions that pay more and have steady work flows. The unemployment rate is around 3.8%, the lowest since 2000. That was the PCS period and companies were doing just fine. But now as other industries are booming and salaries are seeing marked improvements, we're in the tank and it's going to get worse if there isn't intervention that will allow contractors  – both big and small – to make a fair profit so that we can pay our employees what they deserve.
I feel that the answers to these questions are truly what is holding back our industry right now. In the past 5 years it has gotten harder and harder for tower companies to make it all work out and the above questions and answers really shine a light on that. Thank you for your time in putting this together and I pray that people listen to the results.
More tedious and complicated work for less pay. Makes you want to find another industry to work in.
We have never viewed the Turf model as fair or efficient. It erroneously attempts to turn in the field site work in to widget production. This does not apply to varied and different sites across different conditions and large regions. It is primarily a way to allow the carrier to avoid liability and make the Turf Vendors act as their banks. Turf Vendors in turn push that on to the GCs by stalling payments as long as they can or instituting "paid when paid" strategies. They also push management and administrative tasks on to the GCs that are not GC responsibilities and that the GC does not get paid for.
My company spends more time dealing with MSA issues than we do building sites with E//. With the new ATT contract E// requires all new requirements to be included if any additional increase in funding is available E// dictates the add pricing.
Thanks for taking lead on this Wireless Estimator. The carriers and tower companies do not realize that they are making the wireless services business sector unprofitable. This will results in limited investment in the space which will have the long-term negative results you highlight above.
Great idea to provide this survey. I have been in the telecom business for over 25 years, I see the 5G/FirstNet rollout similar to the DOTCOM growth in the 90's. There was crazy building going on, but then the terms were better and allowed us to even pay bonuses to attract needed employees. Now with the new cut rate fees and long payment terms, one cannot afford to get the most qualified techs as needed which will slow the overall program.
Something has to change with all of the topics brought up above. The requirements of GC's are rapidly evolving, safety standards are increasing, however, GC compensation is dwindling at a fast rate. Additionally, each GC is not held to the same safety requirements as another. Clients are "looking the other way" on major safety violations just to keep up with carrier demand. It's not fair for those who comply and creates an unsafe environment for all around.
Thank you for designing this survey – this problem is very real and damaging to small firms
Some Carriers think they can strong arm GCs. We don't work with clients with that kind of attitude. We work with people that value their vendors and sees GCs as partners that help them succeed.
If the industry doesn't see a correction soon, it will see a major increase in fatalities or simply a complete halt in work completion. There's a turf vendor right now increasing salaries for field employees by 30% and decreasing Sub-Tier pricing by 30%. The only sub-tiers they are able to bring in are limited employee working owners with no coverage and don't keep up with the standards that those of us whom have been in the industry for decades have to. This recent abomination has caused significant damage to the industry causing a lot of good companies to close their doors. This company will also be the leading cause to injuries and fatalities.
Splitting up pay points only delays the cash flow issues that are caused by these payment terms.
One additional issue for us is the unnecessary paperwork load (close-out docs), with unreasonable deadlines.
We are aware that certain Turf Vendors are now offering incentive pay as well as better pay terms but the fixed pricing has not increased as everything else including wages goes up…our pricing is always going down.
Administration costs have increased by 100% on projects. Close out costs have increased by 100% as well. GC is having to spend additional time due to poor quality bid documents provided and lacking due to poor pricing for A&E and site acquisition. Safety training and certification costs have increased over 300% last 3 years. Much of which is redundant.
This industry is in a fast race to zero. More and more responsibilities are heaped on the vendor with the carrier wishing to pay less.
We have started working more on government and commercial projects and much less telecom work. Payment terms are much better, margins are double and in many cases, triple that of telecom. And clients actually take your advice for better quality and cost savings for them which brings additional work and better sleeping habits.
Contract terms and conditions are increasing burdens on contractors resulting in inability to hire and maintain operations to meet demands.
The continual downward pressure on pricing and lengthening terms has drained us of the ability to keep meeting our clients' needs. It prevents us from being able to provide our employees with wages and benefits that will continue to keep their interest in this line of work. When we can't reward them, they go away and it puts the industry in a constant cycle of retraining new labor.
Please help us, carriers. Yes, we want to grow our company and add more climbers but with the terms it's super tough.
The trend we have seen over the past 3-5 years is: 1) cost and liability transferring with no compensation 2) delaying payment in a variety of ways 3) downward price pressure. Any one of these alone would be challenging, but the three together or a perfect combination to cause overwhelming burden on the supply chain. The one that could most easily lift the burden is walking back payment terms to the former industry standard of 30 days. Anything less than this will result in trouble within the operator supply chain.
This industry is becoming a monopoly. There is no room for small businesses here anymore. Mom and Pop shops like mine that run two to three crews will soon be non existent in this industry. We can't travel to other states and not be compensated like they expect us to do. I have lost faith in this industry. They do not care about these guys that risk their lives everyday to build, maintain and upgrade their towers so they can charge people outrageous cell phone bills. My crews are like my kids, this company is my baby, something I thought I was going to pass onto one of my own children. All I see now is the greed of this industry. Do more work for less pay. Ask guys to risk their lives for good cell service and don't pay them what they are worth. In reality that's what will put us out of business is paying our crews what they are worth but these carriers don't see it that way. We are not of value to them anymore. They want us to wait to be paid for longer terms, hold insurance that cost a small fortune and require our crews to have several expensive certifications without compensation or better priced based packages.
It amazes me how many new entrants there are in this business, most of our competitors cut a lot of corners and it is tough to be above board, compete and make a profit these days.
I am glad to see we as an industry are finally being heard on this subject. The most important piece in this is the employees, and as business owners we can't pay them what they deserve without a reset.
This industry is a mess. After 33 years of doing broadcast, MW, and wireless, thankfully I'm about to bow out.
We are looking at another industry shake up that will involve contractor shortages, worker shortages, which leads to new possibly unqualified workers, cheating or lack of training for workers, which will lead to more deaths and injuries to Wireless industry workers. We have had one contractor here in Hawaii already go out of business. Which one of us is next? Unless the industry wakes up there is going to be major issues moving forward.
We have huge issues with PO issuance, especially from T-Mobile who is our biggest customer. The wait time for PO's is sometimes months, especially CR's and then approval of invoices takes weeks. We have terms of net 60 with a 2% discount at net 15. That discount is incorrectly applied to most invoices when paid even a few days early and we have already waited significant amounts of time to even be able to invoice. We also consistently have late payments which a late fee is not paid on. Negotiating the 2% discount has been unsuccessful. No payment issues with Verizon. Thank you for creating this survey, there are many issues here that have been needing to be addressed for a long time!
Work Payments have decrease 60% over the last 5 years. Additional responsibilities like extensive closeout packages and video reviews are required. Not to mention employee training and certifications.
We are currently paying dues and subscriptions to 4 different companies without reimbursement in excess of $25,000 per year.
I have seen four companies go out of business in the last year, it seems to be the trend. Contractors are getting worn down on all of the pay points, providing the customer's materials with no mark up, and storing their equipment without compensation.
Being in this industry for 20 years, I know first hand the volatility of working for large corporations. I believe there is a major disconnect from those making financial policy and those who are affected by it. The negative repercussions of those policies are felt by the corporation but not always recognized as the cause. Corporations have a responsibility to create healthy working conditions for ALL their people. The un-ethical business practices are of a massive scale.
Ever notice that the same incompetent people jump from the old turfer to the new turfer in town, creating the same problems that the old turfer had? It is laughable in the Rocky Mountain Region.
The truth is, after 8+ years of providing quality service to my primary customer, we will not make it another 6 months on the current pricing structure. I have been working towards getting more customers, a challenge in itself, but the pricing looks just as bad. With the merger coming up, I fear the pricing will all fall in line across the carriers and many of us will not survive.
US payment terms have effectively halted the formation of new companies. Canada has many issues with payment terms, but nowhere near as bad as the US. This is partially the reason behind Westower selling US division to MasTec and retreating back to Canada. Trylon, Tall City and many other successful Canadian companies have all pulled out of the US.
Often the certifications required are very costly and some seem very unnecessary. A 25 year climber getting a full on climber training every 2 years is nothing but a waste of time and money.
Thank-you for doing this survey and giving the contractors a voice.
Daily and hourly rates for tower climbers have not increased in many years and are far below some of the other tradesmen who work on the ground with less risk. Meanwhile costs of operating a small/medium business continue to rise
Expecting immediate attention for delayed payment is hard for any company to manage. Carriers will pay more due to interest costs preloaded into their costs. Ultimately, the number of experienced resources will drop out of the industry, creating a lose-lose situation for all of us.
We're so glad Wireless Estimator is addressing this significant problem in the wireless ecosystem.
We are a Canadian wireless network development service provider and we are experiencing increased payment delay tactics related to 5G and very challenging for small business. Particularly with Rogers Communication (one of the 3 big Canadian wireless providers)
The transfer of responsibilities now being placed on the contractor (testing, closeouts, warranty work etc.) without additional compensation has driven us out of the L&A business. We are now only pursuing structural modification work. I have been in the industry for 40 years and will not encourage my son to continue once we close our doors later this year. Contractors are considered a liquid commodity to turfing contractors and have no voice when it comes to dealing with carriers. I have turned down opportunities on a number of L&A projects this year and see no reason to believe that anything will change.
I have been in this industry for 37 years. Before cellular. Old heads like myself built this industry from scratch. We created allot of the procedures and policies that are still used today. It used to be fun. Now all I do is fight for money from all angles. Soon small/medium size companies will be gone. I'm not Pro-Union but if there was ever a use for them it is in this situation.
If pricing continues to drop drastically as it has, I see many companies going out of business. I've had to turn down a lot of the driver based work because I would be barely breaking even.
The constant downgrading of pay and subsequent holdups by the turf vendors make it almost impossible to keep the doors open. They've run us down to bare bones no money in the tank.
Extended payment terms, annual rebates and required annual price reductions will cause us to be very selective with whom we choose to perform work for.
Clients use every trick/tactic in the book for delaying payment (ex. "Didn't receive the invoice", "need another copy of the deliverable", "waiting for PM to approve", etc.) .
Terms need to be reduced if they want to improve the quality, time frames and safety. It's simple, pay us within 30 days and your work will have way less delays, safety will be greatly improved with the ability to hire more personnel and not put so much time and hours on less people, train them with the cash flow intake and cover all overhead. And by doing this you are reducing the stress levels of all owners and managing members thus allowing them to concentrate more on expanding the operations rather then what am I going to do to support my family when this business crumbles due to deep pocket carriers not paying the tiny contractors that make up their abilities to be who they are. Just pay the little guys and the process will improve greatly. I can guarantee you will see a 100 percent or more improvement in site builds and safety if you just got everyone paid. rather than wasting so much time on chasing money we would chase work.
Here's the irony. Carriers' tower development executives are supportive of NWSA and want a safe quality conscious workforce, knowing fully well that it can only be achieved at a considerable expense. That is in conflict with every one of the carriers' CFOs mission to cut costs. Hopefully this survey will be viewed by the CFOs as a storm warning.
Pricing has become matrix driven. We are forced to agree to these matrix's which overall reduce profitability. Our required safety certifications increase year after year. There is no compensation for these certifications. There is a two fold cost for these certifications. The cost of paying for the certifications and the lost revenue while being certified. Now with the introduction of large turf vendors, pricing is lowered again because of the additional tier. Highly trained organizations that pay their employees well are being squeezed out by home based fly by night companies with unskilled labor and unsafe work practices.
With immediate demand coming on the market. I believe contractors will be able to negotiate higher prices and better terms.
I only hope the turfing companies will quit "paying" the contractors last when we are the ones building the infrastructure. Please get this information out.
The only way I see the 5G network being deployed is if we can pay more to our employees. We are constantly expected to do more for less, I believe this is over because we cannot do any more for less. Labor keeps getting harder and harder to find.
Everybody thinks that with all of work that's coming down the pike that contractors are going to be in high demand. They are, but the normal supply and demand factors that normally influence pricing aren't working. TMO is starting to pay its repack contractors additional money to get the job done and they've been very successful in taking the lead with TV broadcasters. The contractors are receiving fair compensation – as they should be. So why isn't TMO and other carriers paying wireless contractors a respectable amount so that they can quickly roll out 5G?  Capex cuts that should be absorbed by the contractors' balance sheets? Or captive struggling contractors, unlike in-demand tall tower crews? Carriers' knowledge that the equipment and skill sets that are not transferable to any other industry?  A four-carrier (soon to be three) monopoly?
We're all tired of hearing these additional costs are the cost of doing business.