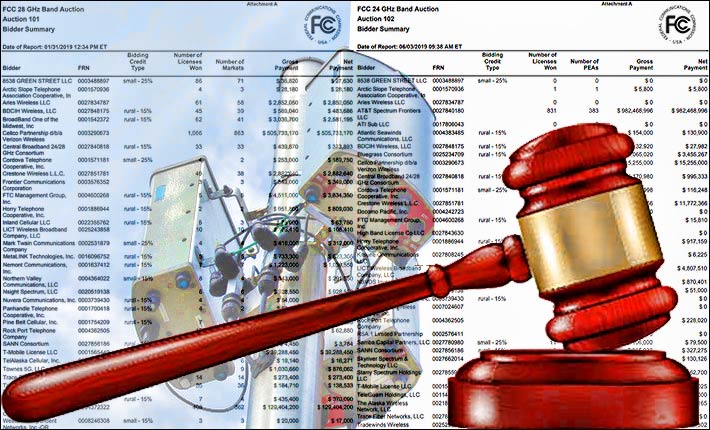 The FCC has released the names of companies (see full list of Auction 101 and Auction 102 below) that won licenses in the recently completed auction of spectrum suitable for 5G deployments in the 24 GHz and 28 GHz millimeter wave bands. In the $2.7 billion raised, AT&T, T-Mobile, Verizon, Windstream, Starry and U.S. Cellular were the big winners.
Each of those companies won at least 100 licenses, but numerous other companies won at least one license, many of them taking advantage of discounts for small and rural  bidders.
AT&T bid over $982 million for 831 24GHz licenses, T-Mobile $803 million for 1,346 24GHz licenses, and Verizon $505 million for 1,066 28GHz licenses. U.S. Cellular won 590 licenses at a cost of $254 million.
In the absence of millimeter wave spectrum holdings, some carriers have chosen to launch 5G on non-millimeter wave sub-6GHz frequencies that are likely to be slower, but with the ability to travel longer distances. U.S. carriers plan to use both types of frequencies but to start with millimeter wave, while other carriers will largely start with sub-6GHz frequencies and then add millimeter wave when it becomes available.
The winners for the 28 GHz auction, known as Auction 101 and the 24 GHz spectrum known as Auction 102, are: