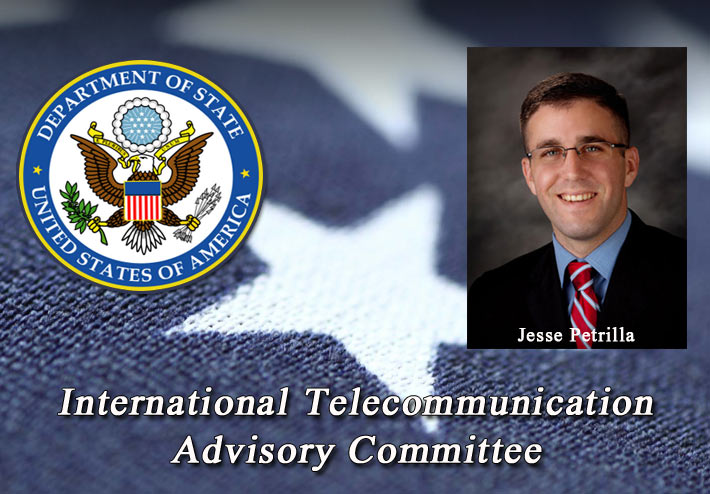 The National Association of Tower Erectors (NATE) announced today that Jesse Petrilla has been selected to serve on the U.S. Department of State's International Telecommunications Advisory Committee (ITAC).
The purpose of the ITAC is to advise the Department of State with respect to telecommunications and information policy matters related to United States participation in the work of the International Telecommunication Union (ITU), the Organization of American States Inter-American Telecommunication Commission (CITEL), the Organization for Economic Cooperation and Development (OECD), and other international bodies addressing telecommunications.
Petrilla is President of NATE member company Petrilla Technologies, LLC, a wireless infrastructure manufacturing company certified as a Service Disabled Veteran Owned Small Business (SDVOSB). Petrilla possesses a distinguished record of military service as a former Army Signal Corps Captain and Afghanistan veteran. Petrilla also is an active leader within NATE who serves as the Association's Wireless Industry Network (WIN) Pacific Region Ambassador.
"I am honored to have been selected to serve as a member of ITAC," said Petrilla. "I have long had a vested interest in international telecommunications policy and believe my past and current experiences will bring a lot to the table. I can't wait for my first official meeting on December 12 in Washington, D.C.," added Petrilla.
"NATE extends our congratulations to Jesse Petrilla for being selected to serve on ITAC. Jesse's diverse background serving in key leadership positions in the military and the wireless industry combined with his integrity and character will make him an invaluable addition to this prestigious committee," stated Executive Director Todd Schlekeway.
For more information on the ITAC, visit HERE. To learn more about NATE, visit www.natehome.com.