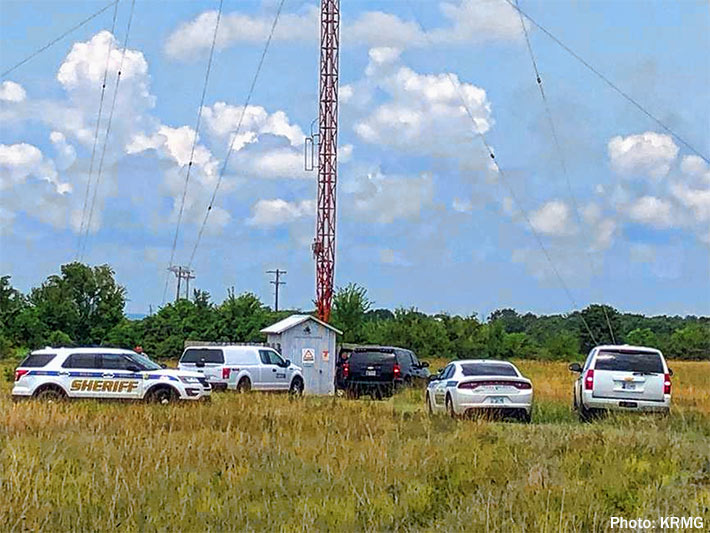 UPDATE: August 5, 2019 -Tulsa County Sheriff's deputies have arrested a woman in connection to the electrocution of a man at a radio tower near Sand Springs on Sunday.
Angie West, 37, was booked into the Tulsa County jail Sunday night on a complaint of first-degree murder. Prosecutors charged her today only with one count of entering with intent to steal copper, a felony.
According to the Sheriff's office,  another man who was found wounded at the radio tower will also be arrested upon his release from the hospital on a murder complaint, with other arrests possible. The murder complaint stems from a death while in commission of a crime.
The deceased, Albert Badger, 39, reportedly West's boyfriend, was found with cable cutters still attached to a nearby power supply and had burn marks on his body, according to an arrest report.
---
One alleged copper thief is dead after he was electrocuted at a tower site in Sand Springs, Oklahoma and an accomplice is in critical condition.
Tulsa County Sheriffs say they were called to the KRMG-AM location at 10 a.m. yesterday morning and when they arrived they found two individuals who had appeared to have been electrocuted.
Authorities had been contacted by a station engineer who visited the tower site when technical problems occurred.
Sheriffs say tools found on scene would indicate the two were trying to steal copper from the transmitter site.
Cox Media Group Tulsa Market Vice President Cathy Gunther has released this statement:
"Early this morning two individuals broke into the KRMG AM transmitter site. It appears they attempted to access a building through a conduit and were electrocuted. One of the individuals is deceased and one was transported to the hospital. From the tools and materials found at the site, it appears that they were attempting to steal copper."
"The safety of our community is of utmost importance – please do not enter any transmitter site, for any reason, as the area is extremely dangerous."
KRMG is a 50,000 watts daytime AM station that can be heard in most of Oklahoma, Arkansas, Kansas, and parts of Texas.
KRMG's transmitter is located at a six-tower facility on Tower Road.