Rescue crews are still searching this morning for victims underneath smashed homes, trees and other debris caused by a tornado that ripped through Alabama Sunday afternoon, overwhelming the Lee County coroner's office.
Lee County Sheriff Jay Jones says crews with dogs and drones have combed over the hardest-hit areas, but there are many other areas that they still have not searched.
Authorities state that at least 23 people were killed during the deadliest day of tornadoes in the U.S. in nearly six years. In May 2013, an EF-5 tornado killed 24 people in Moore, Okla.
One twister on Sunday, rated an EF-3, with wind speeds from 136 mph to 165 mph was part of a powerful storm system that also slashed its way through Florida, Georgia and South Carolina.
The tornado took out a 250-foot American Tower Corp. self-supporting tower in Smiths Station, Ala., sprawling it across the east bound lanes of Route 280. The four-tenant tower was removed by emergency crews by dragging it to the side of the road.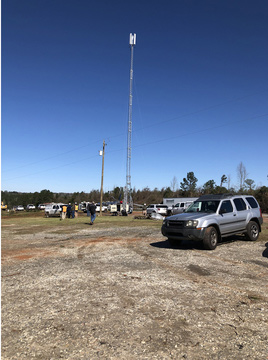 Carriers are setting up temporary facilities to cover the highway that is the main connector between Birmingham and Auburn.
Southern Linc Wireless has an operational Cell on Wheels. AT&T is currently installing a COW as well.
American Tower will identify whether the existing foundations can be utilized for a new structure or if the new tower will be designed for additional capacity.
It is expected that it will take at least four months to put the carriers on the new structure.