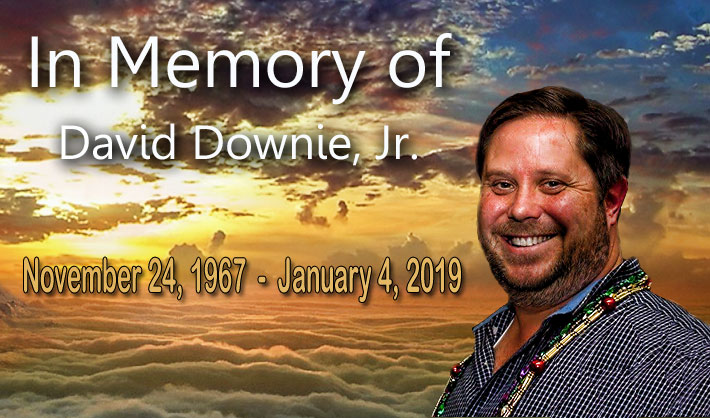 Services will be held on Wed., Jan. 9, 2019 at 1:00 p.m. at St. John Neumann Catholic Church, Lilburn, Ga. for David Downie, Jr. who passed away on Jan. 4, 2019 at age 51.David was the first President of the Georgia Wireless Association from 2004 to 2010 and was well known for his charisma, positive attitude, and sacrificial love. He began his career in telecommunications in 1995 at CAC and was a member of more than a dozen wireless associations during his 20-plus years tenure.

He fought a courageous battle against cancer, but he never let the illness break his spirit. Until his last day, he joked with friends about golf, wireless telecom events, and whether or not his friends were able to sneak a beer into the hospital for a New Year's "cheer."

David had a passion for life and his industry, but his deepest pride and joy were the times spent with his family.

Born in White Plains, NY and an alumnus of SUNY Buffalo, David settled and raised his family in the Greater Atlanta Area. David quickly became a key player in the telecommunications industry – his colleagues dubbed him the Mayor of Wireless. Best known for his quick wit, charming personality, and larger than life aura, David instilled warmth and joy in all the lives he touched.

David is survived by his loving wife Francesca, his beloved three children, Kyle Alexander, Samantha, and Ethan-Graham; his parents, David Sr. and Catherine; his brother, Robert; his sister-in-law, Gracie; his nephews, Rehman and Hassaan.

Burial will follow tomorrow's service at Eternal Hills Memory Gardens, Snellville, GA. The family will receive friends on Tues., Jan. 8, 2019 from 6 to 9 p.m. at Tom M. Wages Snellville Chapel, Snellville, Ga. In lieu of flowers, donations may be made at St. Jude's in memory of David Downie Jr. Condolences may be sent and viewed here.