Florida was spared Hurricane Dorian's wrath Wednesday with the FCC identifying that of the affected counties that total 9,711 cell sites, there were only 13 outages, 3 that were damaged, 9 out due to transport problems, typically issues with wireline networks that route traffic to and from cell sites, and only 1 out of service due to a power outage.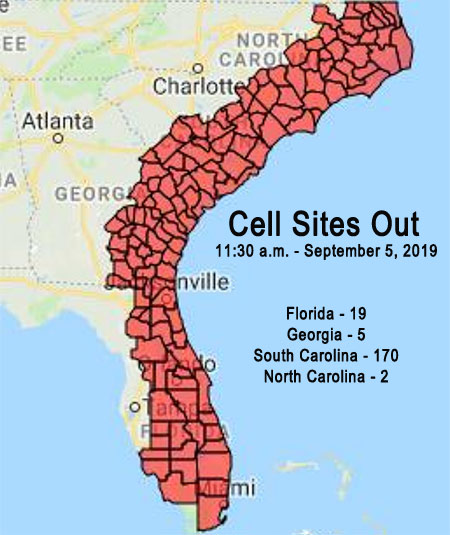 Today there were an additional two sites out of service.
The FCC's September 5, 2019 11:30 a.m. report has the agency expanding its reporting areas to counties in Georgia, South Carolina and North Carolina.
With Dorian ripping into South Carolina's coast and this evening North Carolina seeing the results of Dorian hugging its shorelines with gusts of 110 mph, cell site outages have risen, especially South Carolina where of the affected area 3,644 cell sites, 170 are out today, representing 4.7% of the total, with 118 out of service due to power issues..
Currently in South Carolina, there are more than 250,000 homes and businesses without power, the greater portion being in Charleston County where over 92,000 customers were without power.
The county also has the highest number of sites down with 75 out due to power, 16 due to transport and 1 due to a damaged site.
The state also has the highest cable system and wireline outages at 53,266 subscribers. Other state outages are: Florida, 22,753; Georgia, 11,805 and North Carolina, 2,894.