Commentary
In late August, Wireless Estimator broke the story that T-Mobile had pulled many of their contractors' purchase orders and would not be providing any additional fourth quarter builds throughout the nation, forcing wireless contractors to assess their financial position in order to maintain the additional crews that they staffed early in the year to meet T-Mobile's promised projects.
It's a challenging decision to make, especially for companies whose revenues are weighted in favor of T-Mobile.
Since a new tower tech's onboarding costs of safety training, NWSA certification and other expenses can easily exceed $9,000 or more, it wouldn't make sense to lay off qualified and dedicated workers when T-Mobile's market management has been informing contractors that a readjustment is just around the corner and they need to keep their contingent of crews in reserve.
T-Mobile has turned off the payment spigot
In an earlier statement to Wireless Estimator, T-Mobile said, "We are managing capital expenditures as we do every year, and we continue to invest billions to build out our network aggressively, expanding LTE coverage and performance while simultaneously laying the foundation for broad, nationwide 5G in 2020. That hasn't and won't change."
However, what has changed is T-Mobile has stopped paying its contractors, causing their market managers to drown in their pool of embarrassment because they can't provide their contractors with any information – simply because corporate is evading their inquiries.
Wireless Estimator recently interviewed 12 contractors with similar payment concerns.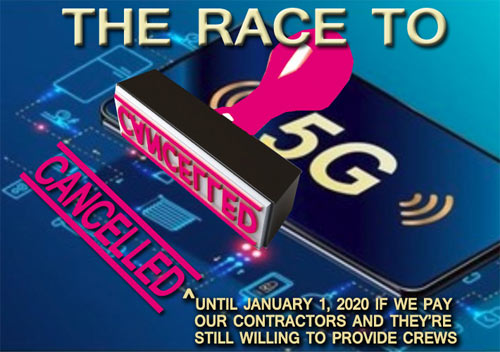 Their master services agreements call for payment terms of 60 days. But many invoices are now at 100 or 120 days or more, even though T-Mobile's Ariba network system shows that they've been approved and set for payment.
Payments that never come. And elusive answers, coupled with promises from market managers that they'll accelerate the contractor's concerns.
It is not known nationally how much is owed to contractors and suppliers, but receivables of just eight small to medium contractors that Wireless Estimator spoke with amounted to over $9 million.
One multi-disciplined engineering and contracting firm is reportedly due $8 million and is also seeking answers.
Although contractors work directly for T-Mobile, they're managed by turf-type vendors. One key turfing company manager said that they too were not being paid and are not being provided with any guidance.
It is also not known nationally how many crews have been let go, but in one market where normally fiercely competitive contractors have joined forces to register their concerns, Wireless Estimator has been able to identify at least 40 crews.
AT&T's turfing vendors might be able to absorb some of the workers and Wireless Estimator's help wanted advertisers are trying to solicit them, but it's troubling for those companies whose stock in trade is their workforce, a labor force that is being trimmed due to T-Mobile's unorthodox and unprofessional actions.
Earlier this year, it was identified by Wireless Estimator that in order to be compliant and perform a quality installation, contractors are required to provide a fully-equipped crew cab truck and equipment that costs a quarter-million dollars or more – and unlike T-Mobile's revenue-producing CAPEX builds, unused equipment only provides installment payments.
T-Mobile's actions are directly related to shoring up their share price and the Sprint acquisition being delayed by the lawsuit by 18 state attorneys general trying to block the megamerger.
Unfortunately, wireless contractors are caught in the middle, and they are not being supported by industry associations where Sprint and T-Mobile can influence their efforts.
Contractors complaining to T-Mobile in opposition to their lack of payments or any information as to when they might be made will result in nothing more than tilting at windmills.
However, if they can get national media to pick up their plight they may be successful in getting the Un-Car(ing)rier to go full throttle into PR mode and start treating contractors as valued partners, not an ignored and unpaid commodity.