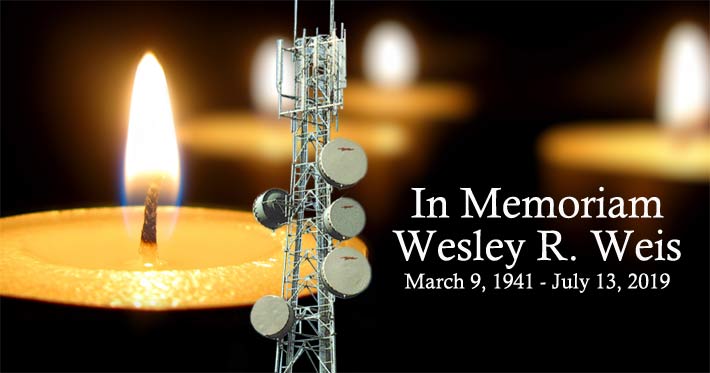 Services will be held tomorrow for a Northern New Jersey industry icon, Wesley Weis, CEO of Mikab Corporation who passed away on Saturday at age 78.
A resident of Old Tappan, he was a founding member of the National Association of Tower Erectors and helped the trade group from its first meeting in 1995 to move forward with a unified voice to make advancements in tower climber safety that has resulted in many climbers coming home safely every day.
Weiss, who founded the company in 1971, was active in the Association's OSHA Relations Committee.
He also was instrumental in the development of ANSI standard A10.48 and in TIA TR-14.7 advancement.
"Wes was a remarkable guy and professional who had a multifaceted business career," stated former NATE Chairman and friend Don Doty, of FDH Infrastructure Services, LLC. "Just remembering Wes' contagious laugh makes me smile. Wes was the consummate behind the scenes guy at NATE. Countless draft documents that were created in the 1990's and 2000's had Wes' fingerprints all over them," added Doty. "Truly a life well lived. God Bless you Wes."
"Wes influenced and mentored many people in the industry," said NATE Chief Operating Officer and friend Paula Nurnberg. "Wes was a constant at NATE in the early years and had a reputation for always greeting colleagues with a smile and following through on his volunteer commitments. He was known for being a quiet and thoughtful volunteer who you could always count on. He was a true friend to those in the industry and NATE who were blessed to know him," added Nurnberg.
Weis, who was born in Teaneck on March 9, 1941, was a member of IBEW local 164, and President and CEO of the Morristown and Erie Railroad. He also served on the board of trustees for the WNYP Railroad, the LA&L Railroad and is a member of the Bergenfield-Dumont Rotary.
He was a member and judge for the National Corvette Restorer's Society and was a member of the National Railway Historical Society.
Weis is survived by his wife of 54 years Mimi (Manz) Weis. He was the beloved father of Michael Weis and his wife Nina of River Vale, Kathy and her husband John of Flemington and Brian and his wife Cherie of Wyckoff.
Visitation for family and friends will be Tuesday, July 16 at the Becker Funeral Home, 219 Kinderkamack Road, Westwood, from  2 to 4 p.m. and 7 to 9 p.m. A funeral service will be held Wednesday, July 17, 11a.m, at St. Pius X R.C. Church in Old Tappan.
In lieu of flowers the family is requesting a donation be make to the local IBEW164 Scholarship Fund – 205 Robin road Suite 315 Paramus, NJ 07652, or to the ARC of Bergen/Passaic 223.