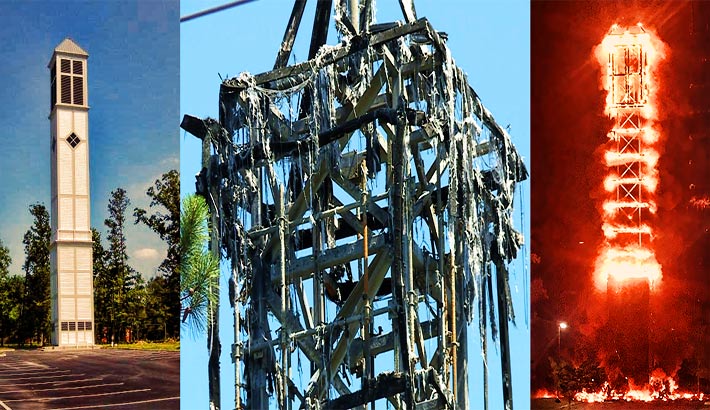 Members of the New Highland Baptist Church attended drive-in services yesterday and were visually reminded of the burnt out hull of their 125-foot bell tower that was set ablaze Thursday night in Mechanicsville, Virginia in their parking lot off of New Ashcake Road.
The good news shared at the morning service is that the structure's owner, American Tower Corp., will rebuild the faux tower that welcomed surrounding residents with hourly bells and serves as a local landmark. A church representative said that no other church property was damaged.
At 11:15 p.m. firefighters responded to the burning tower and extinguished the façade that was completely engulfed in flames.
It was initially thought that lightning during a heavy storm could have set the structure on fire or that it could have been purposely set.
However, Hanover County fire investigators announced that that the fire was not caused by neither of those two possibilities and there is no criminal investigation underway by the Hanover County Fire Marshal's Office.
"After an extensive investigation, there is no criminal investigation underway. We believe that this is an accidental fire as a result of electrical/mechanical issues," a spokesperson said.
The bell tower was reportedly developed by Invisible Towers and then acquired by Global Tower Partners which then sold it to American Tower in 2013.